Pizza is one of the most popular types of food in the United States. Statistics show that pizza restaurant sales in the United States reached almost $46 billion in 2021, with over 75,000 pizza restaurants open in the US during that same period.
If you run a pizza restaurant, or you are looking at opening one, you'll need your business to run as smoothly as possible to ensure you can get access to a slice of that revenue. One of the ways to achieve this is by choosing a good pizza POS system for your pizzeria.
Selecting a good pizza restaurant POS system can be challenging, and it's advisable that you do your research beforehand. The best systems for your pizza business offer customers sufficient customization, support for online delivery, loyalty programs, and special offers to keep them loyal.
This blog post will look at the top five pizza restaurant POS systems in 2023 and compare them in terms of features and pricing.
How Does a Pizza POS System Differ From a Regular POS System?
Traditional and pizza restaurants typically differ in the following important ways:
Customizable Menu
Unlike most traditional restaurants, pizza restaurants will often offer customizable menus according to the customer's pizza order. A person's favorite pizza order is a very personal thing; therefore, successful pizza restaurants need to be flexible and help their customers recreate their favorite pizzas with options to add or remove toppings.
Online Ordering and Delivery
Many pizza restaurants offer online ordering and delivery options to their customers. This is a very important service in this business. According to data by Statista, consumer spending on pizza deliveries in the U.S reached $19.81 billion in 2021, and online orders made up 96.4% of all Domino's Pizza sales in the UK in the same year. It is clear that mobile ordering has become quite popular among pizza shops, so your chosen pizza POS system needs to factor in this demand.
Loyalty Program Offers and Coupons
The pizza restaurant industry is a competitive space. To stay ahead of the competition, pizza restaurants often offer loyalty programs, special offers, or coupons to boost customer loyalty and retain current business while also enticing new customers.
What Makes a Good Pizza POS System?
Bearing in mind the key differences between a pizza restaurant and a traditional restaurant, there are some key features that make a good pizza POS system. Here are some things to consider:
Built-in customization options
Pizza restaurants can expect a lot of variation in the orders they receive. Therefore, a good pizza POS system should support complex products with a lot of options for customers to make changes to their orders. When ordering, customers will want to select a pizza size, choose a preferred crust, and remove or add toppings to create their own pizza from scratch. Your chosen pizza POS system should support the option to adjust your menu items in order to allow your customers to build custom orders.
To take your pizza restaurant to the next level, the best pizza POS systems will also have built-in systems that allow self-service checkouts where customers can order themselves all while customizing their own toppings.
Robust inventory management capabilities
A good POS system needs to track all your inventory levels between your orders, whether online or in-person, to ensure that the stock levels are accurate. Your system gets bonus points if it has inventory reporting and analytics capabilities to help you track the most popular toppings and make informed stocking decisions.
Online orders and delivery
A high percentage of pizza orders are made online for delivery and in person pick-up or collection. A good pizza POS system should integrate with your online ordering system, whether you handle your online orders through your own website or use a hosted platform like DoorDash or Uber Eats. This gives you the flexibility to offer takeout or delivery options alongside table service without the need to juggle separate systems.
Support loyalty programs and discounts
To stand out among other pizza restaurants, you need to offer incentives such as discounts, loyalty programs, and coupons. To help with this, you need a pizza POS system that supports these kinds of incentives. Additionally, it should have capabilities that allow tipping because this is a requirement in many countries and cultures.
Top Five Best Pizza POS Systems in 2023
Using the above criteria, we've researched and compiled a list of the top five pizza POS systems in 2023. Here are the main features of every option, the disadvantages, and the costs.
1. Jovvie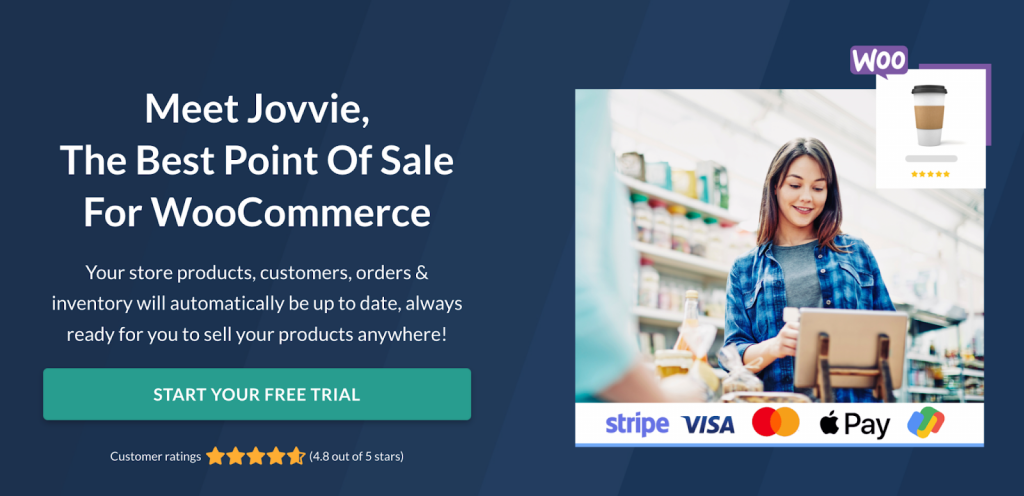 Jovvie is a POS system used in restaurants and retail businesses. If you run a business online and in-person, this WooCommerce POS system will be a perfect fit. This POS system is ideal for pizza restaurants owing to the high number of online orders that are typical for this industry.
Jovvie natively integrates with WooCommerce, making the system almost infinitely extendable; users can access multiple WooCommerce integrations and extensions that help add extra functionality. When a pizza restaurant uses Jovvie, this functionality is extended to in-person sales, too.
Apart from this integration, Jovvie also comes with a wide range of features that make it an ideal choice for a pizza restaurant POS system. Let's take a closer look at these features:
Omnichannel inventory management
Jovvie makes inventory management easy because it supports both in-person and online sales and synchronizes inventory between the platforms. When you adopt this point-of-sale software, you can keep track of the stock levels easily and make missing or canceling orders owing to stock-outs a thing of the past. This cuts down on customer service time, frustrated customers and fulfillment errors, especially when you have hard limits on quantity for items like bottled soda. In this way, Jovvie makes it easier to monitor stock availability even if you are selling pizzas via multiple channels.
Works with complex products
Another advantage of Jovvie is that it works with all different product types across both online and in-person sales; whenever a new product or variation is added to your inventory, it loads in the POS system instantly.
By pairing Jovvie with its sister plugin, Product Manager Add-ons from BizSwoop, you can make product customization even easier. By creating customizable add-on groups using Product Manager Add-ons, you can offer options on your pizza restaurant POS system for the customer to add or remove toppings, choose a different type of crust, adjust the pizza size, and much more. You could even include options to sell half pizzas or pizza by the slice.
Product Manager Add-ons' customization options will work seamlessly whether you take orders online or at the point of sale, through tight integration with Jovvie.
Integrations
As part of the BizSwoop family of plugins, Jovvie makes it easy to add integrations that will further streamline your pizza restaurant's fulfillment process, as we've already seen. Here are just a few options of other possible integrations:
Send notifications and messages about your customers' order statuses in real-time using Flow Notify.
Automatically print order receipts and packing notes with BizPrint, helping your restaurant to cut down processing times and order quick service.
Offer scheduled order pickup, collection or delivery services using Pickup Delivery Scheduler.
Coupons and tips support
If you are planning to offer coupons, discounts, and tips to your customers, Jovvie allows you to create fixed-rate and percentage-based coupons directly from the POS interface. Jovvie also supports percentage and blank input tips at the POS, and you can add online tipping fields to your website easily using Product Manager Add-Ons.
Scalability
Whether you have just opened a pizza restaurant or you are looking to open franchises and other restaurants in multiple locations, Jovvie is an ideal pizza restaurant POS system. With this software, you can have unlimited registers, locations, and cashiers. It makes it easy to scale your business at no extra cost.
Furthermore, Jovvie makes it possible to synchronize inventory, customer data, and more automatically between all your pizza restaurants. You also won't need to invest in expensive POS hardware, as Jovvie works on all major browsers, as well as iOS and Android mobile devices and tablets.
This means you won't need to purchase additional POS hardware to open new locations, as you can use your existing devices. Because of this, Jovvie is a great option if you want to sell your pizza at an event or pop-up store. Through its built-in kiosk mode, it supports self-service checkouts.
Pricing
On top of these features and more, Jovvie is also one of the most reasonably priced pizza restaurant POS solutions available. The software starts at $39 per month, and Jovvie even offers a 30-day free trial.
2. Toast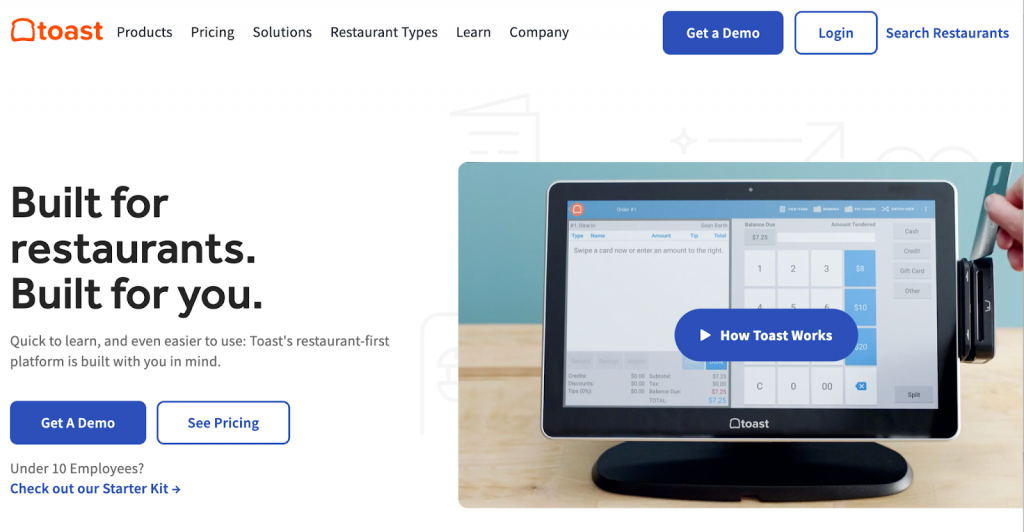 Toast POS is a web-based solution designed for restaurants. It can be used as a pizza restaurant POS because it has a wide range of built-in features that are ideal for these types of businesses.
Here are the key POS features:
Built-in analytics reporting capabilities.
Options to add and remove toppings and adjust sizes with charges automatically adjusted in the system.
Easy-to-use POS screen available for pizzerias to speed up the ordering process.
Dedicated orders hub to manage takeout and delivery orders (if you opt for one of the more expensive plans).
If you are running a smaller pizza restaurant making on-site sales, Toast POS is a perfect option because it has a pay-as-you-go payment plan, which makes it easier for restaurants just starting out to get their hands on the necessary hardware. That said, Toast can quickly become costly for restaurant owners looking to scale up their businesses or add options for online ordering and delivery.
Online ordering functionality only becomes available if you pay for the "Essentials" plan, which starts at $165/month, and even then, you can only use Toast's own online ordering system. This makes it a poor choice for restaurants with an existing online sales presence who are looking to expand into in-person sales or for restaurants that want more control over their branding.
Additionally, Toast does not support gift cards and tipping in any of its standard plans, unlike Jovvie; to add this functionality, you'll require a custom addon. Toast is also a closed system; therefore, if your restaurant has particular needs, you cannot develop new features or find extra plugins in the marketplace.
3. Revel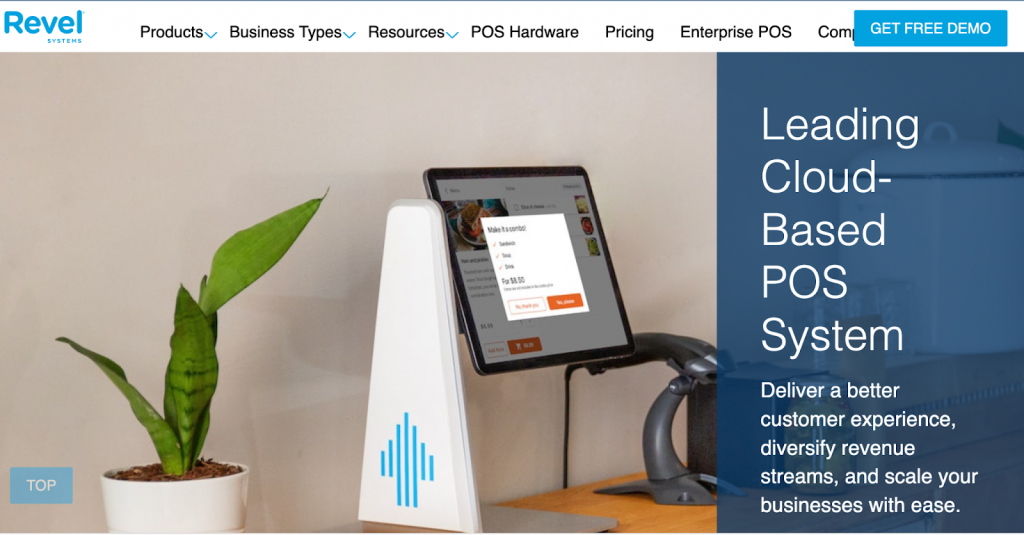 Revel is an iPad POS system designed to be more scalable than the other alternatives, with pricing calculated on a per-terminal basis. Revel supports both online and in-person sales and has a number of features that make it a competitive choice of pizza POS system:
Built-in inventory management system to reconcile online and in-person sales.
Native delivery management system available as an add-on
Accept gift cards through Revel Advantage
Easy menu customization, with the flexibility to adjust menu items for one or multiple locations.
One advantage of Revel as a pizza restaurant POS system is that it's easily scalable – all you need to set up a new terminal is an iPad, meaning you don't need to invest in expensive dedicated POS hardware. That said, it's not the cheapest point of sale system, costing $99 per terminal per month, and many important features, including online ordering, are only available if you pay for the premium versions of the POS system, making it a much more costly alternative to Jovvie.
4. TouchBistro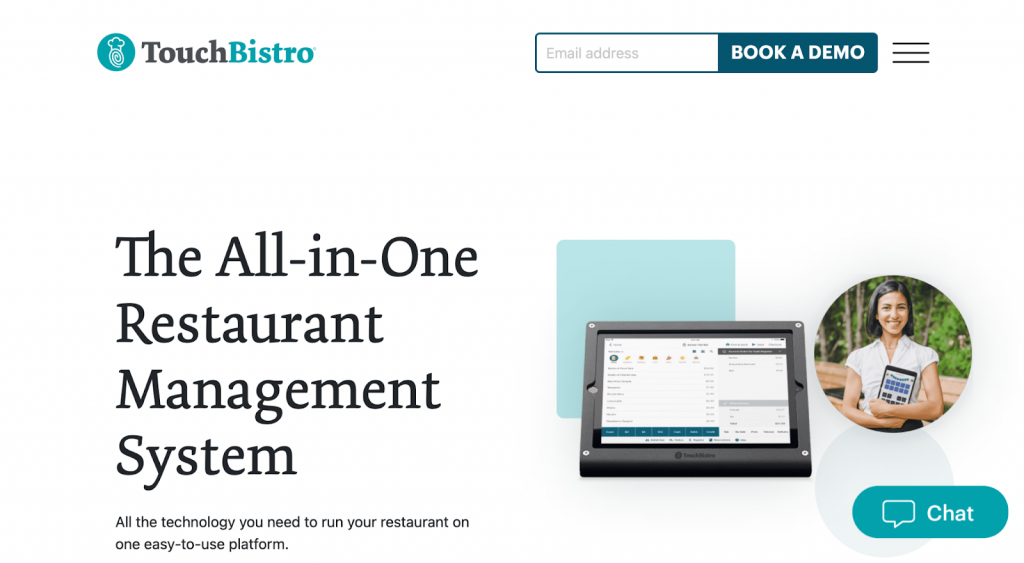 If you are looking for a pizza restaurant POS that's easy to use, you can go for TouchBistro. Just like Revel, it's an iPad POS, though it differs from the other POS solutions on this list in how it is locally installed; all of your restaurant data is stored in your local iPad or Apple Mac server rather than in the cloud. Because of this, TouchBistro is ideal if you have a smaller, single-location pizza restaurant.
If you are considering TouchBistro for your pizzeria, here are some bonus features that make it stand out from other pizza POS systems:
Additional functionality for menu management, seating and table management, and transferring orders to the kitchen, which makes your in-house service seamless.
Integrates with your online store via Deliverect, starting at $50 per month.
Easy order customization options.
Dedicated loyalty program available as an addon, with pricing starting from $25 per month. This also doubles as a CRM platform.
TouchBistro's pricing is affordable compared to some of the other alternatives on the list. Starting at $69 per month, this pizza restaurant POS does not require you to pay for expensive hardware. However, there's a downside because to get the same level of functionality as some of TouchBistro's competitors, you'll have to buy addons, which increase the overall pricing.
5. Square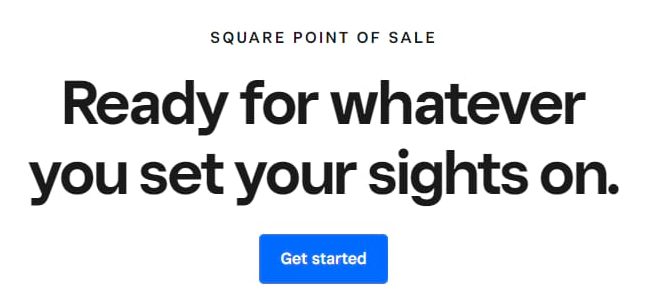 Square POS is a cloud-based solution that comes as a free extension of the popular Square payment gateway. Square integrates with WooCommerce and other major eCommerce platforms such as Magento, Wix, and BigCommerce.
Thanks to this easy integration, Square POS is a good option for pizza restaurants looking to target online orders as well as in-person sales. Although Square lacks some of the pizza restaurant-specific features of some of the options on this list, it does have its own advantages.
Here are some of the benefits of using Square POS:
Easy integration with popular restaurant industry software, including pizza-specific online ordering and delivery software like Slice.
No up-front or recurring costs for the POS software. You just need a Square account and a compatible device to start selling. Square supports iPhone, iPad, and Android devices, as well as laptop and PC. You'll also need one of Square's own card readers to accept debit cards, credit cards, and contactless payments.
Easily integrates with popular built-in analytics, reporting, and inventory management software.
However, Square is not built specifically as a pizza restaurant POS, and this shows in its limited menu customization options, and the fact that features like loyalty cards are gated behind paid plans.
That said, it does have its merits as a pizza POS system because the software is free to use as long as you use the Square payment processing system. This makes it great for scalability if you are planning to open more pizza restaurants in the future.
Take Your Pizza Restaurant to the Next Level with Jovvie
A good pizza POS system should have built-in customization options, robust inventory management capabilities, support for loyalty cards and coupons, and online order and delivery functionality. Ensure that the POS system you choose for your restaurant, whether you are a small business or have a chain of locations, has these features.
Of all the POS systems, Jovvie is the best option for your pizza restaurant. It has all the features you could need in a pizza restaurant POS system:
Powerful support for both online and in-person sales
Seamless inventory synchronization
Support for complex products and add-ons
Supports for tips, coupons, and more
Additionally, Jovvie easily integrates with plugins from BizSwoop, such as BizPrint, Flow Notify, Product Manager Add-ons, and Pickup Delivery Scheduler. You can take advantage of the added functionalities from these plugins to streamline your pizza restaurant operations.
Jovvie is great for businesses of any size and easy to scale owing to no expensive hardware requirements and support for unlimited locations at no extra cost. If you are looking for a pizza POS system for your restaurant, give Jovvie a try with a 30-day free trial.