Many restaurateurs face challenges with handling things like payment processing and point-of-sale (POS) management. A restaurant needs a user-friendly POS that can ensure orders are processed in real-time. The good news is that the modern approach to solving these problems can be found through WooCommerce restaurant POS integration.
WooCommerce is a plugin for WordPress, the world's most popular website publishing platform. In fact, nearly half a billion websites rely on this technology, including many that are designed for restaurants, diners, food trucks and others in the food service industry. WordPress can power both the public-facing website for your restaurant and the backend that takes, processes, and powers your orders, including the POS.
WooCommerce itself allows for the use of plugins that can extend POS functionality and enhance the checkout experience for both restaurant owners and their customers. WooCommerce plugins give you more power and flexibility to customize payment and order management processes, making plugins a must-have for any business owner who uses a WooCommerce POS system.
Why Do You Need a POS System for Your Restaurant?
While the kitchen is where the customers get their meals prepared, your POS system is where you manage your money. A POS system not only allows you to take payments either at a specific payment point or on the go, but it also allows you to manage orders, extend discounts and track cash flow through reporting.
Whether you operate as a digital-only restaurant focused on taking online orders or you operate physical locations or mobile delivery food services, a POS system powered by WooCommerce plugins can allow you to provide your customers with more options while giving you greater control over order management and checkout systems. This also means you have greater insight into productivity, allowing you the ability to see where things are working and where improvements can be made.
Restaurant POS Systems in Everyday Dining
Think about your last experience at a fast-food restaurant like McDonald's. The POS is what makes the service fast and accurate.
In a typical transaction, the POS allows diners to place an order and pay for it using their preferred payment method. This can be done at a register station, of which there may be several operated by multiple cashiers. Self-checkout has also become a growing trend in all types of dining environments, meaning it's more important than ever to provide options to patrons who wish to handle the checkout process themselves. This can be done using kiosks, and through digital connectivity, kiosks can be managed right in a POS plugin interface.
In a fast food restaurant, the customer will place their order and pay for it before it's delivered, but a good POS can also take a customer's order at their table on a mobile device or iPad, and the best POS systems will let you take orders wherever you are, including pop-up stores, farmers markets, and other on-the-go locations.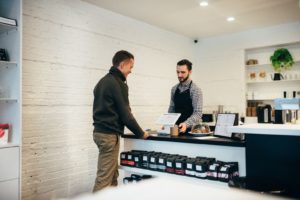 A good POS then sends the order to the kitchen with any specific notes about custom items where it will be read by the line staff and prepared. This system helps prioritize orders, ensure timely payment processing, allows for refunds and discounts to be issued if needed and allows customers like you to be on your way with your order fast.
WooCommerce restaurant POS plugins function in much the same way as they provide access to multiple payment stations or registers to take orders, print receipts, make changes to orders and monitor station activity. Some WooCommerce restaurant POS plugins can also handle the transfer of orders to line staff to help speed along the customer experience. In short, a WooCommerce restaurant POS solution allows you to streamline all of the processes required to make your foodservice business a success.
The 6 Best WooCommerce Restaurant POS Plugins
As powerful as adding a WooCommerce restaurant POS plugin can be, you may feel overwhelmed with the number of choices out there. It can definitely be confusing looking for the right plugin, especially if you are new to restaurant POS systems in general. To help you get a better handle on the features of some of the best solutions available, below is a list of the top six WooCommerce restaurant POS plugins.
Jovvie
Jovvie is an incredibly powerful and versatile WooCommerce restaurant POS plugin from BizSwoop. While similar POS solutions only let you sell through a physical POS register, Jovvie lets you do that and take restaurant orders from anywhere. All you need is a mobile internet connection! Jovvie does this by making its POS system available from desktops, laptops, tablets (including iPad), smartphones (including iOS and Android) and other connected devices.
With Jovvie, you can make your entire menu available at your restaurant, food truck, pop-up kiosk at an event or pretty much anywhere else. Jovvie even lets you access multiple POS stations at once, giving you the ability to manage your entire operation across different locations, or just different checkout setups at the same locations. Any station powered by the Jovvie app can scan barcodes of food items and accept credit card Swipe, Tap or Scan payments on the go.
Having the different locations is great, but you don't necessarily want all staff being able to access sales reports, store managements, or customize your products. Jovvie helps with this, giving you the power to assign various levels of access to different stations and assign different roles to employees. Whether you want to give someone full access to a station or limit a station's functions entirely to serve as a customer-operated kiosk, Jovvie has the tools to make it happen.
Jovvie's power is opened up by deep native integration with BizPrint. BizPrint is made by BizSwoop, the same company that make Jovvie. BizPrint lets you automatically print out new WooCommerce orders, making it an excellent companion for restaurant POS systems. Your new order placed through Jovvie can be automatically printed as a receipt for the customer at the POS station, and automatically printed in the kitchen for immediate processing. There is no better notification than an order being printed out in front of you!
The deep integration between Jovvie and BizPrint lets you take care of the edge cases that restaurants often face: any custom order information such as dietary requirements can be added in Jovvie and automatically printed with BizPrint. This combination lets you increase efficiency and reliability at your restaurant.
Jovvie is built with REACT (a cutting-edge coding language created by Meta Inc.) , and customers cite it as "incredibly stable". As a modern WooCommerce product, it integrates deeply and natively, with all your products, product variations, and orders handled natively through WooCommerce.
Jovvie is available from $99/year, and there are no additional payment gateway fees to pay. Jovvie integrates with over 1000 WooCommerce payment gateways, including Stripe and PayPal, plus the Stripe Terminal for in-person card payments. If customers want to pay with cash or check that's fine too. You can get Jovvie here.
WCPOS
WCPOS is another WooCommerce restaurant POS that can help you with payment processing and more. One thing that sets WCPOS apart is that it provides access to features like bar code scanning, search and filter options, detailed reporting and more. However, many of the powerful features of WCPOS are locked behind the premium version.
One of the advantages of running your restaurant POS system on WooCommerce is you can sync online and in-person retail store inventories live. Like any WooCommerce POS, WCPOS offers this so you don't miss out on stock. Unlike Jovvie, WCPOS is not built with REACT; instead it users an older coding language.
Some reviews also point to a lack of documentation as a concern for WCPOS. This can be an important factor for new users, especially as the ability to properly navigate a WooCommerce restaurant POS plugin is key to getting the most from it. You'll also want to think about language support if you have employees who speak different languages or you serve communities where English is not the predominant language.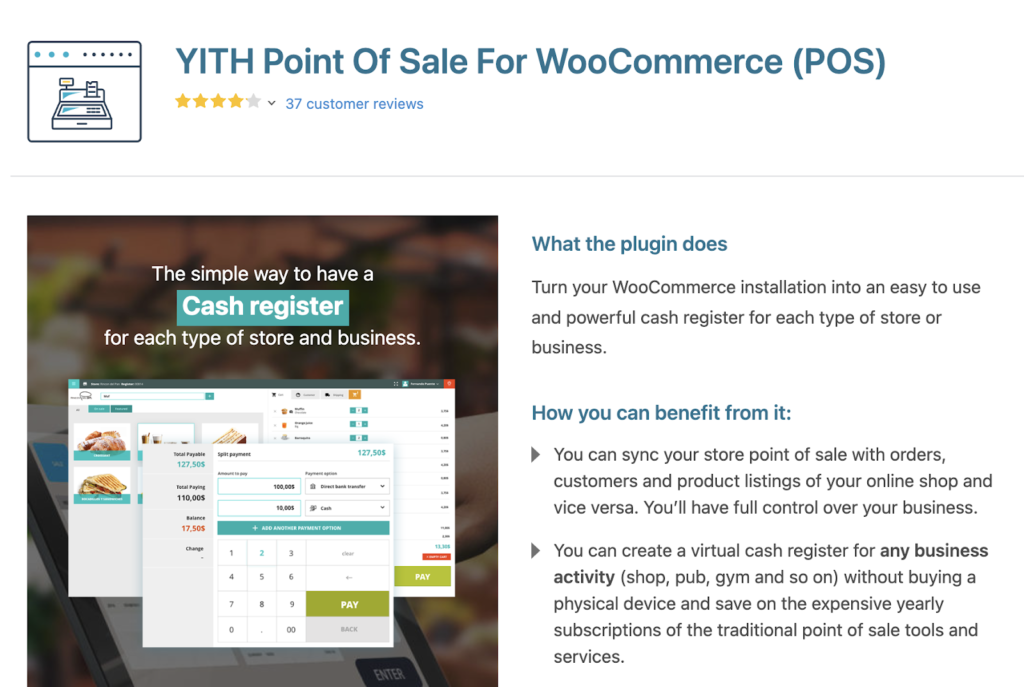 YITH WooCommerce Point of Sale
YITH WooCommerce Point of Sale is part of YITH's huge library of products. Like many YITH products, YITH WooCommerce Point of Sale does the basics but as part of a large library of products, struggles with more advanced functionality. The basics are everything you'd expect: credit card processing, a user interface that can be used on desktop or a touch screen, and synchronization with WooCommerce.
Where YITH WooCommerce Point of Sale tends to be found lacking, however, is in areas where modern restaurants need benefits the most. This includes printing, self-checkout and taking payments at pop-up locations. The ability to serve customers quickly from anywhere is a big part of staying competitive in today's busy foodservice market, and YITH WooCommerce Point of Sale unfortunately doesn't provide the same robust features of a restaurant POS plugin like Jovvie.
If you choose to go with YITH WooCommerce Point of Sale, keep in mind that fees associated with usage are charged on an annual basis. This can be beneficial if you don't feel comfortable committing to a system for the long haul, but it can make things difficult if you decide to switch later as you'll likely have to redo your entire POS system.
wePOS
wePOS provides support for multiple stations or registers at once, making it a good option for established physical locations where you need to manage a number of checkouts. Another benefit of using wePOS is that it provides live cart management so customers can add or remove items as well as make changes to existing items. This can benefit sales as it places desired items in front of the customer to make deletion a more thoughtful choice.
According to wePOS' developers, one of the key benefits that differentiates wePOS from other plugins is its focus on speed and security. wePOS allows for fast searching of product catalogs, which can be a benefit for large menus, but it may not be as helpful for simple item selection.
You can use wePOS to log in multiple cashiers across different stations, and wePOS provides access to some invoice printing functionality as well. Each cashier can be assigned a station where access can be limited. WePOS states that this can increase productivity while also enhancing security.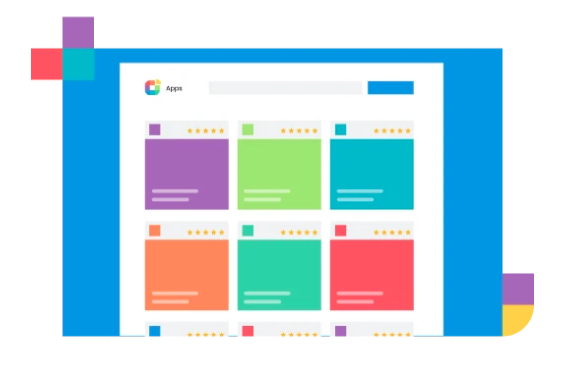 Oliver POS
Oliver POS is a robust WooCommerce restaurant POS option that makes use of an interesting approach to catalog display. Oliver POS utilizes display tiles instead of product images in addition to being able to take payments, add discounts and adjust fees. This approach is novel and may set your restaurant apart, but it can be slightly confusing, particularly if you have a lot of menu items that you need to be able to differentiate from one another.
Despite this, Oliver POS provides a centralized control interface where you can manage various POS stations. Additionally, Oliver POS syncs your product inventory for online store sales and physical sales.
This can be a big benefit if you're taking orders online in conjunction with in-person orders as the food service industry tends to move fast and requires special attention to be paid as menu item availability shifts.
Webkul Point of Sale System for WooCommerce
Webkul POS System for WooCommerce provides much of the same functionality as the other options listed above in that it can process payments and help you manage your inventory across both physical and digital. Webkul offers multiple POS products that integrate with different eCommerce systems. One of those is their WooCommerce solution.
The differentiating feature for Webkul POS System for WooCommerce is offline ordering. Webkul can take an order without an internet connection, and then synchronize when you're back online. This is helpful if you're without a connection, but bear in mind you'll lose one of the key benefits of connecting your POS to WooCommerce, which is automatic inventory synchronization.
Conclusion
Running a successful foodservice business in today's fast-paced world can be challenging, but you can make things easier using WooCommerce POS plugins for restaurants. A WooCommerce restaurant POS plugin can allow you to take orders, process payments and keep track of customer data easily from one dashboard.
In some cases, you can also use functionality included with these solutions to keep track of item availability and update inventory as needed. This can be great if you need to track things across multiple stations or even across multiple storefront locations.
Additionally, some WooCommerce restaurant plugins like Jovvie also give you the ability to print receipts and orders to more easily manage food sales while also providing your kitchen staff with fast access to orders. This ultimately means more productivity, faster customer service and more efficient management of your foodservice business.
While all of the WooCommerce restaurant POS solutions in the list above can add extra benefits to your food service operation, Jovvie is the one that tends to offer the best value all around. With Jovvie, you have the ability to accept payments in your customer's preferred method, print receipts and orders through BizPrint using your own printer and sell from anywhere, including pop-up locations, kiosks, storefronts, food trucks and more.
Each restaurateur's needs will be different, but Jovvie's competitive pricing, easy-to-use interface and powerful features make it a top choice among food service professionals who are ready to take the next step to grow their business.
To learn more about Jovvie and all of its benefits as a WooCommerce restaurant POS solution, click here now. Jovvie provides customizable POS options designed with the modern restaurant experience in mind, and you can try Jovvie right now, risk free with the 30 day money-back guarantee.