Are you looking for an easy way to integrate a point of sale (POS) solution into your WooCommerce store? The thought of using Square may have crossed your mind. After all, it's one of the most popular tools to accepts payments at retail businesses.
In this post, we share facts on using Square POS for WooCommerce and whether it's the best solution for your business. We also tell you how to integrate Square POS with WooCommerce in three simple steps.
Why use a POS with WooCommerce?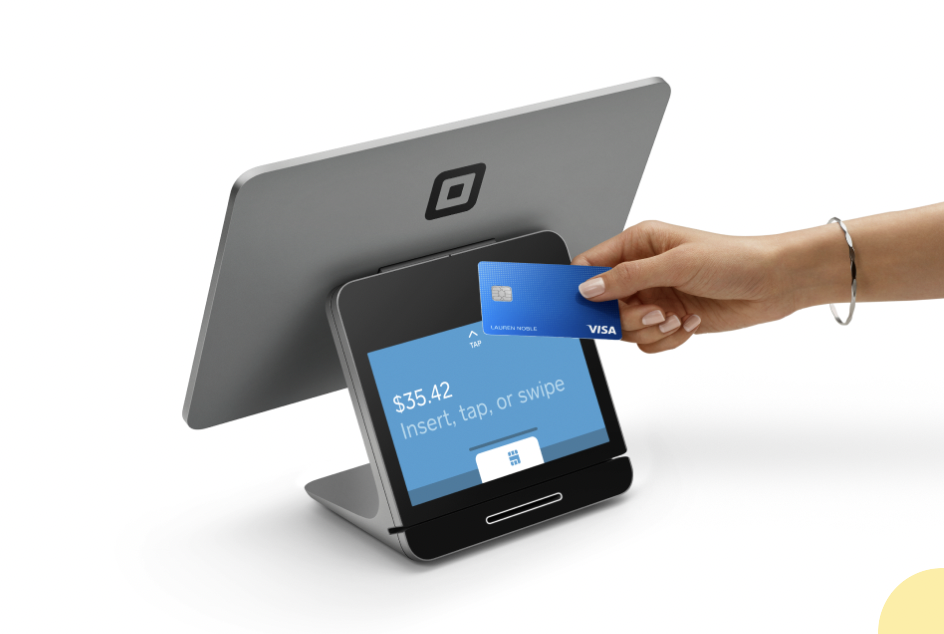 A point of sale is the place where your customers make payments for goods purchased at your store, and a POS system provides the capability to accept payments in-store. A POS system for WooCommerce is great if you also sell online, as it centralizes your inventory, orders, and customers across your online and physical stores.
If you share inventory between your online and physical stores, you can save hours each week on tracking and adjusting in-store and online inventory changes. An accurate picture of items in stock ensures that nothing gets in the way of a smooth customer experience.
A WooCommerce POS offers capabilities such as order and billing processing, inventory management, customer data management, sales monitoring, and analytics, which enable you to sell and manage sales in-store and online. If you're looking for such a solution, Square POS for WooCommerce should be one of the options to explore.
What is Square?
Square POS is an extension of the Square Payment Gateway, which you can use to take payments in the same way as PayPal or Stripe. It accepts chip and PIN debit/credit cards, contactless cards, and mobile payments.
Does Square POS integrate with WooCommerce?
Yes, Square POS can integrate with WooCommerce. Square provides an official Square for WooCommerce plugin that allows you to easily connect your Square account to your WooCommerce store. With this integration, you can use Square as your payment processor for online transactions made through your WooCommerce store.
Advantages and disadvantages of integrating Square with your WooCommerce store
Integrating Square POS with WooCommerce allows you to take physical payments using the Square app on a mobile device and then sync inventory with your online store whenever a sale is made.
Square does not charge start-up or recurring fees for the software, but you will need to buy Square Hardware separately to accept physical credit card payments (or contactless, Apple Pay, Google Pay, and so on).
Square charges a fee for each sale: 2.6% + 10¢ for swiped/inserted chip cards, contactless payments, and swiped magstripe cards, and 3.5% + 15¢ fee for payments that are manually keyed-in, processed using Card on File, or manually entered using Virtual Terminal.
Square offers a number of integrations with eCommerce platforms other than WooCommerce, such as Wix, Magento, BigCommerce, and Drupal Commerce. You must use the Square POS to take the payment, and then synchronize with your external platform, such as WooCommerce. You cannot use Square POS natively with WooCommerce. Instead, you must sync the data.
Pros of using Square
Supports many payment methods
Lightweight and mobile
Easy to set up and use
Phone app makes it easy to accept payments on-the-go
Can add team members to the account
Creates sales reports
Enhances customer experience and inventory management
Cons of using Square
While the Square POS for WooCommerce is marketed to businesses of all types and sizes, small businesses that are just starting out can benefit most from using it.
Step-by-step guide to setting up WooCommerce Square integration
You can set up Square POS for WooCommerce in a few easy-to-follow steps, as explained in the tutorial below.
1. Create a Square account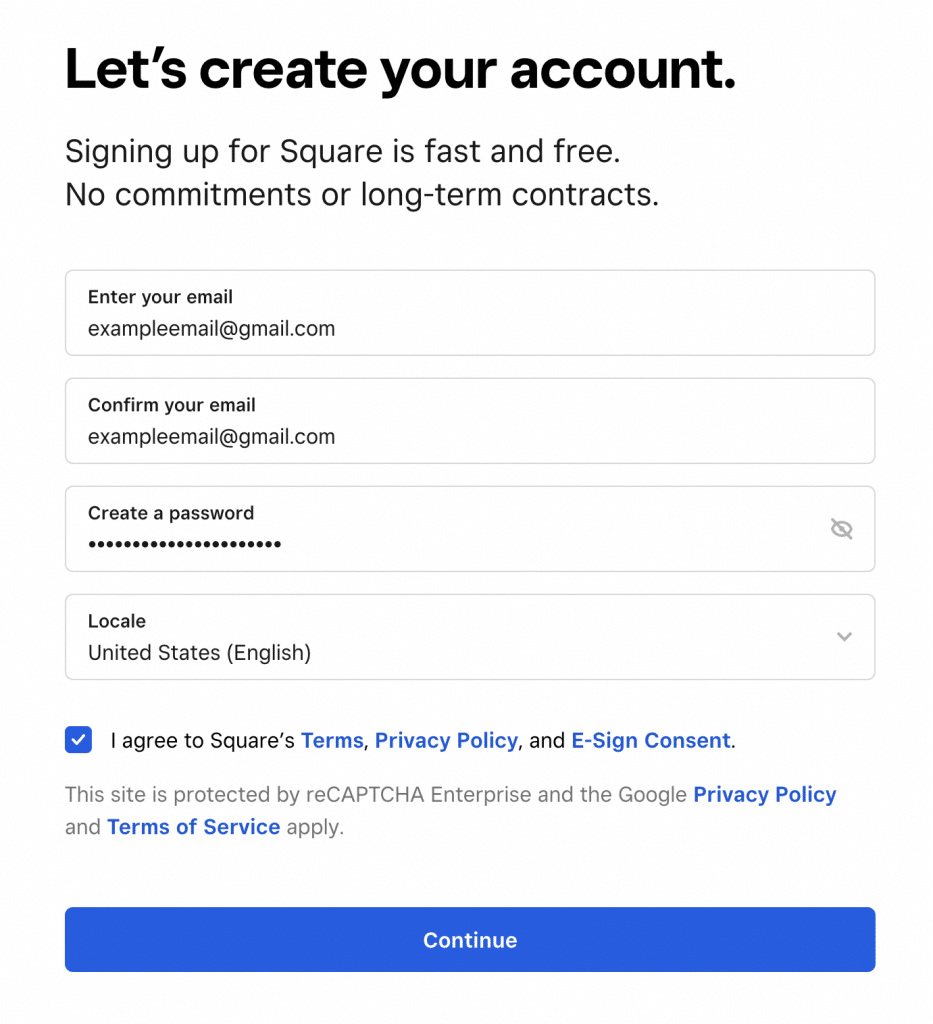 Go to the official Square website and click 'get started'.
Fill in your personal details.
Click 'quick setup', then 'sell online'.
Fill out the required details about the WooCommerce business you want to connect with Square POS.
2. Install and setup Square in WooCommerce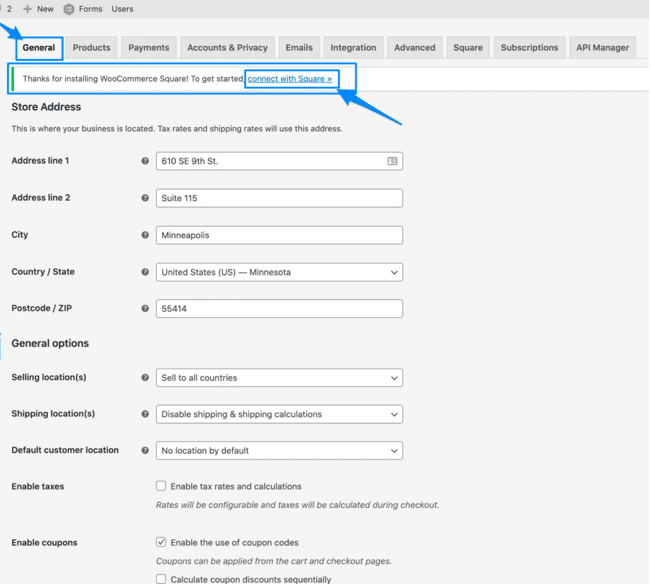 Download and install the Square Extension for WooCommerce.
In your WordPress admin dashboard, go to WooCommerce > Settings > Integrations and click 'Connect with Square'.
Fill out your business details, such as location, email, and synchronization settings, if you want to sync product categories, inventory and images between Square POS and WooCommerce.
Go to the 'Checkout' tab and enable Square as your payment option for WooCommerce.
3. Configure payments and product sync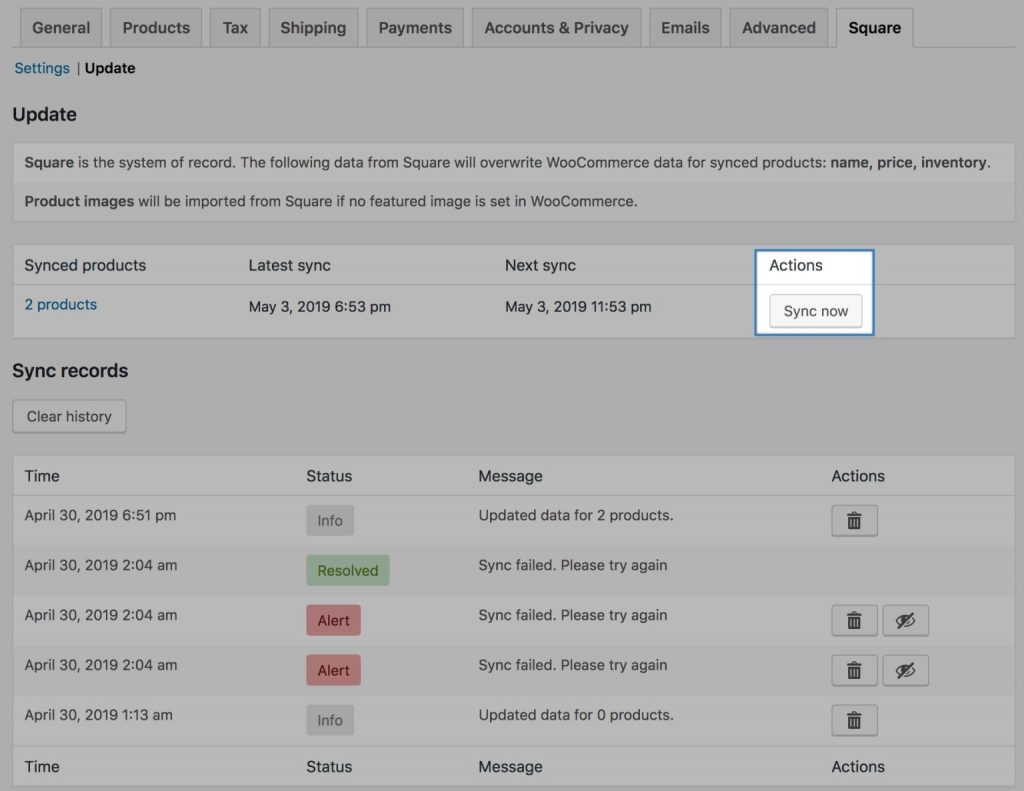 Go to WooCommerce > Settings > Payments and select Square as your payment method.
Click 'Enable this Gateway'.
Scroll to the 'Digital Wallet Settings' section and choose whether you want to enable Google Pay and Apple Pay.
Go to the Products interface in WooCommerce and check 'Sync with Square'.
Navigate to WooCommerce > Settings > Square and enable product sync.
Comparing Square to alternative POS solutions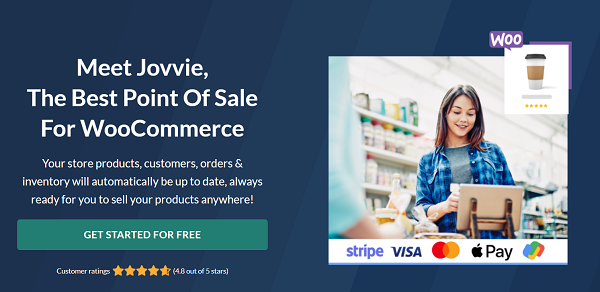 Square offers a mature POS solution, but it effectively duplicates your POS and data: to use Square POS with WooCommerce, you take the order in Square and then send it over to WooCommerce. The reviews for the official integration are terrible, with an average of 3.2 stars. Customers report the synchronization works inconsistently and orders are missed or lost.
You can get all the benefits of Square POS with WooCommerce by using a native WooCommerce POS solution such as Jovvie.
Jovvie offers a rich set of features that support your online and in-person sales. It converts your laptop, desktop, tablet or Android or Apple device into a complete POS system – no hardware required!
Like Square POS for WooCommerce, Jovvie allows you to take payments from customers across different payment gateways, including Stripe, PayPal and Apple Pay. It can also take physical swipe and contactless card payments through Stripe card readers.
Jovvie is available for any country, and its integration with Stripe Terminal for physical in-person payments is available in the USA, Canada, United Kingdom, Ireland, Singapore, Australia, New Zealand, France, Germany, Holland, Belgium, Denmark, and Sweden.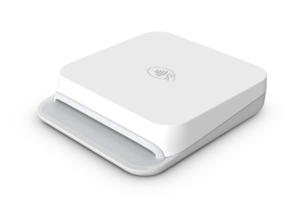 Aside from Stripe Terminal, Jovvie also works with the contactless reader from Square, making it a great option if your store is already set up to accept payments through Square, but you want a more advanced POS solution with native WooCommerce compatibility.
Jovvie supports multiple POS stations, allowing you to accept payments from different physical locations and keeps them all within one easy-to-use WooCommerce interface. You can create multiple accounts with different levels of accessibility for cashiers and managers. You can also set up one or multiple cashier stations with customized settings.
Surveys indicate that nearly half of consumers buying at physical outlets use self-checkout regularly. Jovvie offers a Kiosk mode that lets your customers self-checkout and save more of their time.
Synchronizing inventory between your POS and online channels is another feature that Jovvie shares in common with Square POS for WooCommerce. When someone buys a product and completes a purchase in your physical store, the stock levels are updated on your WooCommerce store to reflect the recent sale. Up-to-date stock information eliminates the possibility of overselling a product while removing the hassle of manually syncing stock.
Jovvie integrates seamlessly with BizPrint, another BizSwoop product for WooCommerce, that allows you to instantly print physical receipts for payments made on your point of sale device. Making checkouts faster can help you capture more sales. 88% of US consumers want a faster checkout experience, while nearly one-third of grocery shoppers would quit a long line to find a better checkout experience.
Frequently asked questions about Square WooCommerce POS
1. Does Square support two-way product syncing?
Square supports two-way product syncing: the Square plugin checks with WooCommerce every hour in order to sync products between Square and WooCommerce. However, users have reported problems with Square products not syncing properly to WooCommerce, and vice-versa. This can create problems fulfilling orders, particularly if you offer click and collect or buy online, purchase in store (BOPIS). The business model has become increasingly popular: 67% of online shoppers in the US have used it and 10% of all sales are forecasted to be fulfilled by click and collect by 2025. It is something to ponder on when you're thinking about using Square POS for WooCommerce.
Jovvie also offers two-way product syncing, checking with WooCommerce on a regular basis to make sure that each product is in-stock and won't be oversold by customers shopping simultaneously in-person and online. You can avoid delivery delays and the inevitable bad customer experience arising from it, which has been seen to impact repeat sales. 41% of customers blame retailers for late deliveries and 76% say that an unacceptable delivery experience would affect their decision to order from that company again.
2. Can I use WooCommerce coupon codes in Square?
It's worth understanding whether Square POS for WooCommerce is coupon-friendly given how 92% of US consumers use coupons for shopping. It's unclear from official documentation whether Square can support native WooCommerce coupons. Jovvie POS allows for syncing of WooCommerce coupons. It also offers a functionality that allows cashiers to create manual coupons for any order.
3. How does printing receipts work on Square versus Jovvie?
Square POS for WooCommerce is known for its user-friendliness. But things can get quite technical when you need to extend its functionality, such as printing receipts at checkout. With Square, automatic printing receipt can be set up via the Square Orders API, which requires a working knowledge of code and API functions.
On the other hand, Jovvie can be set up to automatically print receipts via a quick integration with BizPrint. You can automatically send receipts directly to multiple in-store printer locations. Configuring the WooCommerce plugin to send print orders to the desired printer locations takes a few simple steps. Any non-technical user can set up BizPrint for automatic receipt printing and faster in-store checkout.
Integrate a POS system into your WooCommerce store
If you don't sell online exclusively, you need a POS system for your WooCommerce store. There are many solutions that connect your physical and eCommerce store, including Square for WooCommerce and Jovvie. Of the two, Jovvie is the lightweight (use your own devices/hardware) and reliable POS plugin for businesses seeking a complete POS solution. Jovvie offers many of the same features as Square but also more dependable inventory management and additional functionality, including:
The ability to take payments in-store
Multiple payment gateways, such as Stripe Terminal, Ingenico Smart Card and flexibility of any payment gateway supported by WooCommerce
Self-checkout option
Multiple POS stations
Multiple accounts and access permissions for staff
Automatic receipt printing with BizPrint integration
Thousands of WordPress integrations
Support for 36 languages
Analytics and reports
Similar to Square POS for WooCommerce, Jovvie is easy to set up even for non-technical users. You can get started with Jovvie risk-free.