Are you looking for a way to take your WooCommerce experience to the next level? Would you like to simplify the point-of-sale process and offer your customers a more interactive buying experience on your site? If so, finding the best WooCommerce POS plugins is a fast and easy way to expand your online store and digital sales strategy.
WooCommerce is one of the world's most popular eCommerce solutions for a reason, but it struggles with selling in person at a point of sale.
WooCommerce is built primarily for eCommerce usage through a store's website, but the features that make it great for that: a wide range of payment processors, easy inventory and product management, and easy integration with CRMs and similar for providing an end-to-end customer experience, can be put to use for in-person sales too.
The key is to extend WooCommerce with the best choice of WooCommerce POS plugin. POS plugins let you use your WooCommerce store to power your in-person checkout. You get all the advantages of WooCommerce, plus all the benefits you'd expect from a mature POS solution, and you can synchronize your in-person and online sales, inventory, and data.
Why Should You Use a WooCommerce Point-of-Sale Plugin?
WooCommerce is one of the leading online e-commerce solutions available today, and it is used in more than 4 million online stores around the world. WooCommerce also serves as one of the primary point-of-sale solutions for the millions of WordPress sites.
If you currently use WooCommerce, you already know that it makes the checkout process simple for customers, and it makes complex tasks easy for online sellers. Using WooCommerce, you can list physical and digital items for sale on your website, allow customers to view and purchase from your digital storefront, and also process transactions using a credit card, debit card, PayPal account, direct bank transfer or other payment method.
You can even use WooCommerce to generate a digital barcode or QR code for quick scanning of digital tickets and other products.
A WooCommerce POS plugin takes the existing features and advantages of WooCommerce and makes them even better by giving you more control over the selling process through in-person sales. If you want to offer your customers a personalized physical checkout experience, POS WooCommerce plugins can give you an edge over the competition by providing flexibility and customization.
A POS plugin can integrate with your existing WooCommerce store to do things like sync inventory dynamically as sales occur, keep track of customer data to provide more personalized service and offer enhanced functions like tax calculation or shipping calculation if an item needs to be posted when not available during a physical transaction. All synchronization can take place automatically, allowing you to focus more on managing your business and providing the best customer service.
It's important to keep in mind that not all point-of-sale plugins for WooCommerce are right for every seller. Your brand may have specific needs or strategies that require unique solutions. For example, you may want to have the ability to offer discounts based on prior purchases or other activities. Using a plugin that has dedicated functionality for providing specific discounts to unique customers, you can make this happen.
The Top 5 Point of Sale Plugins for WooCommerce
There are plenty of POS plugins for WooCommerce available these days, so how do you know which one to choose? They all seem to offer something unique, and it can be hard to figure out which plugins offer the best value. This can be an especially difficult situation for people who are new to digital storefronts and online selling in general.
To help you figure out how to maximize your use of POS WooCommerce plugins, below are five of the top solutions to consider to enhance your online selling experience: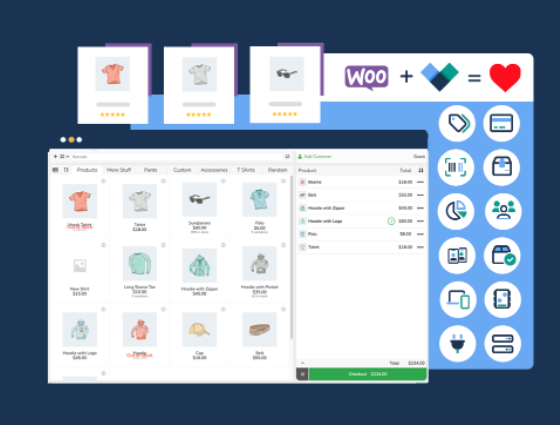 1. Jovvie
Jovvie is a WooCommerce POS plugin that provides a seamless experience for transaction processing as well as product inventory syncing. Using Jovvie, you can sell from anywhere an Internet connection is present, including through your smartphone on a cellular data network. You don't need any custom POS hardware, as Jovvie integrates with any mobile device, tablet, laptop, or desktop, so you can choose whatever suits you best. This makes it convenient for everything from your everyday storefront POS to selling at a restaurant, farmer's market, pop-up shop, industry meeting, or really anywhere else your business happens to take you.
Jovvie syncs your customer data so that you can keep track of purchases to help your marketing efforts. By knowing what customers have purchased in the past, you can then market new products that you think will benefit specific customers. Jovvie charges no additional payment processing fees, allows you to use a variety of payment processing options, including Stripe terminals and touchless payments, and it even calculates shipping for orders that need to be sent out.
It's also worth noting that Jovvie is trusted by over 25,000 business owners to handle their point-of-sale needs, and that says a lot considering how many competing solutions are out there. Jovvie is also supported on both Android and iOS (including iPad), and it works perfectly with a range of browsers, including Chrome, Edge and Safari. The mobile apps include a barcode scanner, for easy barcode scanning of products.
BizSwoop, the developer of Jovvie, also makes BizPrint to give Jovvie users access to automatic or on-demand printing using existing printers without the need for proprietary paper, ink and equipment. This can be a big benefit for sellers who want to have the ability to print receipts, reports, orders and more directly through a WooCommerce POS plugin interface. BizPrint includes a number of templates for printing orders and receipts out of WooCommerce, automatically.
2. YITH WooCommerce Point of Sale
YITH WooCommerce Point of Sale is another great option for people seeking WooCommerce plugins that can extend the sales experience. YITH WooCommerce Point of Sale syncs with your WooCommerce store and can pull product info, customer data, tax information and more. You can also add new products to your store fairly easily using YITH WooCommerce Point of Sale, which is good to know if you have an evolving line of items for sale.
One thing that's a bit different about YITH WooCommerce Point of Sale is that the brand makes a lot of different plugins that can be combined to enhance your selling experience. While YITH WooCommerce Point of Sale is the main plugin that provides you with POS functionality to process transactions, each additional plugin adds different features, allowing you to make customizations to your store based on your needs.
This approach has its benefits as it gives you more control over which plugins get installed to your WooCommerce storefront. The downside is that you will need to work individually through each plugin to access the different customizations you've made. This can be a bit time-consuming and may become confusing and overly complicated.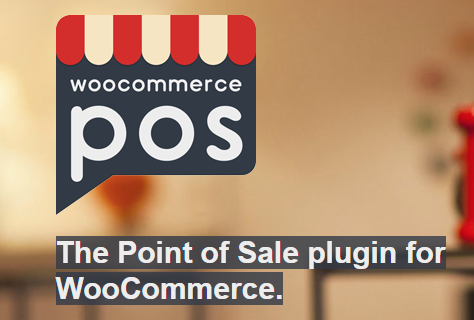 3. WCPOS
Although a bit dated, WCPOS can still be used to improve your online storefront. WCPOS has no monthly fees as it is a self-hosted solution. This is good because it means you have tighter control over your data, but it can be challenging since you're responsible for making sure updates are installed as they come in.
On the other hand, WCPOS is known for its detailed reporting, which provides an in-depth look at important stats, including payments, cashier reports and store reports. Detailed reports are only available through the premium version, however. If you need a quick point-of-sale plugin for WooCommerce, WCPOS may have what you're looking for.
4. OliverPOS
OliverPOS is a cloud-based point-of-sale plugin for WooCommerce. Like other WooCommerce POS plugins, it can integrate into physical point-of-sale strategies, allowing sellers to merge their online and in-person retail inventories. This provides more options for sellers, but it may be a bit too much for newcomers. Your WooCommerce store syncs instantly with OliverPOS, allowing you to keep up with inventory as sales are made. You can also accept a large variety of payment methods through OliverPOS, and it provides unique features like the ability to offer customers layaway.
OliverPOS is available as four different plan options, all of which include unlimited transactions, customers and products. While OliverPOS Starter is free, it provides the least amount of features and is best suited for sole proprietors who don't have employees or large inventories. On the opposite end of the spectrum, OliverPOS Enterprise provides support for an unlimited number of employees, making it a good solution for big companies that have a large footprint.
Although OliverPOS comes packed with big features, it's important to think about what your point-of-sale strategy needs. Often, people who are new to selling through a POS linked to WooCommerce will think that because a plugin is more expensive or boasts tons of features that it's going to be the best, but if you won't end up using even half of the features available, you may be better off with another solution.
5. wePOS
wePOS places a large amount of focus on speed and productivity. This POS WooCommerce plugin boasts fast inventory search capabilities to help customers find what they're looking for in a hurry.
It can also be used at physical retail locations across multiple counters at the same time. wePOS offers the ability to log in cashiers, making it easy to manage activity across personnel in a physical retail environment. Much like with OliverPOS, this solution is good if you have the need, but it might be a bit too much power if you focus more on online sales as opposed to in-person sales.
This all depends on your current business' needs, but don't forget that you may need to scale things in the future to accommodate more physical sales as your business grows. As you shift from a digital focus to concentrating more heavily in-person sales, a more powerful WooCommerce POS plugin may make more sense.
What Makes the Best WooCommerce POS Plugin?
In determining what makes a good WooCommerce plugin, it all comes down to the needs of your online store and the needs of your customers. Not every plugin is suited for every store, and your customers may need something special depending on what and how you're selling.
By and large, the top things to look for in the best POS WooCommerce plugin are:
Ease of use and modern integrations
Customization options
Scalability
Stability
Ease of Use and Modern Integrations
How easy a point-of-sale plugin is to use and integrate is a major factor in deciding on the solution that's best for your brand. If a POS plugin is difficult to navigate and doesn't offer guidance to get you where you need to be, you're likely to waste valuable time and end up frustrated. Additionally, the best choice of WooCommerce POS plugin will be one that can be learned and used without the need for coding experience.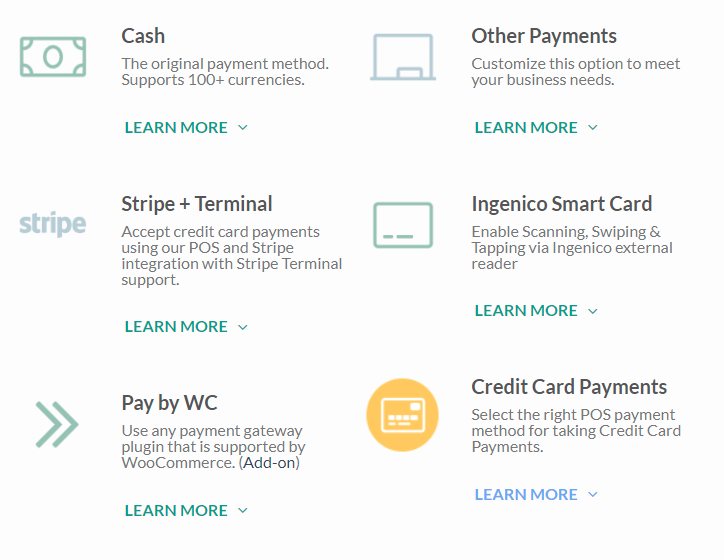 Payment Acceptance (Stripe, credit cards)
Having the ability to access all major payment gateways such as Stripe allows your customers to pay using their preferred method. This can make the difference between completing a transaction and losing a customer. Your WooCommerce POS plugin should provide the ability to fully utilize all major payment gateways, including physical card readers, without any hassle for a seamless experience.
Inventory Management and Reporting
You're also going to want to rely on your WooCommerce POS plugin for inventory management and detailed reporting. Keeping up with a changing inventory across multiple stores and stations can be challenging on your own, but with the right plugin solution, you can stay on top of changes to ensure you're able to serve customers promptly.
In keeping with the above, having the ability to access detailed reporting across multiple stations is key to measuring productivity and performance. The best WooCommerce POS plugins will provide access to sales and stock reporting while giving you the ability to track your business' profits and productivity over time.
WooCommerce Sync
The key point of a WooCommerce POS plugin is the WooCommerce synchronization, so your online store and your in-person sales are covered by one system. If you've got any reporting or business intelligence through WooCommerce already, that all works when you add in the in-person sales a POS offers.
Customization Options
If a plugin doesn't provide you with the right customization options, it's not the right solution for you. Of course, customization means different things to different sellers, so it's a good idea to make a list of the things you want before you begin your search for the right plugin. The best WooCommerce POS plugins will provide the ability to customize things like who can use which stations, how items are displayed to customers during a transaction, and which features are available for use at different POS stations.
Scalability
While your brand may be small now, you have big dreams, and you're working hard every single day to achieve these dreams. If your WooCommerce point-of-sale plugin doesn't have the ability to grow with your business, you're likely going to need to switch things up in the future.
This can be time-consuming and cumbersome, so it's recommended to look for a solution that can scale with your business as it grows. Even if your business grows slowly, it's nice to know that your point-of-sale solution will be there as you add physical locations and reach new customers.
Stability
When a customer approaches your brand to make a purchase, they're assuming you've got everything figured out and that you know what you're doing. If your point-of-sale solution isn't stable, all kinds of things can go wrong.
Not only can the sale fall through, but your brand's image and reputation can suffer as a result. You absolutely need to be able to rely on the stability of any WooCommerce point-of-sale solution you use, so look for one with a strong support team behind it that regularly updates features and issues maintenance to catch problems before they affect your business. The bottom line? You need to be able to count on stable performance 24 hours a day.
The Best WooCommerce POS For Your Business
Although you have a number of good options available when it comes to choosing a WooCommerce POS plugin, Jovvie stands out as the solution for sellers who want access to lots of features without being tied to one location. Using Jovvie, you can sell anything from anywhere, and you also have the ability to set up and assign roles for different stations across multiple locations. This can help you sell more products faster while providing your customers with more locations in which to find your business.
There's plenty to think about when considering all of the various POS WooCommerce plugins available out there, but at the end of the day, you can find what you're looking for by trying things out. You're encouraged to look for WooCommerce POS plugins that feature a free trial or demo version.
Thankfully, most WooCommerce point-of-sale plugins, including all of the ones listed above, do offer the ability to demo features before you invest. By trying things before you buy, you gain peace of mind in knowing that you're going to be able to offer your customers the best experience while your brand enjoys greater productivity.
Jovvie offers a robust set of features that can not only help your storefront to stand out, but it can also provide a service experience that will keep customers coming back. Learn more about Jovvie here.