Are you looking for a plugin solution that allows you to print receipts or invoices for purchases on your WooCommerce store? While there are many plugins available to print receipts and invoices in WooCommerce, not all of them are suitable for every store.
A good WooCommerce receipt plugin can handle in-person sales powered by a WooCommerce POS (maybe powered by a fast and reliable thermal printer), as well as B2B invoice printing in an office, warehouse, or other situation where you either need to take and process orders, or just process orders from WooCommerce.
This post covers these aspects to help guide you to the right choice.
What are the benefits of printing receipts and invoices?
Receipts and invoices are commercial accounting documents important to running a business and managing customer relationships effectively. This is true whether you operate solely online or also sell items in-store. Here are some benefits of adding receipt and invoice printing functionality to your WooCommerce store.
Keep a log of transactions
Printed invoices and receipts make bookkeeping and accounting, tasks that most business owners dislike, more manageable. You can quickly look up expenses, add up business income for each period and track business income and expenditure for each quarter. You'll also be able to save more time for more productive or creative tasks.
Track payments accurately
Cash flow problems can devastate a business – 82% of businesses cite cash flow as a reason for failure. A proven strategy for managing cash flow is invoicing customers in a timely manner and staying on top of payments. Printed invoices make it easier to quickly see amounts that are outstanding, new or old overdue invoices and proactively minimize the gap between invoicing and payment.
Give printed receipts at point of sale
Though digital receipts are increasingly becoming popular, a majority of Americans still prefer to receive physical receipts. Making receipts available in both formats will allow you to meet different customer preferences. For physical receipts, you can use a WooCommerce printing plugin with POS integration that generates receipts immediately when shoppers make a purchase at your brick-and-mortar store, pop-up store or other in-person sales channel.
Ensure smooth international shipping
If you export your products or fulfill international orders, a WooCommerce receipt plugin that also prints invoices, can make international shipping smooth. The invoice serves as legal evidence of sale between you and the buyer, and helps your package get through customs. Documents like the invoice, packing list and bill of lading are essential to make international fulfillment smooth and quick, and prevent delays that can lead businesses to lose their customers.
Serve as a backup
Printed invoices are yet another backup of your business records. They're available to access immediately in the aftermath of a major power outage, hardware failure or website hack. They also come to the rescue if you lose access to your devices.
How can a WooCommerce receipt plugin help your business?
WooCommerce doesn't have built-in features for printing receipts or invoices. You'll need a plugin that automates the process of printing professional-looking invoices. It should integrate seamlessly with your WooCommerce POS, so you can print out receipts and invoices as soon as an order is placed or a sale is made at your physical store. Apart from faster in-store checkouts, a WooCommerce receipt plugin that prints other transaction documents will allow you to:
Save time you might otherwise spend manually preparing and sending invoices to customers
Accept payment offline, such as via bank transfer
Create a complete invoice with your customer's and your name, address, phone number and email
Add shipping details and tax rates to show price break-up or the minutiae that customers or carriers wish to know
Choose invoice and receipt templates that best fit your business needs
This brings us to the actual selection of a WooCommerce receipt plugin. Of the many WordPress plugins that you can potentially use for your website, which ones deserve your attention? Take a look.
What to consider when choosing a WooCommerce invoice and receipt printing plugin
The key features to evaluate when comparing different WooCommerce receipt plugins are as follows. The best plugin should ideally have all these features as only then will it make a substantial impact on your order processing and management.
1. POS support
Does the plugin integrate with your WooCommerce POS to allow you to instantly print receipts when an in-store purchase is made? Enabling this kind of printing automation for your physical points of sale can also speed up order packing and fulfillment at your warehouses.
2. Printer support
Does the WooCommerce receipt plugin work within your current infrastructure? It should be compatible with your existing printers so you don't have to make any additional purchases.
3. Bulk printing
If you want to be able to print multiple invoices at a time, then you should check if the plugin supports bulk printing. This functionality will save you time and effort on ordering prints one by one in situations when you need quick access to several invoices or other documents.
4. User friendliness
Make sure to check whether the WooCommerce receipt plugin is easy to install and use. Even store owners without technical background or any PHP, HTML or CSS developers in their team should have no problem finding their way around the solution.
5. Invoice customization
Invoices are also marketing tools, helping get your slogans, special messages or friendly policy across to customers. So, it's a big plus if the plugin offers editable invoice templates to add additional fields and custom branding. Any new taxes or fees should also be easily accommodated to reflect current laws or business rules.
The 5 best invoice and receipt printing plugins for WooCommerce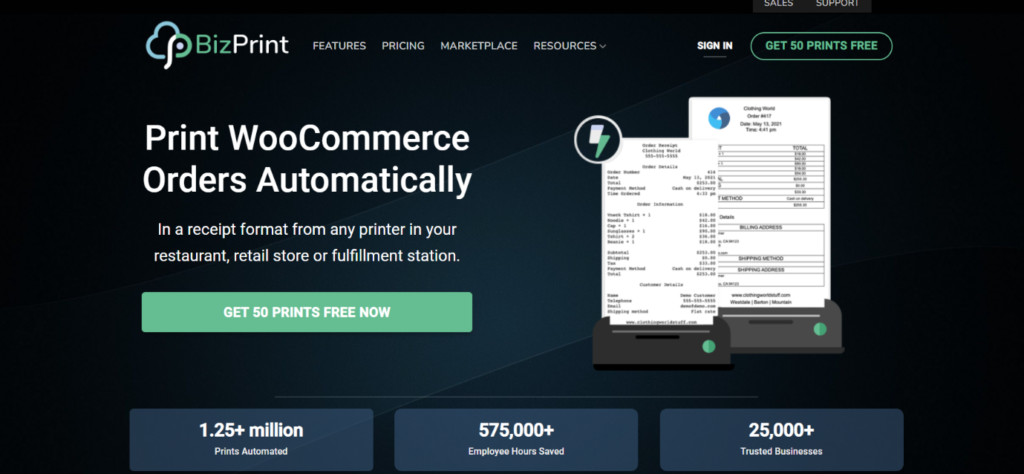 BizPrint is a WooCommerce invoice printing plugin that allows you to easily automate receipt and invoice printing for WooCommerce orders placed in your online or physical store. BizPrint connects directly to your existing printer, and supports multiple printer types and locations.
With BizPrint, receipts are automatically sent to your printer as soon as a purchase is made using an in-store POS system. So, it works for both your in-person and shipped orders, and serves as a complete auto-printing solution for your eCommerce business.
The WooCommerce receipt plugin doesn't just support receipts and invoices – its functionality also extends to packing slips, delivery notes and credit notes, which can be printed directly from the interface. It also has a range of customizable templates with custom fields, so that documents can be modified to suit the needs of your store. Physical copies of proforma invoices, purchase orders and shipping labels to packing slips, delivery notes, credit notes and order emails are just a printing job away
In the example below, you can print a receipt directly from your Jovvie POS station.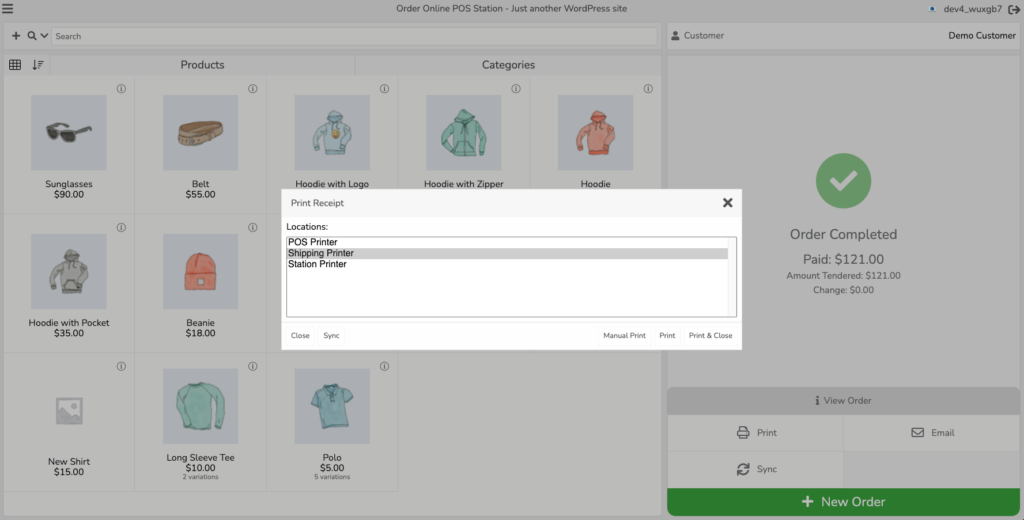 Once you have configured the BizPrint template for receipts, the plugin will generate physical receipts to those specifications. You can print receipts automatically from your POS, or trigger prints manually:

What makes BizPrint different from other WooCommerce receipt plugins is that it can be integrated with Jovvie to further improve order processing speed and customer satisfaction. You can, for instance, increase visibility into your in-store orders, track fulfillment stages and print order statuses accordingly, and take control of POS invoicing and receipt printing from a single system.

This plugin allows you to print PDF invoices, receipts and packing slips directly from the WooCommerce orders page. Invoices can be printed per order or in bulk. Customers who are logged in to your store can print their own receipts, should they wish.
Apart from receipts and invoices, you can print packing lists, dispatch labels, shipping labels and delivery notes. So, it's a good solution if you're looking to print receipts on a per-order basis, or generate packing slips to include with the product package you ship to customers. A notable feature is Unicode and RTL support, which is useful if you need to translate information to another language.
The plugin offers invoice templates for adding your company and customer details. You can also add line items like tax rates and other tax information or fees. However, overall, the plugin has limited customization options, so you may not be able to achieve the same level of detail or custom branding as BizPrint or another WooCommerce receipt plugin.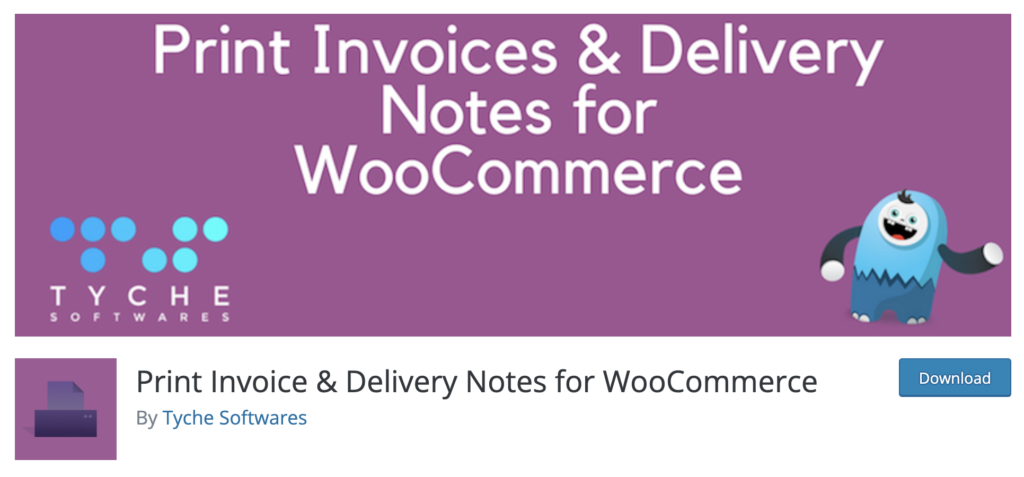 This is a free plugin that lets store administrators and customers print receipts and invoices directly from the order page via a dedicated side panel. You also have the option to include a print link in customer emails.
The WooCommerce receipt plugin allows for quite a bit of customization. You can add your company address and logo, policies, personal notes and a footer to invoices and other business documents.
It supports sequential invoice numbering for easy order monitoring and traceability. You can extend its functionality using WordPress hooks and functions.php support.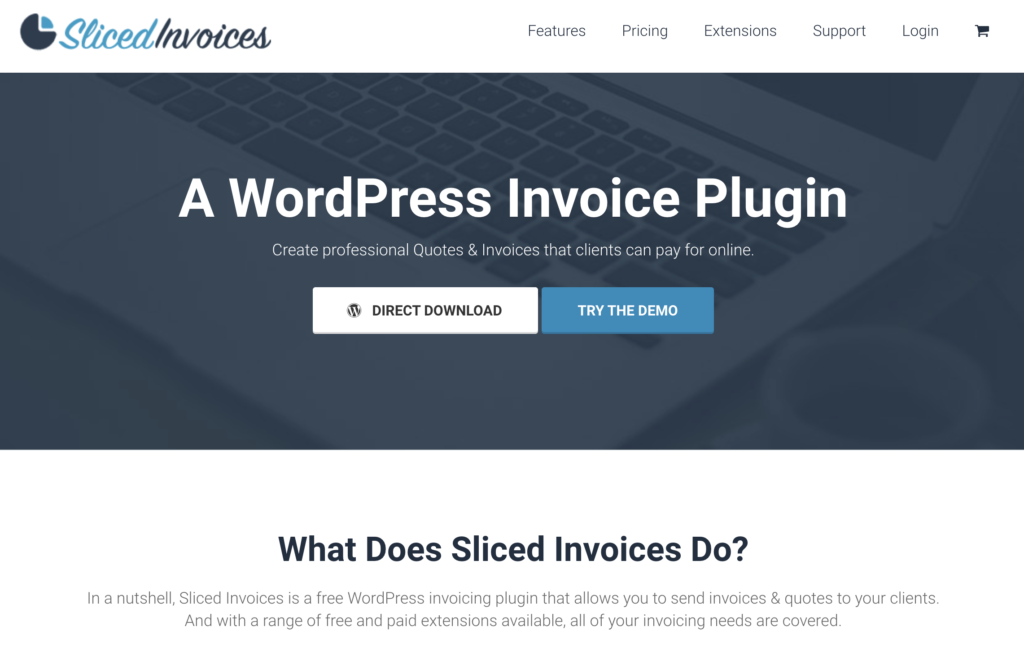 Sliced Invoices is a WordPress invoicing plugin that can generate invoices and quotations to send to clients. The free version comes with lots of functionality out-of-the-box, including support for various payment gateways and payment methods, and language translations.
However, you'll need to pay $30 a year for a premium version if you want to also use their PDF receipt printing extension. Sliced Invoices is a good option for WooCommerce store owners who need to generate receipts for their orders and might want to upgrade to physical receipt printing in the future.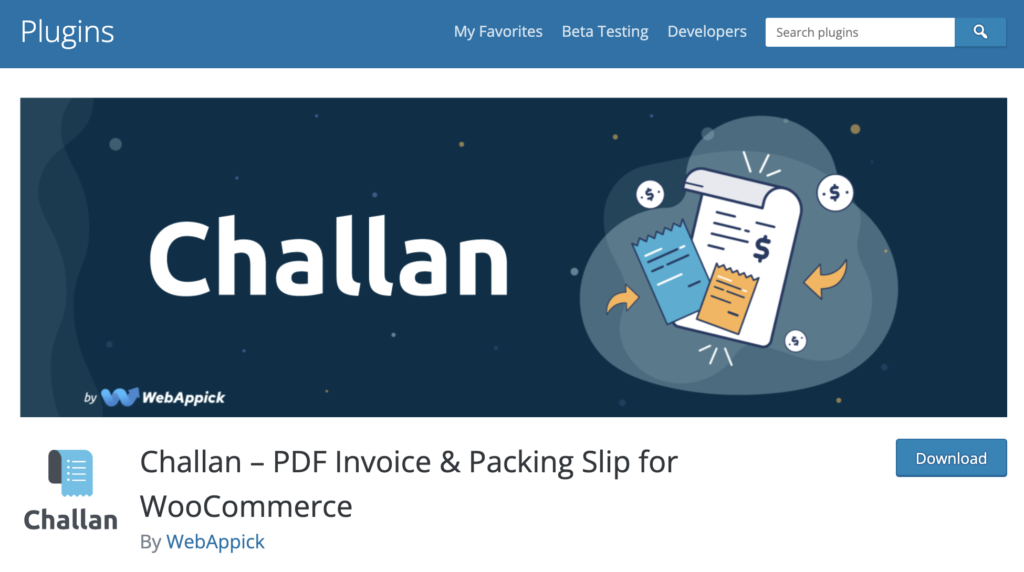 This WooCommerce PDF invoice plugin lets you easily print and download invoices for both individual and batch orders, supporting bulk generation. The added benefit of Challan is that it automatically sends a WooCommerce email with a PDF receipt attached when an order status is changed. This feature is especially useful if a customer changes their address or billing information before an order ships, allowing you to keep track of and modify orders in real time.
As far as customization is concerned, the plugin allows you to choose from multiple date formats and set up custom invoice numbers. There is also a resize option for PDF receipts to fill different devices.
BizPrint brings automatic invoice and receipt printing to WooCommerce stores
WooCommerce does not offer invoice and receipt printing out-of-the-box. This means you'll need to use a different solution to satisfy in-store customers that ask for physical receipts. The ability to convert receipts and invoices created online into physical documents is linked to several business benefits. Hard copies of invoices and receipts make bookkeeping and accounting more manageable, support smooth international shipping, and become your backup when you lose your device or face hardware or internet problems.
The solution in this case is a WooCommerce receipt plugin that takes care of the printing needs for online orders and in-person sales. BizPrint, through its integration with Jovvie, allows you to print receipts and invoices automatically and keep track of orders in real time, as and when an in-store purchase is made. In Jovvie, you already have a powerful point of sale system. With BizPrint integration, you can take order management and processing to the next level.
When looking at the various plugins that enable invoice and receipt printing, consider factors like template customization options, ease of set-up, automatic printing, compatibility with existing hardware. BizPrint ticks all the right boxes without requiring you to add to your infrastructure or integrate an add-on for premium features. It also has a simple set-up with a few steps that any online store owner can follow and execute without difficulty. Everything you expect from a WooCommerce receipt plugin is there to support your eCommerce fulfillment from start to finish, and boost the efficiency of your in-store operations.
Understand how BizPrint integration with Jovvie might work for your store by trying out one of the flexible pricing plans. You can explore various printing use cases unique to your business and gain clarity on whether BizPrint is a good fit for your store.