Looking for a way to keep track of your inventory in WooCommerce? Barcodes are an efficient way to find out what you have in stock and what you don't. However, to generate barcodes in WooCommerce, you'll need a third-party plugin. We explain how you can go about it in this brief guide to WooCommerce barcode inventory management.
What are barcodes and why should you use them?
Barcodes are machine-readable codes that contain information about a product, such as price, weight, manufacturer's name, expiration date, and other data. Each barcode is unique to the product it is appended to. When you scan a product barcode label or QR code using a barcode scanner, it brings up product information, and upon a sale, inventory can be updated in real-time.
Barcodes are ubiquitous in manufacturing and logistics sectors that use them to track the movement of products through the supply chain. Barcode scanning is a common sight at physical stores, but even eCommerce store owners that operate entirely online or also run a physical store can benefit from implementing barcodes.
Why use barcodes for your business?
WooCommerce doesn't have built-in functionality for inventory management with barcodes. This leaves you with two options: manual tracking or a third-party solution that lets you create a WooCommerce barcode inventory system. Given a choice between the two, creating and scanning barcodes is always better – here's why.
Manual tracking is impractical for most businesses
WooCommerce inventory management on a manual basis is slow and tedious. Manual entry of product information in spreadsheets or other software is prone to errors and can lead to bad data. Making purchase or business decisions based on bad data is risky, and correcting that data means expending your time and resources yet again. There's also the risk of frustrating the staff who need to log in SKUs and other information for each product.
Manual stock management may look attractive when you carry a few items or you don't move many items a day. But it is rarely the best option for WooCommerce inventory management.
A WooCommerce barcode inventory system is more efficient and accurate
Barcodes provide a detailed view of the current inventory, saving hours on physical inventory counts. Apart from products, barcodes can also be assigned to locations, such as a shelf in your stockroom or warehouse. Staff can scan both product and location barcodes to manage inventory at multiple locations quickly and easily.
Each barcode is assigned to a specific SKU in your store. When that item is sold, the product stock levels will update automatically. This is especially useful if you run a physical store alongside your online eCommerce store because it means you can keep all your products within WooCommerce while selling between different outlets.
Visibility into inventory is linked to customer satisfaction. 34% of businesses have sold a product late because they inadvertently sold an item that was not in stock. Late deliveries have sales consequences – 69% of shoppers are much less or less likely to shop with a retailer in the future if the item they purchased is not delivered within two days of the date promised. They also have cost implications – 87% of shoppers expect brands to make amends when they miss a delivery date.
The average US retail operation has an inventory accuracy of only 63%. Barcodes help increase inventory management accuracy. As updates to stock levels happen in real-time, you always have the true picture of your inventory at any time. You can replenish stock, hold off on ordering items that have remained unsold, or prioritize the purchase of fast-selling products in an informed and proactive manner.
With WooCommerce barcode inventory management, you can seamlessly track items that come in and go out of your warehouse. You will be better able to reduce stockouts and overstocks, and cut overall inventory costs by at least 10%. You can free up the cash for other uses that help your business thrive.
Barcode scanning is pretty much the de facto checkout method at physical stores and a must-have for retailers. Barcodes make it easier and faster to record the price of items during checkouts at your POS. 88% of US consumers want their in-store checkout to be faster. A WooCommerce barcode inventory system ensures faster in-store checkouts and reduces waiting time, keeping your customers happy.
The best way to use barcodes to keep track of inventory is with a WooCommerce Point of Sale (POS) solution that allows you to scan barcodes on the fly and automatically update stock levels. You can be assured of reliable views of items currently in stock and maintain stock levels according to your requirement and market demands.
Using a Point of Sale Solution for WooCommerce Barcode Inventory Management
When you decide to implement barcode-based WooCommerce inventory management using a POS plugin, choose Jovvie. The WooCommerce Point of Sale plugin has all the features needed for physical stores including integration with a mobile scanner app, payment processing, and automatic inventory management.
The WooCommerce inventory management plugin is used by tens of thousands of WooCommerce store owners that need a native POS solution for WooCommerce. Here are some reasons to use Jovvie for WooCommerce barcode inventory management:
Allows you to scan barcodes and update inventory levels automatically using a mobile device or tablet, whenever or wherever a sale is made. With no need for clunky POS hardware, you can sell both in-store and on the go seamlessly.
Automatically tracks purchases across online and offline storefronts and updates your WooCommerce inventory levels accordingly – even with product variations.
Jovvie is easy to set up and sits right in your WordPress dashboard. All WooCommerce settings, products, and customers are automatically and continuously synchronized to the POS, which cuts down implementation time. On top of this, detailed reports of everything you need to effectively run your business, from product sales to customer insights, are available from your WooCommerce dashboard.
Set up one or many different cashier stations with customized settings depending on the requirements of your store. Want to offer a guest checkout option? Jovvie's kiosk mode makes this easy, and you can even pair with sister plugin, BizPrint, to auto-print receipts at checkout.
The full WooCommerce POS solution supports all major payment gateways, including Stripe and Stripe terminal for swipe, tap, or scan payments, so you can offer more payment methods to your customers.
Choosing between self-hosted and Cloud Jovvie
Choose Jovvie Cloud to get done-for-you POS hosting. Cloud deployment allows for the same convenience as any other plugin but does the heavy-lifting while bringing all the performance benefits and taking care of real-time synchronization and automatic updates. This is available on a monthly basis.
Jovvie Cloud is the best choice for most users: it's about 50% faster than self-hosted Jovvie on typical WooCommerce hosting, with a 99.5% uptime guarantee, ensuring you don't keep customers waiting.
Choose self-hosted Jovvie to run your POS on your own WooCommerce hosting, the same as you would any other WooCommerce plugin. Self-hosted is available at $39/month. This plan includes all features and you can accept card payments through Stripe Terminal, with no increase to your transaction fees. Self-hosted Jovvie allows you complete control over security and compliance, software updates, and performance.
How to Manage WooCommerce Inventory using Barcodes (step-by-step)
Once you've purchased your Jovvie POS license, there are just a few simple steps to start updating your stock with barcodes and setting up a WooCommerce barcode inventory system:
1. Make sure your products have barcodes
Many retail products already have barcodes on them, in which case you just need to connect those barcodes to your WooCommerce backend. You can also generate barcodes and store them in WooCommerce. Use a simple WordPress plugin such as the A4 Barcode Generator to generate barcodes for your WooCommerce products.
Jovvie supports the ability to store the barcode on the product view. It accepts up to three barcode types for products and variable products To view the barcode fields, go to Products > Edit Product > Inventory. You can add a UPC, EAN, or another type of barcode here.

2. Download and install the necessary plugins
You'll need the Point of Sale WP API connector plugin and the Point of Sale WP UI self-hosted plugin, available direct from Jovvie. The steps are simple to follow even for non-technical users.
3. Enable cloud or self-hosting
Once the plugins have been installed, select POS Settings > Connections. Choose your preferred service.

4. Access a POS station
Click POS > Stations, and select the station you want to use.

5. Set up your point of sale device
Connect your iPhone, iPad, or Android device to Jovvie using the BizSwoop app or web dashboard. This will allow you to scan barcodes directly from your mobile device.
6. Scan barcodes
Jovvie integrates with sister product BizPrint, a product for auto-printing receipts, packing slips, invoices, shipping labels, and other documents from WooCommerce. Better yet, if you sign up for Jovvie, you get three months of any BizPrint plan for free.
You can set up BizPrint in a few simple steps, and create a custom template in it that includes barcodes. Then, connect the barcodes generated using the A4 Barcode Generator to the label template using WordPress hooks and filters. You can print the labels automatically and append them to your products.

Anytime a customer wants to purchase a product in your physical store, simply scan the product barcode to send the product to the POS system. Once the sale is completed, the inventory level will automatically be updated in WooCommerce!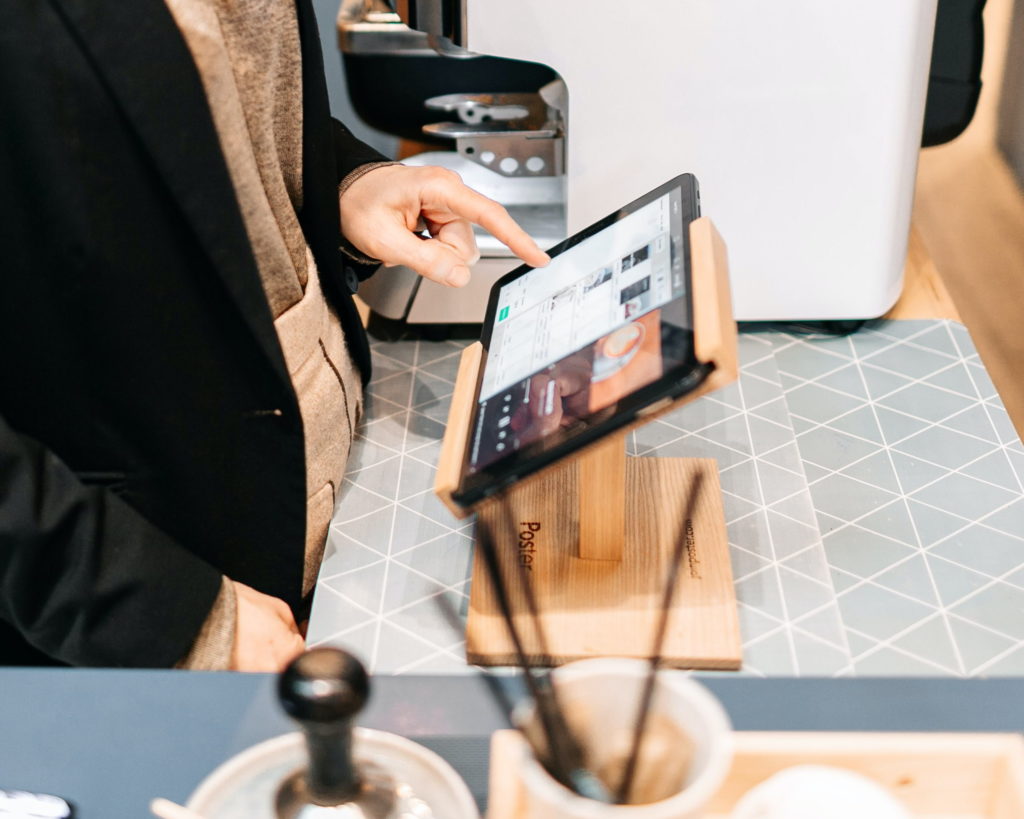 Create a WooCommerce barcode inventory system with Jovvie
Barcodes are a must-have solution for fast, error-free item identification and inventory tracking. They help prevent stockouts or overstocks and boost customer satisfaction. You can implement WooCommerce barcode inventory management with Jovvie via cloud or self-hosting. Jovvie is easy to set up, automatically updates products and customers, and provides an accurate picture of your inventory at any given time.