Wondering how to manage your WooCommerce store's inventory while on the go? Using a WooCommerce point of sale (POS) system that works with an iPad or other handheld device can make selling on the go easy, and the good news is there are many (POS) plugins available that will work with your iPad. However, it can be difficult to find one that works seamlessly with your WooCommerce store. In this post, we explore the top POS sale plugins to set up an iPad point of sale system.
Benefits of using a WooCommerce POS system with an iPad
While WooCommerce is one of the most popular eCommerce platforms, with a market share of more than 36%, it doesn't have built-in support for in-person sales. A WooCommerce POS system bridges the gap between your online store and in-person sales, which is great for WooCommerce stores that want to expand into having a physical presence. This doesn't necessarily mean a brick-and-mortar store – using an iPad POS system and paired with one of the best WooCommerce POS plugins, you can sell on the go too.
A WooCommerce POS iPad makes it much easier to manage your product inventory between your online and physical stores. By syncing your inventory between the two shopfronts, you can keep a more accurate track of stock levels to make more efficient purchasing decisions. You also avoid the need to create duplicate products for your physical and online inventories, as everything is seamlessly synchronized within WooCommerce.
Depending on which POS system you use, you can take advantage of thousands of WooCommerce extensions, which will make it much easier to level up the shopping experience for your customers. You can also integrate your store with a flexible payment gateway to allow customers to pay using their preferred method. Adding a barcode scanner to your POS checkout is helpful in making inventory management and sales processing more streamlined. These are just a couple of examples of the benefits of using a native WooCommerce POS solution.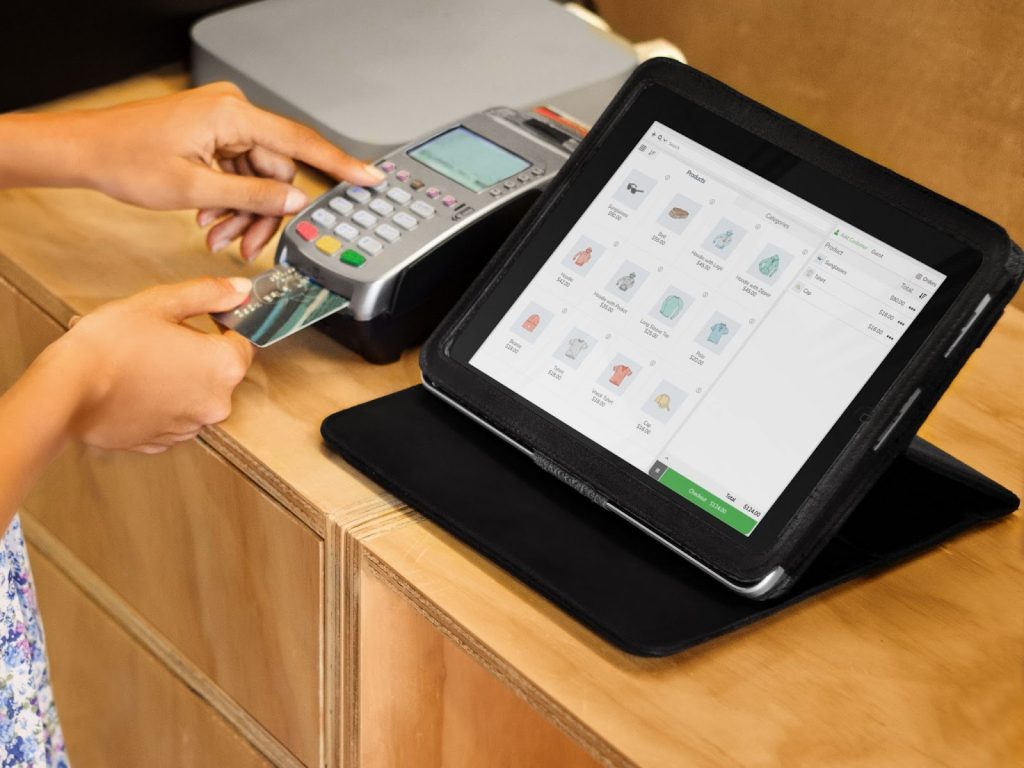 Top 3 WooCommerce POS plugins to use with your iPad
A quality POS plugin offers the functionality to manage your online and physical stores effortlessly. It provides a simple and intuitive front-end management system. Using your iPad with your WooCommerce POS system, you can sell anywhere, from your brick-and-mortar store, to trade events and pop-up stores, or even on the go.
Jovvie provides a reliable, fast, and user-friendly front-end POS solution for your WooCommerce store. Designed to work for any shape or size of business, the solution offers a wealth of features that make it a great choice for expanding your existing eCommerce business into in-person sales:
Sell anywhere, reliably: Available via the dedicated BizSwoop app (iOS and Android), Jovvie works seamlessly with any mobile device, as well as all major browsers, avoiding the need for additional POS hardware. Simply set up the app on your iPad, Android tablet, or phone and you're ready to make sales in-store or on the go! And on top of that, Jovvie is described as fast, easy to use, and stable.
Dynamic, live inventory: Jovvie syncs your inventory across online and in-person sales to ensure you always have an accurate picture of stock. This helps you to make informed decisions about restocking and helps to ensure you never miss an order.
Make sales easy: The fully customizable POS interface comes with a full suite of features to make the checkout process as user-friendly as possible. You can create fixed-value or percentage discount coupons, add new products on the fly, save customers' carts for later, or even set up a self-checkout option on your WooCommerce POS iPad or another device using the kiosk mode. 
Fast, painless payment processing: Jovvie's straightforward integration with Stripe Terminal enables you to accept payments through credit and debit cards as well as other popular payment methods like Apple Pay and Google Pay on your WooCommerce POS iPad. Alongside Stripe, Jovvie also has compatibility with Square's contactless card reader, as well as other external card readers (to do this, simply log the transaction ID into the POS and it will map it to the relevant order). Jovvie also supports custom payment types like checks and gift cards, as well as cash payments in over 100 currencies.
Quick and easy barcode scanning and receipt/invoice printing: Scan barcodes with your phone/tablet camera, or any third-party barcode scanner, connected to your WooCommerce POS iPad or another device via Bluetooth or USB (desktop/laptop). Printing of receipts, invoices, shipping labels, packing lists, delivery notes, and other business documents is made easy through seamless integration with sister plugin BizPrint. 
Jovvie is not only a great all-in-one POS solution but an affordable one too. Plans start from just $39/month for unlimited users, cashiers, and locations, with a 30-day free trial during which you will enjoy full access to Jovvie's dedicated support team. 
FooSales is an app-based solution that is available on iPad, Android tablet, and web. The app connects directly to your WooCommerce store using the dedicated plugin. Some of its features are mentioned below:
You can sync your online and in-person customers to make inventory management easier. FooSales also has an offline mode that allows you to make sales with no internet connection, and then sync these later.
FooSales supports discounts, coupons, and refunds. When completing an order on your WooCommerce POS iPad, coupons can be applied to the order and the cart will be discounted by the relevant amount.
You can set up FooSales to print receipts automatically on some popular thermal printers. You can scan 1D/2D barcodes for greater POS efficiency, faster checkouts, and better customer service levels.
Via your WooCommerce POS iPad or other device, you can accept payments via card, Apple Pay, Google Pay, and more through integration with Stripe or Square, although this does require an optional add-on.
Plans start at $12/month for a single domain and up to 3 users or devices. Additional users or devices can be included as add-ons, and you will need to pay extra for integration with Stripe or Square payments.
Hike is a standalone POS service that integrates seamlessly with your existing WooCommerce store. It comes with an extensive list of advanced features designed to help you run every aspect of your store reliably and efficiently. Here are some of its key features:
Supports iPad, PC, and Mac, and all data syncs to a central database in the cloud, which means you can use any/all supported devices at your POS. Offline functionality allows you to make sales with no internet connection and sync transactions later.
All paid plans come with unlimited products and variations. You can manage barcodes and stock at variant level, ensuring your inventory is always correct.
You can customize everything from product options and categories to receipt content, tax rules, and more. You can add custom discounts or custom sale items right at checkout.
Hike POS supports integrated card payments via in-store payment providers including PayPal Here, Tyro, and iZettle. It also supports custom payment types such as check payments and gift cards.
Hike's extensive list of features does not come cheap. In order to sell both online and in-store, you'll need to opt for the 'plus' plan or higher, which starts from $89/month.
How to set up a WooCommerce POS iPad using Jovvie
Jovvie is available as a self-hosted plugin and a cloud-hosted service. Purchase your Jovvie license, and follow these steps to set up a functional WooCommerce POS iPad using Jovvie from your WordPress dashboard
1. Download and install the plugins
Download the Point of Sale API connector plugin and the Point of Sale WP UI self-hosted plugin, available here.
2. Install the plugins
On your WP dashboard, go to 'Plugins' and add the plugins you've downloaded. Complete installation and activation.
3. Enable cloud or self-hosting
Jovvie offers both a cloud service and a self-hosted plugin, depending on your business needs. The cloud version is backed by reliable hosting and ensures real-time inventory synchronization across your storefronts. With the self-hosted service, inventory sync is seamless even for larger orders so long as you have a capable hosting service.
Jovvie Cloud is the best choice for most users: it's about 50% faster than self-hosted Jovvie on typical WooCommerce hosting, with a 99.5% uptime guarantee, ensuring you don't keep customers waiting. Self-hosted Jovvie allows you complete control over security and compliance, software updates, and performance.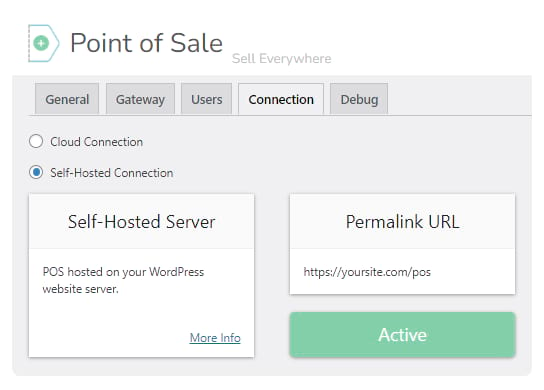 4. Connect your iPad
Connect your iPad (or Android device) with the BizSwoop app. Note that you can also use the POS plugin on your Chrome, Firefox, Safari, Edge, or Opera browser.
5. Sync inventory and customer data
All your products, managers, cashiers, and WooCommerce store settings will be imported and synchronized automatically. Every time a purchase is made on your online store or POS device, the inventory will be automatically updated across all your shopfronts. When you add a new customer, their details will reflect on both storefronts as well.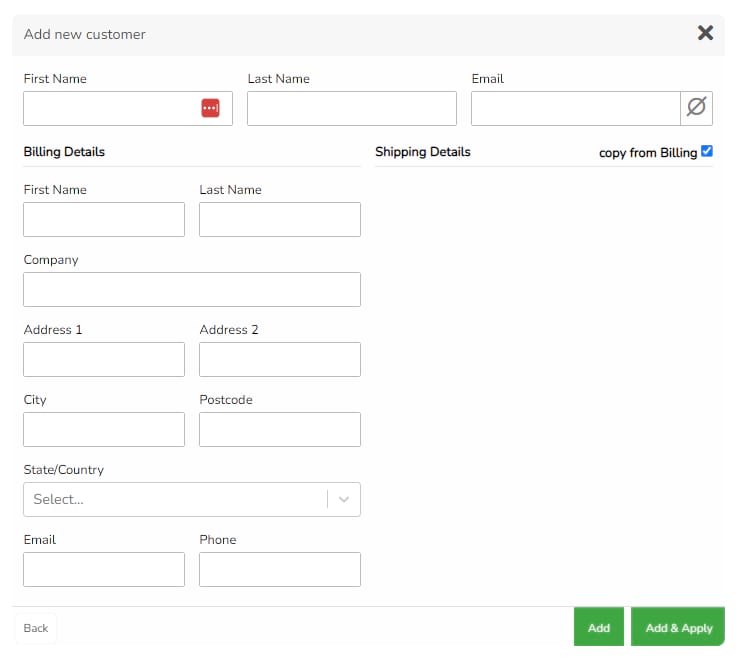 What can you do with the WooCommerce POS iPad you've set up using Jovvie?
Here are some of the neat functionalities that Jovvie activates for your POS iPad: 
Scan barcodes
The products you sell may already have barcodes on them. In this case, you can connect the barcodes to your WooCommerce backend. If not, you can generate barcodes and store them in WooCommerce. A4 Barcode Generator is a simple plugin to create barcodes for WooCommerce products.
Jovvie allows you to store the barcode on the product view and accepts up to three barcode types. To view the barcode fields, go to Products > Edit Product > Inventory. Here, you can add a UPC, EAN, or another barcode type.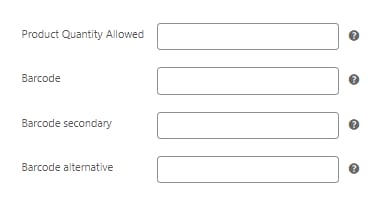 Add a discount
About 88% of American consumers in a survey said they used coupons for shopping. With Jovvie, you can apply the WooCommerce coupons you've created directly on the POS interface. In the cart menu, go to 'Add a discount' and apply the relevant discount.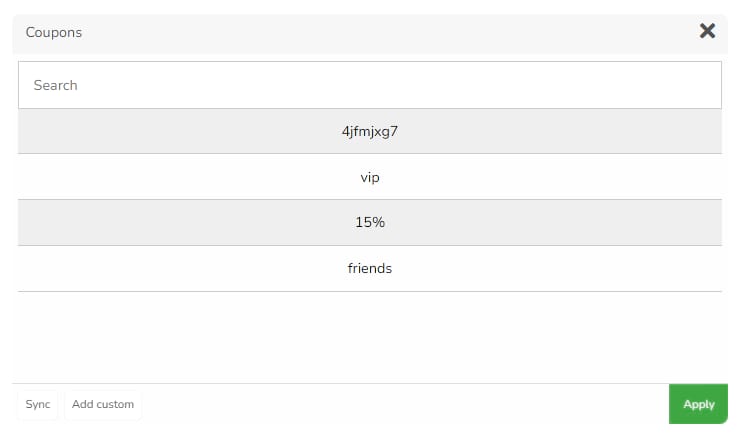 Add fees
If you want to add a fee on top of the product price, you can do it directly on your WooCommerce POS iPad from the cart menu by clicking 'Add a Fee'.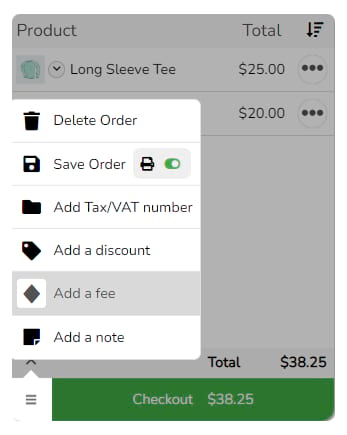 You can choose a fixed fee or a percentage fee. Say your store has started charging a bag fee of $0.50. Choose 'Fixed Fee', add a fee name ('bag fee') and dollar fee ($0.50), and hit 'Apply'. Follow the same steps to charge a bag or package fee that's a percentage of the subtotal.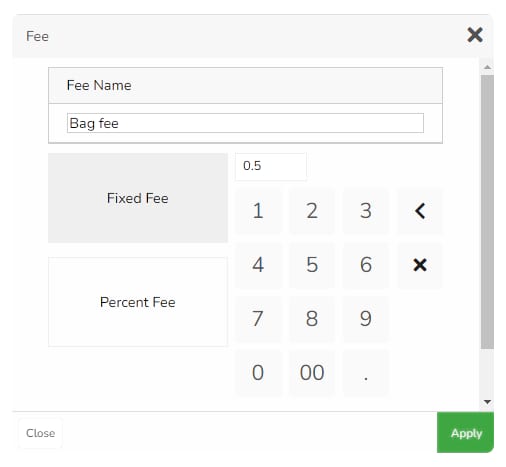 The fee will be applied to the order. As you can see in the screenshot below, both coupons and fees are applied at the checkout.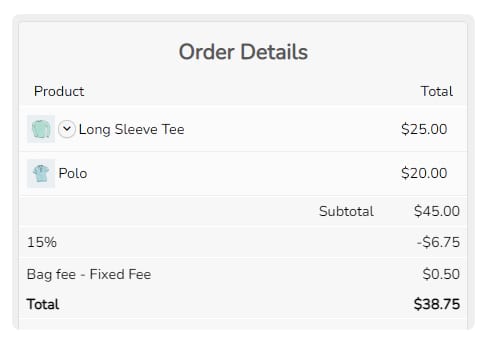 Print packing lists, invoices, and more
BizPrint integrates smoothly with Jovvie, allowing you to send print jobs for invoices, receipts, packing lists, and more from your WooCommerce POS iPad to your store or fulfillment center printer. If you're taking orders on the go or at your trade show display and shipping them to customers, using BizPrint's automatic printing feature, a physical copy of the order will be generated at your store or fulfillment center. Within moments of receiving an order from wherever you're selling, you can begin the fulfillment process. Once you have BizPrint set up, you can toggle automatic printing on the checkout page of the POS window.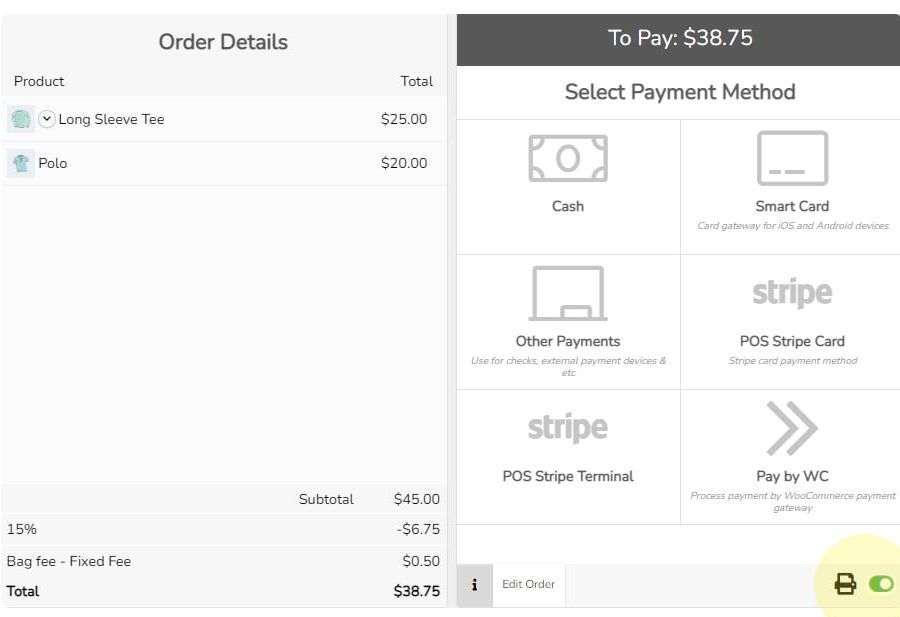 Add a tip
Tipping is common in the hospitality industry, but has also caught up in online and physical retail stores. People may tip for various reasons, and with Jovvie, you can give buyers a chance to tip at checkout.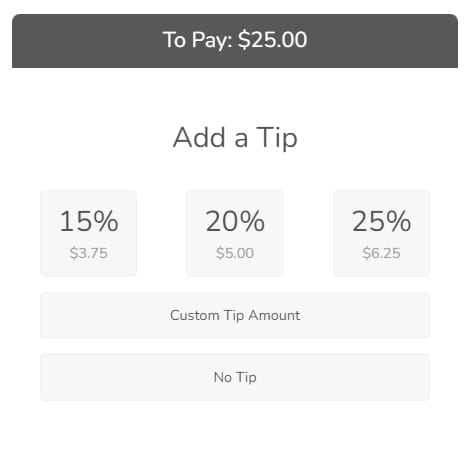 Allow buyers to pay how they want
Another advantage of using Jovvie on your WooCommerce POS iPad is the ability to let people pay using their preferred payment method. Not only is Jovvie an official Stripe partner but it also makes processing payments in cash and by credit card, smart card, check, gift card, and Pay By WC gateway smooth and secure.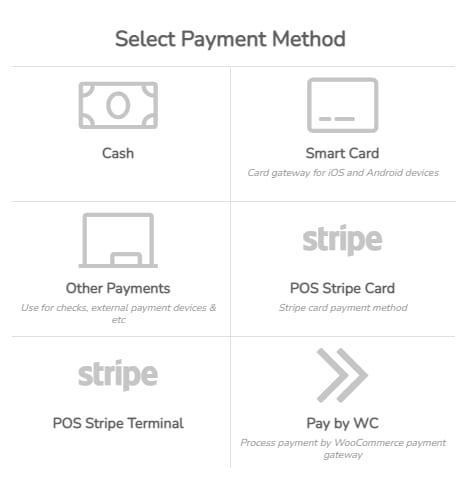 Get Jovvie to create a simple yet powerful iPad POS system for your WooCommerce store
An iPad POS system is ideal for selling on the go while also keeping your inventory in sync with your online store. As a WooCommerce store owner, you have the added benefit of access to thousands of platform extensions that you can use to improve the shopping experience for your customers.
Jovvie turns your iPad into a fully functional point of sale system. It has all the features store owners and entrepreneurs need to take orders and support the fulfillment process from any location, wherever the customers are!
Using Jovvie, you can:
Sell anywhere with confidence.
Assign unlimited users, cashiers, and locations.
Create a fully customizable, user-friendly checkout experience including guest checkout.
Be sure of seamless integration with barcode scanners, printing plugin BizPrint, Stripe for payments, and much more.
Why not give Jovvie a try by signing up for a free trial? The plugin is extremely simple to configure, and if you do run into trouble, their support team is there to help you out.