WooCommerce is a great e-commerce platform, but it isn't designed with physical stores in mind. The built-in WooCommerce inventory management system doesn't have all the features needed to synchronize inventory between your online and in-person sales, which can quickly create problems for staff and customers.
In this article, we explain the importance of enabling WooCommerce inventory sync, and how to sync your product stock with a WooCommerce Point of Sale (POS) system like Jovvie. With Jovvie, you will be able to manage sales, inventory, payments and customers in one place. The POS system automatically updates your inventory wherever a sale is made, and provides an accurate inventory picture across your online and in-person channels in real-time.
Why synchronize inventory between WooCommerce and your physical store?
Inventory synchronization between WooCommerce and your physical store is necessary for maintaining an accurate picture of your inventory and managing inventory availability, both of which are critical to customer experience and sales.
Poor inventory visibility has a direct impact on customer satisfaction and revenue
Say you have 20 items at your brick-and-mortar shop and sell them all in a single day. On the same day, a visitor to your e-commerce store buys one of those items. Unless you can buy the required item on short notice, you'll likely have to get back to the customer saying it is sold out and leave them wondering what happened. Or you may have to send an extended delivery time email to the customer.
34% of businesses have shipped an order late because they sold a product that was not in stock. This has implications for revenue. Research finds that 65% of consumers are willing to pay more for faster deliveries. They can't get those faster deliveries if your inventory management causes delays.
Here's a different situation: a customer sees an item listed on your website, and then visits your store to buy in person. This is not a problem if your online and offline sales channels are synchronized in real-time. If they're not, though, you'll need to check inventory for each individual product to ensure it's not been sold somewhere else first. This is time consuming and unnecessary.
Manually tracking inventory is an option, but it inevitably leads to inaccuracies in measuring stock levels, monitoring stock changes, and inventory forecasting. You may find yourself dealing with stock-outs, which harm the customer experience, or wasteful expenses due to excessive inventory carrying costs.
What kinds of WooCommerce businesses can benefit from stock synchronization?
Stock synchronization has multiple applications:
Online WooCommerce stores with a brick-and-mortar outlet: If you're a multi-channel merchant, accurate inventory is vital to avoid overselling and ruining the customer experience.
Online-only e-commerce stores: Even if you don't have a physical store, you need to make sure that your online store reflects the products you have physically available. WooCommerce inventory sync is particularly important if you have fast-moving inventory.
Dropshipping businesses: If you rely on external companies to fulfill your orders, synchronizing the inventory displayed in your store with your dropship supplier or fulfillment center is crucial to avoid delayed deliveries. Taking customer orders that you cannot fill will also affect your sales and reputation.
Solutions for syncing physical inventory with WooCommerce
There are four ways to enable WooCommerce inventory sync:
Manually sync inventory: You could manually sync inventory between your stores on a per-order basis, but this is time-consuming, prone to errors, and exhausts staff. Moreover, unlike what's offered by a good WooCommerce POS solution, manually syncing inventory doesn't allow you to integrate your inventory with different payment gateways and shipping methods as soon as an order is made. Instead, you would have to sync those details to WooCommerce later on. All of this makes the manual route impractical.
Use inventory management software: Inventory management solutions like Lightspeed or Megaventory Inventory Management allow you to automatically sync inventory between your web-based account and WooCommerce. However, these solutions are more complex than using an integrated WooCommerce Point of Sale system like Jovvie, and they often require additional hardware. So we recommend using them only if you need advanced features such as syncing multiple platforms like Amazon and Shopify together with WooCommerce.
Sync an external Point of Sale solution with WooCommerce: Point of Sale solutions such as Quickbooks POS feature inventory tracking and synchronization, with advanced features like notifications for low stock levels. Although many external POS solutions can be synced with WooCommerce, this adds an extra third-party vendor into your sales process, whereas an integrated WooCommerce Point of Sale solution operates within the WooCommerce dashboard itself.
A WooCommerce POS solution: A WooCommerce Point of Sale solution allows you to take orders online and in-person, and manage stock quantities across all your business interfaces. It's a better solution for those who want a quick and easy way to sync inventory between WooCommerce and their physical stores.
Of all the solutions for WooCommerce inventory sync, Jovvie packs all the features you'd expect to be able to run your POS stations smoothly. It is easy to set up, and doesn't require any external hardware – you can use it with your smartphone or tablet acting as the Point of Sale System, for sales at your physical store, on-the-go, at trade shows and pop-up shops.
What are the benefits of using Jovvie for WooCommerce inventory sync?
While there are a number of WooCommerce plugins that allow you to sync inventory between your shopfronts, Jovvie offers extra functionality for running your business smoothly. You can sync product variations, accept payments with different payment gateways, and use barcode scanning to synchronize physical inventory quickly.
Jovvie automatically tracks purchases across online and offline touchpoints, and updates your WooCommerce inventory levels accordingly, including across product variations.
Take a look at the reasons why you should consider Jovvie as your POS and WooCommerce inventory sync solution.
Easy-to-use interface: You don't need PHP/HTML coding knowledge to make the most of the plugin.
Built-in barcode scanning: Scan product barcodes and sync physical inventory using a mobile device or tablet.
No extra plugins or hardware required: Start synchronizing inventory out of the box.
Eliminate manual sync: Free up staff time to focus on other aspects of the business and handle more in-store and WooCommerce orders.
Business intelligence: Easily create reports on sales and inventory to make timely and informed business decisions.
Compatibility with major payment gateways: The end-to-end POS solution allows you to accept payments using Stripe and Stripe Terminal, and supports swipe, tap or scan payments.
Jovvie is available as a self-hosted plugin for your WooCommerce store from $39/mo, and comes with a 30-day full feature free trial so you can test everything out before you commit. No credit card required!  

You can also choose to get Jovvie as a cloud hosted service, all the features of the self-hosted plugin, plus guaranteed performance on a dedicated server with real-time syncing and updates all taken care of for you. Choose your plan here.
How to synchronize WooCommerce and physical inventory with Jovvie
Once you've purchased your Jovvie POS license, you only need to follow a few simple steps to start synchronizing your inventory. Here's the step-by-step guide to enable WooCommerce inventory sync using Jovvie.
1. Get the necessary plugins
Download the Point of Sale API connector plugin and the Point of Sale WP UI self-hosted plugin, both available here.
2. Install the plugins
Go to your WP admin dashboard, select 'plugins' and upload the plugins you've downloaded. Complete installation and activation. Jovvie will connect to your POS station through plugins in the WP admin dashboard.
3. Enable cloud or self-hosting
If you've chosen Jovvie Cloud, enable your Cloud Connection. If you're self-hosting, enable your Self-Hosted Connection!
Choose Jovvie Cloud to get your POS hosting done for you. Using Jovvie Cloud makes real-time WooCommerce inventory synchronization no problem for your store. Self-hosting, however, lets you run your POS on your own hosting infrastructure. Real-time WooCommerce inventory synchronization is still available with self-hosted, but bear in mind you'll need capable hosting to handle large order volumes.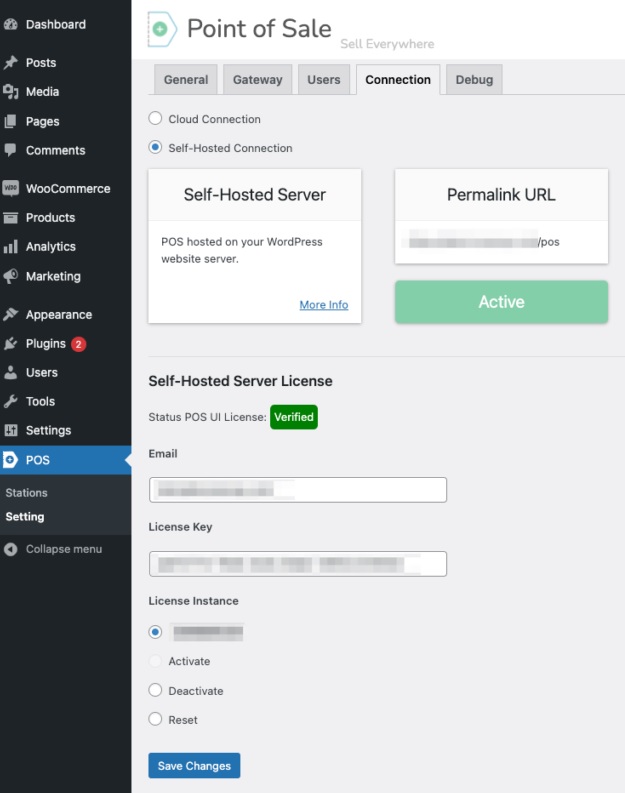 4. Access a POS station
Click POS > Stations, and select the station you want to use.

5. Set up your Point of Sale device
Connect your iPhone, iPad (Download from App store) or Android device (Download from Google Play) with the BizSwoop app or access the POS using any modern browser: Chrome, Firefox, Safari, Edge or Opera by visiting your WordPress admin dashboard. This will allow you to take orders from customers at your physical store. From here, you can sit back and watch Jovvie enable WooCommerce inventory sync for and across your storefronts.
6. Sync inventory
All your products, customers, cashiers, managers, and WooCommerce store settings will be imported and synchronized automatically. Whenever a customer purchases an item online or in-store via your point of sale device, the inventory will be automatically updated across all your shopfronts.
When you add a new customer, their details reflect on both your online and physical storefronts.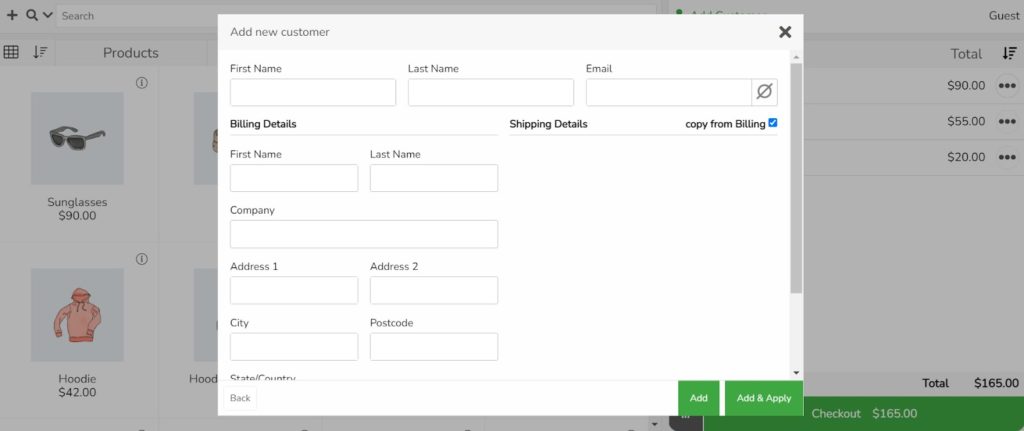 Here's how store checkout with an accurate, real-time view of your inventory looks using Jovvie: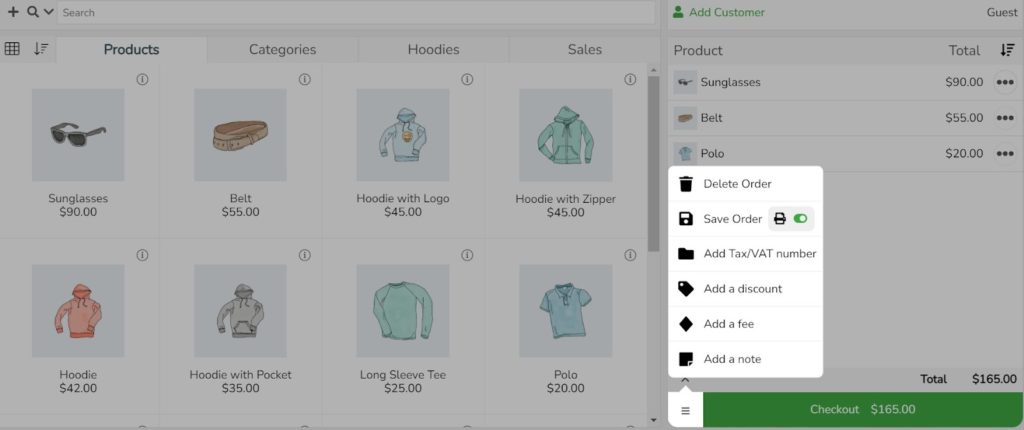 7. Track SKUs in real-time
Jovvie's functionality isn't just limited to purchases – if you sell perishable items, for example, you can manually update your inventory levels as and when you dispose of your products, allowing online customers to see how much stock you have left. To do this, use the search field in the POS interface to look for the Stock Keeping Unit (SKU) number of the product that you want to find, and update the stock levels accordingly.
Drive big benefits with WooCommerce inventory sync
In the absence of WooCommerce inventory sync, maintaining a consistent customer experience across in-person and online sales is bound to be challenging. You'll likely keep walking a tightrope between having too much or too little inventory, which can delay order deliveries and hurt sales. Stock sync matters equally if you sell online only or have a dropshipping business model.
Manual inventory syncs are labor and time-intensive, simply too impractical for any business. WooCommerce inventory management software can introduce complexity while using an external POS solution with WooCommerce adds an extra third-party vendor into your sales process. A WooCommerce POS solution offers several benefits and has no downsides.
Jovvie is the best solution for syncing inventory. It is easy to set up and extends the functionality of your business. Sync inventory wherever you make a sale and always stay on top of your stock levels.
Learn more about Jovvie's features and how businesses from over 75 countries are benefiting from the POS system.