Do you want to accept credit cards and digital payments from your WooCommerce point of sale (POS) system?
Offering multiple payment methods helps your business, and credit cards remain popular even as mobile payments using Apple Pay and PayPal have soared. A card reader allows you to accept credit card payments, and satisfy shoppers' need for a fast and secure in-store payment experience.
In this post, we take you through the four best solutions for the job so you can more easily determine which WooCommerce POS card reader to go for.
Why should you use a card reader for your WooCommerce store?
While there are many WooCommerce POS solutions available in the market, not all support card readers. However, if you use a WooCommerce POS like Jovvie that does support in-person card payments, you can benefit in many ways, as summarized:
Accept payments instantly
With a card reader hooked up to your WooCommerce POS, you can put orders through and take payments instantly. This will allow you to make more sales and save time counting cash or manually inputting customer credit card details.
Meet customer expectations
A majority of consumers prefer to make payments with their credit or debit cards, with only 30% preferring cash. Intuit estimates that a business that does not accept credit cards misses out on approximately $7,000 annually. Accepting plastic at your store is always a wise decision, and a WooCommerce POS card reader enables this functionality instantly.
Give sales a boost
People tend to spend more when they use a credit card. They're also likely to make more impulse purchases and give larger tips. It's a compelling reason to start using a WooCommerce POS card reader!
Simplify your accounts
Reconciling your business accounts is smoother when you can reduce the amount of physical cash that you have to manage. Having a WooCommerce POS card reader provides a central hub for customer payments, all while keeping transactions within WooCommerce.
Accept different payment gateways
With a card reader, you can keep all your card payments within the terminal of your choice. If you use a certain payment gateway for your business, such as Stripe, then simply integrate your POS with the payment gateway and start taking payments straight away.
The Best WooCommerce POS Card Readers
Choose a reliable WooCommerce POS card reader that allows you to securely accept credit card payments wherever your customers are. Here are our picks.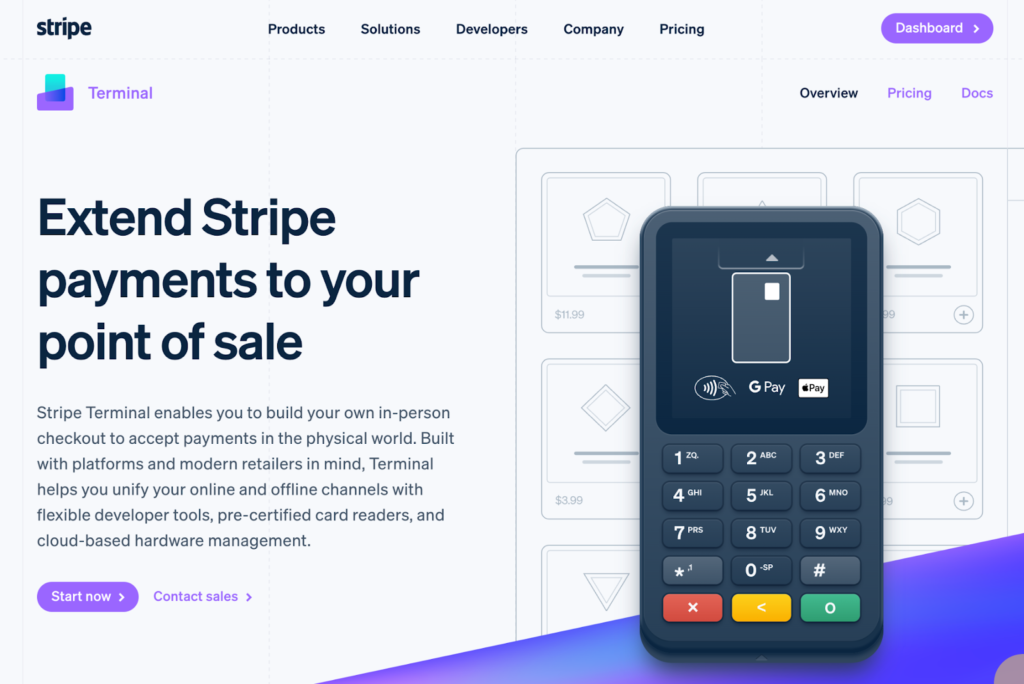 Stripe Terminal is payment processor Stripe's physical payment solution. "Stripe Terminal" is the brand, and the specific card reader offering varies depending on the location.
Stripe Terminal offers a way to accept physical card payments, and it natively integrates with Jovvie, WooCommerce POS plugin. Using this integration, you can use Stripe Terminal directly with WooCommerce. Jovvie is your WooCommerce POS solution, and then you're using the integration to take the payment using Stripe Terminal.
Using Stripe Terminal with a WooCommerce POS like Jovvie gives you all the benefits you'd expect, including automatic tracking and reporting of revenue, updates to inventory, and secure payments. Stripe Terminal supports contactless and chip-and-pin, and customers can use both physical credit or debit cards, and virtual wallets like Apple Pay and Google Pay.
Stripe charges a 2.7% transaction fee plus a $0.05 fee per transaction. Jovvie does not charge any extra fees to use Stripe Terminal.
The Stripe Terminal hardware varies slightly by location: in the United States the Stripe Reader M2 is available, and outside the BBPOS WisePad 3 is used instead.
Both devices connect using Bluetooth, making them great for indoor or outdoor usage, and both are compatible with Jovvie. When paired with Jovvie, which offers iOS and Android apps (that include barcode scanning functionality), they're an especially good fit for businesses that don't have a permanent physical store, but need to take payments in different locations, such as stalls, pop-up stores or who, for example, are moving companies, home salons or personal trainers: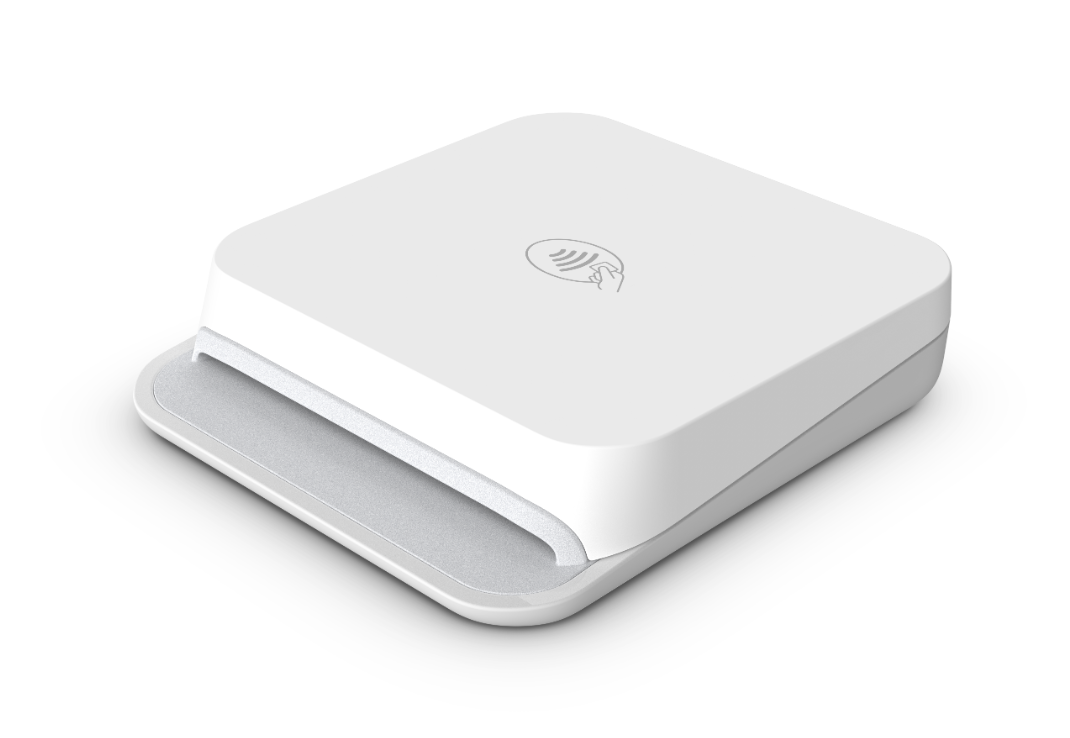 All locations Stripe Terminal is available can use the WisePOS E, which is an Android-based device with a 5-inch display that supports accepting PIN numbers on its touchscreen. It can be used in-store as a hybrid countertop and handheld reader, and connects over WiFi. This standalone device is not compatible with Jovvie.
Stripe Terminal is available in the USA, Canada, United Kingdom, Ireland, Singapore, Australia, New Zealand, France, Germany, Holland, Belgium, Denmark, and Sweden. Jovvie can be used with Stripe Terminal in any of these locations.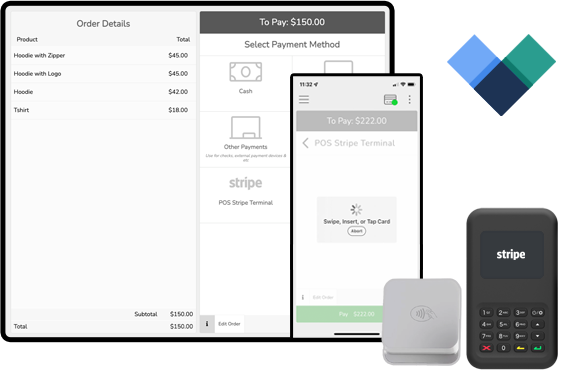 Stripe Terminal can be used with Jovvie, an official Stripe partner, to integrate with your WooCommerce POS solution. You can find out more about Stripe Terminal here, or get Jovvie here.

The Igenico Moby devices are smart, lightweight card readers that integrate with many WooCommerce POS solutions, including Jovvie. Ingenico is only supporting existing customers, and not onboarding new customers, so you can only use this solution if you're already an existing customer.
This is an obvious and significant limitation with the WooCommerce POS card reader solution. Most businesses will want to use Stripe Terminal instead.

WooCommerce In-Person Payments M2 is WooCommerce's own solution for in-person credit card payments. This is the same card reader that is available directly from Stripe. This is only available for US-based stores. WooCommerce Payments also supports in-person payments for customers in Canada, using the WisePad 3 card reader, which retails for $84.99. For payments outside of the US or Canada, you'll need to use Stripe Terminal directly.
You can buy the M2 card reader directly from WooCommerce for $79.99. The same product is available from Stripe directly for $59.
In order to use the WooCommerce In-Person Payments M2 solution, you'll need the WooCommerce Mobile App, WooCommerce Payments, and Jetpack.
You must take orders through the WooCommerce Mobile App (available for iOS and Android). This is not strictly a POS solution, and may result in slower checkouts for your customers. You are not able to use a desktop or self-service checkout solution, as you can with other WooCommerce POS solutions like Jovvie.
When you use WooCommerce In-Person Payments M2, you pay $10 more for the card reader compared to buying from Stripe directly, and you also pay $0.10 per transaction instead of $0.05 with Stripe Terminal. The percentage transaction fee is lower at 2.6% rather than 2.7%, however some users. This is likely to be overall a similar price to using Stripe Terminal directly, and the lack of proper POS support means WooCommerce In-Person Payments M2 is best suited to simple or infrequent purchases.
4. External readers
While all of the above are great for quick and secure payments, you can still use external credit card reader terminals with many WooCommerce POS solutions, although this often requires a workaround.
If you want to use an external credit card reader terminal, you can take payments using it and log the transaction ID into your WooCommerce POS. With Jovvie, doing this will map the transaction to the specific WooCommerce order!
This solution is good for those who already have a credit card terminal and don't want to purchase a Stripe or Ingenico terminal. But this comes at the cost of having to manually input transaction IDs each time a payment is made. As this is quite inefficient, not to mention error-prone, it's better to use another WooCommerce POS card reader from our list.
Benefits of using Jovvie with a card reader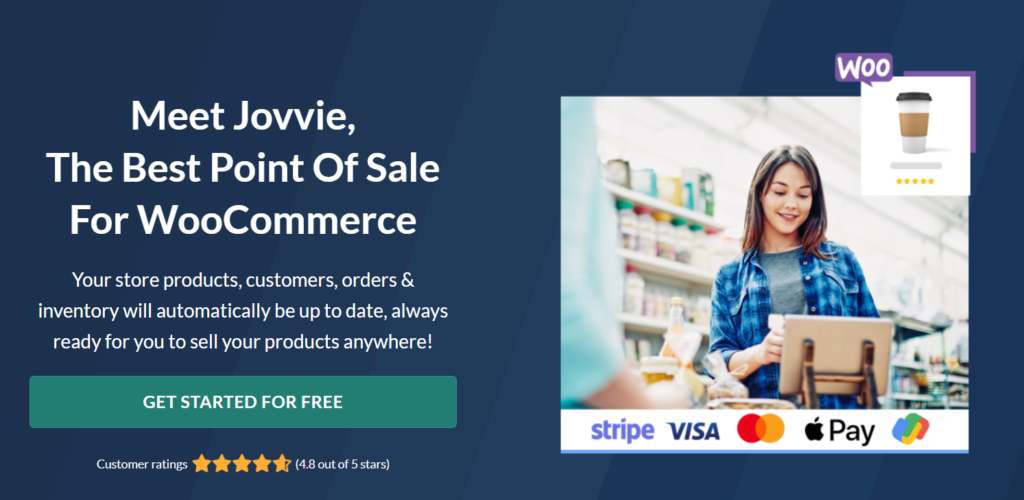 Jovvie is a complete point-of-sale plugin that sits right in your WordPress dashboard. In conjunction with a WooCommerce POS card reader, it can unify your online and offline transactions and inventory data in one place, making it one of the best WooCommerce POS plugins. The key benefits of taking in-person card payments with Jovvie are: 
Quick and secure payments: Jovvie works with Stripe Terminal for Swipe, Tap or Scan Payments. Stripe Terminal offers end-to-end encryption, ensuring that in-person payments at your cashier POS are fast and customer data is secure.
Zero fees: Jovvie doesn't charge additional fees for taking card payments with WooCommerce credit card processing providers such as Stripe Terminal.
Dynamic inventory: Jovvie will automatically sync inventory in real-time across your entire WooCommerce store whenever a purchase is made with a card reader.
Additional features: Jovvie offers features that allow you to create a complete POS system. They include barcode scanning, coupons, tips and order notes, inventory, shipping and tax support, and the ability to print invoices and receipts with sister product BizPrint.
Easy set-up: All your WooCommerce settings, products and customers are automatically and continuously synchronized to Jovvie. You can have your POS up and running quickly on your desktop or iPhone, iPad or Android device.
The hassle-free way to start accepting credit card payments for WooCommerce
While there are multiple WooCommerce POS card readers, Stripe Terminal is by far the most popular way to facilitate in-store card transactions.
Using Jovvie with a POS card reader like Stripe makes store management easy, in-store ordering efficient and enables you to process payments quickly, generating more confidence in your business. If you want an integrated POS system with Stripe compatibility which is built for in-store sales but also supports your online store, give Jovvie a try.