Whether you're new to selling through retail or you already have an established storefront, WooCommerce is an incredibly useful platform that can easily integrate into your point-of-sale (POS) system.
From managing your inventory to entering discounts and creating custom coupons, WooCommerce and WooCommerce POS plugins can give you the power to track sales in real-time, generate detailed sales reports on demand, manage your POS stations with ease and provide payment options to suit your customers' needs.
Whether you're selling products at a physical store or you need a POS solution to sell at your pop-up shop while on the move, you can integrate WooCommerce plugins to simplify tasks like syncing a live and dynamic inventory, setting up kiosks for customer self-service and calculating shipping and tax information on each sale.
WooCommerce plugins like Jovvie can also allow you to set up multiple POS stations for extended functionality, providing added control over who has access to which functions of each station.
What is a POS system, and why should your POS integrate with WooCommerce?
A point-of-sale is where transactions are processed. In-person sales rely on a POS to process payments, but many POS systems also handle receipt printing and relaying order information to other systems. An example of the latter can be seen in a foodservice scenario where the register sends a customer's order to the kitchen after the order has been paid for at the POS.
Traditionally, POS solutions have dealt with retail stores and retail businesses for in-person sales only. Many POS systems can sync inventory and thus help manage inventory, or generate reports, but they're very much single-channel, in-person solutions.
A modern POS solution through integration with WooCommerce allows you to overcome these challenges to sell with more flexibility. A WooCommerce POS plugin like Jovvie lets you:
Sync your in-person retail sales with your online store's inventory
Sell from anywhere you've got an internet connection (including from your iPhone, Android or iPad on the go)
Deeply integrate customer data and your different sales channels
Offer anything you can do with WooCommerce to in-person sales, including advanced reporting, marketing automation, and advanced discount, multi-currency, or tax calculations
By using WooCommerce as your POS solution, you're using a digital-first approach. This lets you store customer data all in one place, with associated marketing opportunities: fresh marketing campaigns for new customers, advanced customer retention, and integration with email marketing or other customer experience software is easy.
All this lets you improve quality, improve your customer experience, and get clearer reporting and business intelligence into your store.
How do I integrate WooCommerce with my POS?
WooCommerce POS integration is all about extending and enhancing the point-of-sale experience for your business and for your customers.
To start taking advantage of one of the best WooCommerce POS plugins on offer, you will need to research the features and functionality of the plugins you're considering and then either search for your desired plugin through WordPress or download it separately. If you purchase a license for WooCommerce POS integration solutions like Jovvie, you'll need to upload the plugin to your WooCommerce store in order for your plugin and your storefront POS to connect.
When looking for a plugin for WooCommerce integration, think about your specific needs. Many plugins offer the ability to accept different types of payments, but only some, including Jovvie, give you the power to sell anywhere.
Jovvie
Jovvie is a plugin built specifically for WooCommerce which makes WooCommerce POS integration easy. One of the most innovative things about Jovvie is that it is designed to let anyone sell anywhere. This means that Jovvie serves as your core POS system whether you're selling in a store, at a farmers market, online through your website, at a trade show – anywhere means anywhere!
As long as you have an internet connection, Jovvie has you covered with payment processing for credit cards, debit cards, and a host of other popular payment methods. Jovvie integrates with Stripe Terminal for tap, scan, or swipe card payments, plus alternative credit card payments methods and even cash or check. You can even accept payments in multiple currencies.
Integrating your POS with WooCommerce gives you excellent inventory management. With Jovvie, you can manage your inventory in real-time across multiple checkouts within one location, multiple locations, or between in-person sales and online for a full omnichannel inventory solution. This means you can always track inventory and sales, add new items, ensure that you have stock availability, create sales and discounts, and much more.
Jovvie can also generate detailed sales reports using the data pulled right from WooCommerce – no more sitting around crunching numbers or wondering how a particular item is performing. Using Jovvie, you get direct answers on your desktop, laptop, or mobile device (including iPad, iOS/iPhone and Android) through Jovvie's easy-to-use interface. The mobile apps include barcode scanning, for fast product recognition and checkout.
In addition to being easy to use, Jovvie is easy to set up. If you already have settings, products, or customers in WooCommerce, Jovvie will automatically and continuously sync with WooCommerce.
Jovvie is available as a self-hosted plugin for your WooCommerce store from $39/mo, and comes with a 30-day full feature free trial so you can test everything out before you commit. No credit card required!  

You can also choose to get Jovvie as a cloud hosted service, all the features of the self-hosted plugin, plus guaranteed performance on a dedicated server with real-time syncing and updates all taken care of for you. Choose your plan here.
Alternatives to Jovvie
While Jovvie is known as the go-to solution for sellers who need a flexible and fast WooCommerce plugin, there are alternatives to consider based on your specific needs. Below are two options some sellers use: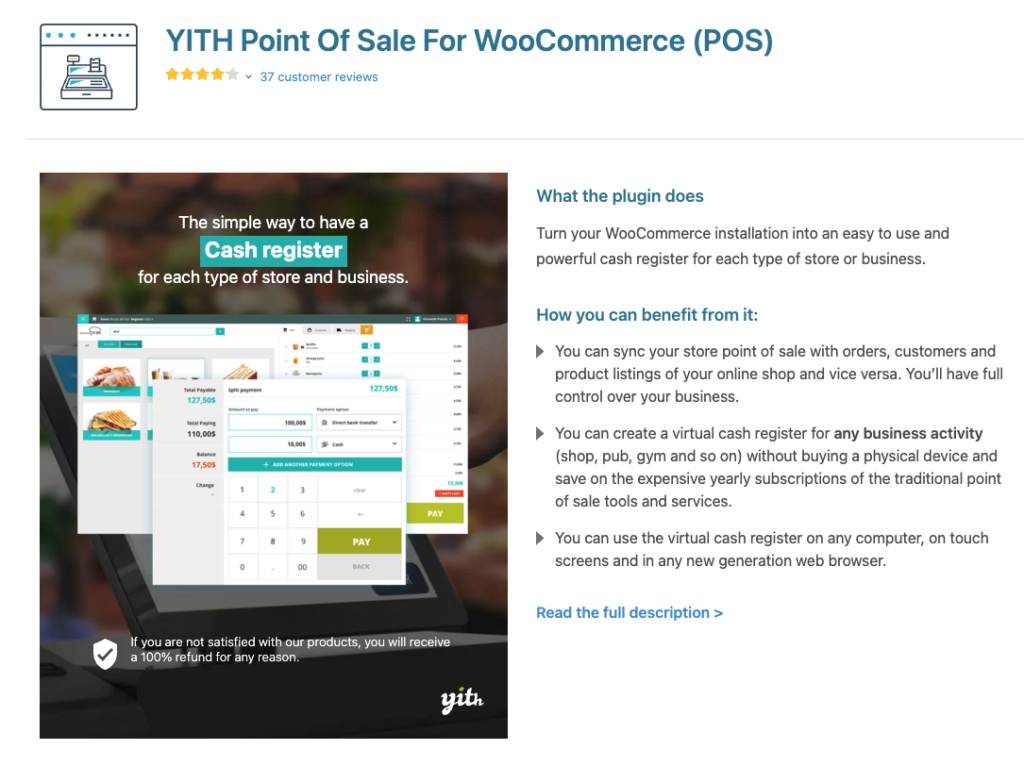 YITH WooCommerce Point of Sale
YITH WooCommerce Point of Sale is a plugin that can be complemented by a number of different product and customer management apps developed by YITH. This can be beneficial since it allows you to only install what you need in addition to the YITH WooCommerce Point of Sale plugin, but it can also be an issue if you'd prefer to control all of your customer, transaction, and inventory management in one place. Whether YITH WooCommerce Point of Sale works for you will depend on how you intend to use it, but it does provide a solid solution for business owners who want to integrate additional functionality into their WooCommerce experience.
YITH WooCommerce Point of Sale charges an annual fee, the same as the self-hosted version of Jovvie. Using YITH WooCommerce Point of Sale, you can sync your retail store's inventory with your online inventory and utilize a "virtual cash register" to accept payments without a physical register. It can be used on desktop PCs as well as tablet devices.
Point of Sale System for WooCommerce by Webkul
Point of Sale System for WooCommerce provides much of the same functionality as other WooCommerce POS plugins, but one interesting feature is that it attempts to balance out the need for an internet connection. According to the makers of this plugin, Point of Sale System for WooCommerce can work offline and will sync once connected again.
While this means that you can still complete some transactions and update your inventory while not connected, it also means that you won't be able to take advantage of the full functionality of the plugin until you reconnect to the internet. This can be a good solution if you only need to sync once or twice per day, but for most business owners, having automatic syncing throughout the day is essential.
Point of Sale System for WooCommerce is available in single-license form or extended-license form. The difference between the two is that with a single license, you cannot charge end users, but with an extended license, end users can be charged. This would make sense if you're an agency building out systems for clients. Each license also includes six months of support from the developer.
WCPOS
WCPOS is another POS plugin for WooCommerce that comes with a number of useful features. Like Jovvie, WCPOS syncs with your online inventory to allow you to see what you have available as well as to let you get ahead if stock is running low. WCPOS is available as a free version that has limited features, but a Pro version is available that extends functionality to allow for things like adding customers, creating multiple stores and giving you the ability to park carts to serve multiple customers at the same time. WCPOS does not, however, allow you to split payments, meaning customers have more limited options for payment.
While WCPOS does provide a lot of value in detailed reporting, this is once again limited to the Pro version. If you're looking for a quick POS solution, the free version of WCPOS may have what you want, but if you need a wider array of useful features, you're going to need to consider upgrading or going with a different POS plugin.
Simple steps to integrate WooCommerce with your POS using Jovvie
WooCommerce POS integration with Jovvie can be completed quickly, and you don't have to be a tech genius to get things up and running. Any existing customers, products, or settings you have in WooCommerce will be automatically synchronized with Jovvie, making setup a breeze.
Below are some steps you'll need to take for WooCommerce POS integration with Jovvie:
1. Set up Jovvie
Before you can begin experiencing the power of Jovvie, you'll first need to set it up and configure a few things. You'll then need to choose your Jovvie plan. Jovvie is available as a self-hosted plugin or in the cloud. Here's some considerations to help you select which deployment method is right for your business.
Choose Jovvie Cloud to get done-for-you POS hosting. Cloud deployment allows for all the same convenience as any other plugin, but get the heavy-lifting and all the performance benefits and real-time synchronization taken care of. Available on a monthly basis.

Jovvie Cloud is the best choice for most users: it's about 50% faster than self-hosted Jovvie on typical WooCommerce hosting, ensuring you don't keep customers waiting. You get a 99.5% uptime guarantee, updates get pushed safely and automatically, and free up your server's resources for powering the rest of the store.

Choose Self-hosted Jovvie to run your POS on your own WooCommerce hosting, same as you would any other WooCommerce plugin. Self-hosted is available from $99/year. Jovvie has multiple tiers, and with Plus or higher you can accept card payments through Stripe Terminal, with no increase to your transaction fees.

You should choose self-hosted Jovvie if you need complete control over security and compliance, software updates, and performance.
From there, you'll need to configure Jovvie to meet your business's needs. This process is fast and can be completed in under five minutes in most cases. Simply answer a few questions and enter in your information, and you'll be on your way to accepting payments.
Plus, if you need additional setup support, you can reach out to the Jovvie team to schedule a free setup consultation.
2. Integrate Jovvie with WooCommerce
Jovvie can be integrated in two different ways, and which one you will want to use will depend on how you plan to use Jovvie. Jovvie Cloud is the best option for most people as you don't have to worry about uptime, updates, or reliability. Self-hosted Jovvie is best for stores needing flexibility and full ownership. Below are the steps needed for both cloud-hosted and self-hosted WooCommerce POS integration for Jovvie:
Cloud-Hosted
For cloud-hosted integration, you'll need to install the Point of Sale WP API connector plugin to WordPress. To do this, download the plugin from our quick start guide, go into your WordPress Admin, choose Plugins, and then select Upload Plugin. Once you've uploaded the Point of Sale WP API, install and activate it.
Next, visit the BizSwoop POS App to log in to your BizSwoop account. Select the button with the "plus" icon in the "Applications" section, and then choose "Create New Application." Now you can enter your information to include your business' name along with the URL where Jovvie will be used. Choose "Create" and then select "Authorize."
From there, all you have to do is allow your system to authorize, and then you can select your station from the list that generates to begin using Jovvie.
Self-Hosted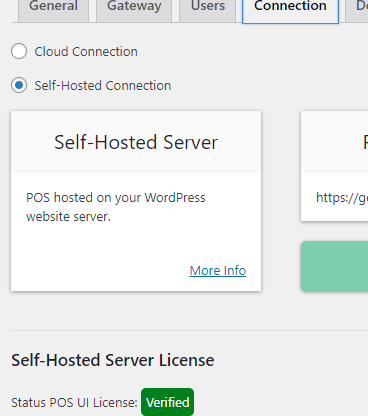 First, download the Point of Sale WP API connector plugin. Next, upload and install it to WordPress. To do this, go into your WordPress Admin, choose "Plugins" and then select "Upload Plugin." Once you've uploaded the Point of Sale WP API, install and activate it.
Next, you need to download and install the Point of Sale WP UI Self-Hosted plugin. A copy of this is included in your purchase from Jovvie. Following the steps above, upload and install it to WordPress, and then activate it.
Now you can go to "POS," look for "Settings," and then choose "Connection." Here is where you can input your license key that was provided upon the purchase of your license. All that's left to do is go into Jovvie's settings, choose "Stations," and then select "View POS" and the station you want to activate.
Setting up multiple POS stations
You might also want to set up multiple stations with differing levels of access for different purposes. To do this, follow the steps below: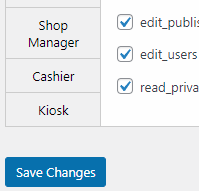 1. Define your roles
Using Jovvie, you can set up access levels for different roles. This allows you to maintain control over who can process what transactions and how. Below is a list of the different roles Jovvie allows specific access for:
Admin (full admin access to WordPress, plus full access to the POS, including all POS settings and user management)
Shop Manager (full access to the POS, including all POS settings and user management)
Cashier (access to the POS to check out customers only; no WP-Admin access)
Kiosk (self-serve checkout view; no WP-Admin access)
When assigning roles, consider how you want your POS to function. In some cases, you will want a manager to be able to make changes to your POS settings in WordPress Admin. In others, you may simply want to provide access to limited functions for processing payments at a kiosk or mobile register without the need for a cashier.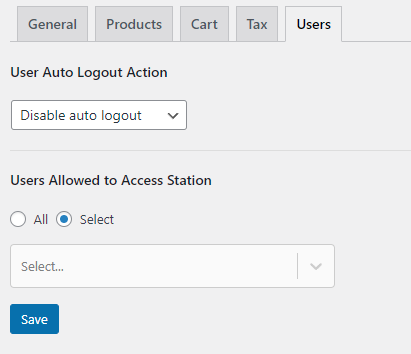 2. Assign your users
Once you have decided on who will hold which roles, you can then assign users by accessing your POS menu and selecting "Settings." Next, choose "User."
From there, you can give access to a single user or provide multiple users with access to a station. Administrators can also use this menu to manage user-level permission access to the POS.
Accepting payments and managing inventory
Now that you have your Jovvie stations and users set, you are ready to start selling. This is where you will want to use the inventory management tools and payment processing options, including Stripe Terminal in Jovvie.
If you need a specific payment method, you can use the "Pay by WC" a flexible payment checkout option in Jovvie to use literally any payment gateway plugin that is supported by WooCommerce.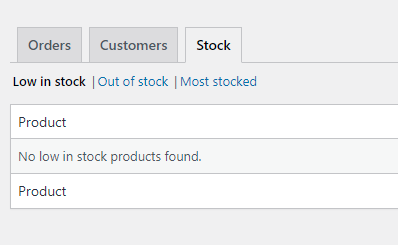 For inventory management, you simply let Jovvie work its magic as it automatically syncs your product catalog for you. As items get sold, your inventory automatically syncs to reflect the change, and you can check your inventory anytime to see updates. At the end of the day or on the fly, you can also generate an inventory and sales report to stay up to date with the latest data.
Conclusion
Jovvie is trusted by tens of thousands of WooCommerce store owners and agencies who need a native POS solution for WooCommerce. Jovvie is easy to set up, customize and integrate with WooCommerce, and it provides a smooth operating experience for sole proprietors as well as business owners who need support for multiple stations.
Easy to use and packed full of features that let you sell anything from virtually anywhere, Jovvie provides a POS experience that gives you control and flexibility using your smartphone, tablet, desktop or laptop anywhere an Internet connection is present.
To learn more about Jovvie and how it can easily integrate into your WooCommerce experience, click here now. Jovvie is the proven solution for anyone to sell anywhere, and Jovvie was designed with the modern economy in mind.