Looking for a plugin that lets you generate and scan barcodes in WooCommerce? Many WooCommerce plugins allow you to scan barcodes on products. But if you want to sell WooCommerce products in your physical store, you need a Point of Sale (POS) solution which can enable you to scan barcodes to speed up checkout and manage inventory in real-time.
In this article, we explain why a WooCommerce POS barcode scanner is the best solution for managing barcodes in a physical store, and the plugins that get the job done well.
What are product barcodes? How are they used within WooCommerce?
Barcodes are machine-readable labels that quickly identify objects (such as products) in a way that humans can also understand. They are widely used in logistics and supply chain management, as well as for inventory management in retail stores.
QR codes are a type of barcode. While barcodes store information only horizontally, QR codes store it both horizontally and vertically. This enables a QR code to store more information than a standard barcode and be more flexible to fit on whatever medium you want to be scannable.
QR code usage among U.S. shoppers has soared, especially with younger shoppers. They're suitable when large amounts of data need to be stored and made available to shoppers, although "large" in this context is 3kb.
Barcodes are preferable to QR codes when you need to store an item identification number or extract information about a product from a database. They make inventory management more accurate and efficient compared to either QR codes or manual inventory methods.
Barcodes are relatively inexpensive, reduce manual labor costs and help speed up the supply chain. For online WooCommerce store owners, generating and scanning barcodes is an easy way to keep track of their products and order statuses.

Barcodes are everywhere: from the grocery store to conference tickets. They're fast and reliable.
If you also have a physical store, barcodes go on your product and are scanned at your POS for faster checkouts. Utilizing barcodes efficiently alone can result in a vastly faster point of sale experience. Budget supermarket Aldi, for example, places multiple barcodes on each product, some of which are oversized, meaning cashiers don't need to spend time finding the barcode. Aldi checkouts are 40% faster than their competitors.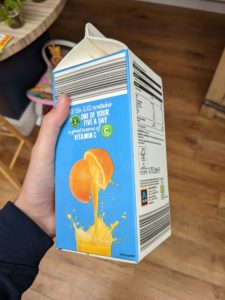 Whether you have an incredibly high volume supermarket or a store with a couple of items, adding customizable barcodes to your products is an obvious addition to WooCoommerce. A WooCommerce POS barcode scanner can be useful for physical products, but also for bookings, tickets, and reservations.
Why use a WooCommerce POS solution to scan barcodes?
Many products already have barcodes appended to them. If you just need to scan barcodes rather than create your own, you can use a WooCommerce POS plugin. If you need to generate barcodes, you'll need a solution built for this functionality.   
A WooCommerce POS barcode scanner will help you with two critical business activities:
Sending items to the POS system for quick checkouts
When a customer makes a purchase, manually inputting product information like price, quantity and item code is time-consuming and inefficient. In contrast, a WooCommerce POS solution with barcode scanning identifies the product via its barcode and relays the product information to the POS system for your cashier to take payment. This makes checkouts faster and less labor-intensive. It also makes payments more streamlined, helping maintain the pace of day-to-day sales.
Managing inventory in real-time
Many WooCommerce POS solutions allow you to use barcodes to take stock of your inventory, and ensure that the inventory of your online store reflects sales made in-person. When a customer buys a product, you can scan its barcode and take it out of your inventory records immediately. With real-time inventory data at your fingertips, you can make business decisions swiftly throughout the day. Additionally, a WooCommerce POS barcode scanner is a useful time-saving solution for stock management, eliminating hours of admin work and creating a simple workflow for staff to track inventory.
The Best WooCommerce POS Barcode Scanner Plugins
Scanning products and managing your inventory from all your physical retail outlets is easy and streamlined when you use a good WooCommerce POS barcode scanner. Here are six that can help boost the efficiency of your store operations.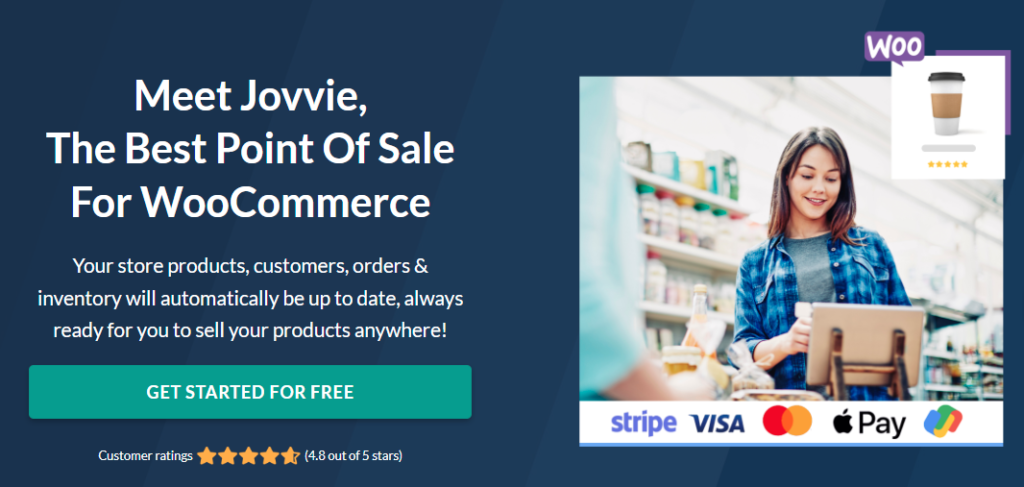 Jovvie is an all-in-one solution from BizSwoop for managing every aspect of a physical store through WooCommerce. This includes enabling you to quickly identify a product and its associated information by scanning its barcode, for faster checkouts and accurate billing. 
Jovvie supports 1D and 2D barcode types, and allows you to input up to three barcode types for a specific product. So, if any of those three barcode types are scanned using a scanner, they will be found in the search results by the POS. For example, you can scan the EAN code of every product any every product variations at your retail point of sale, and get the same product.
This is useful if you're using WooCommerce's built-in product variations, as you can scan different unique barcodes whilst still finding the specific product in WooCommerce:
Jovvie doesn't generate barcodes. Many products already have barcodes on them, so if that's the case for yours, you can just connect the barcodes to Jovvie in the WooCommerce backend.
If you need to generate your barcodes, you can use a simple WooCommerce barcode generator plugin.
Jovvie stands out if you need to print barcodes, as it integrates tightly with sister product BizPrint, a BizSwoop product for auto-printing receipts, labels, invoices, packing slips and other transaction/business documents from WooCommerce.
For this, you'll need to install and activate the plugin, and then create a custom template that includes barcodes. You can use WordPress' hooks and filters to automatically connect barcodes generated with the plugin to BizPrint.
With BizPrint's automatic printing functionality, you can then print barcodes automatically, including directly to labels for products.

Once the barcodes are on your products, Jovvie lets you scan them using your device camera with the BizSwoop iOS or Android app. You can save money on buying a barcode scanner separately. 
BizPrint integrates tightly with Jovvie, ensuring a reliable way to add barcodes to the different products that you offer, and use these barcodes to take payments, dynamically update inventory, and track WooCommerce orders. With BizPrint installed, you can take care of all your printing needs at your POS, fulfillment centers, warehouses or another specialized location. As BizPrint works with your existing infrastructure, you don't have to make any extra investment to boost operational efficiency! 
Apart from its use case as a WooCommerce POS barcode scanner, Jovvie serves as your mobile POS system, which you can use from your tablet or smartphone, assign different roles like cashiers, store managers, or store owners, and take in-store payments via Stripe, PayPal and all major payment gateways.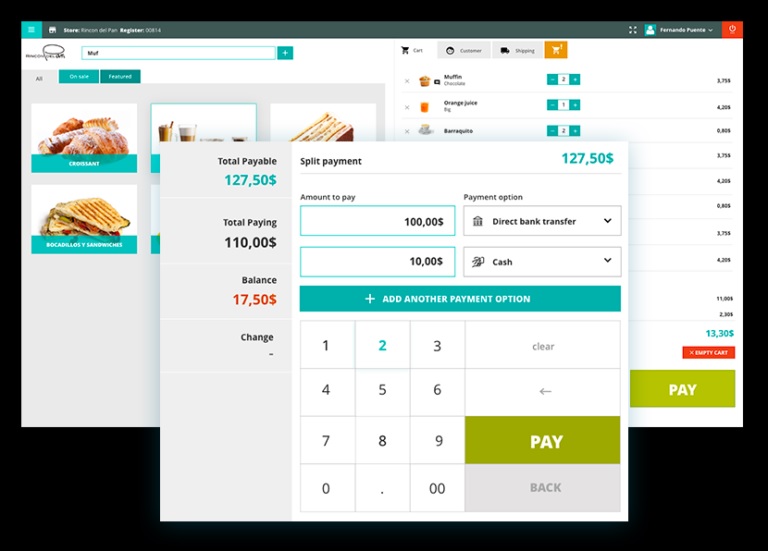 YITH is another option to explore when you're evaluating various WooCommerce POS barcode scanner plugins. This POS plugin turns WooCommerce into a cash register, and syncs online and offline product data. When a product is scanned, it is identified at the POS by its SKU and details like price and other product information become available for completing transactions seamlessly.
Similar to Jovvie, YITH Point of Sale doesn't generate barcodes, rather, allows you to scan them at your POS. To create the barcodes, you'll need to purchase a separate Barcodes and QR Codes plugin from YITH. It comes with additional features such as generating a printable list of barcode labels to be appended to your physical products. By connecting the YITH Point of Sale plugin with the YITH Barcodes and QR Codes plugin, you can quickly bring products to checkout and add barcode-enabling shortcodes to the plugin to update your inventory.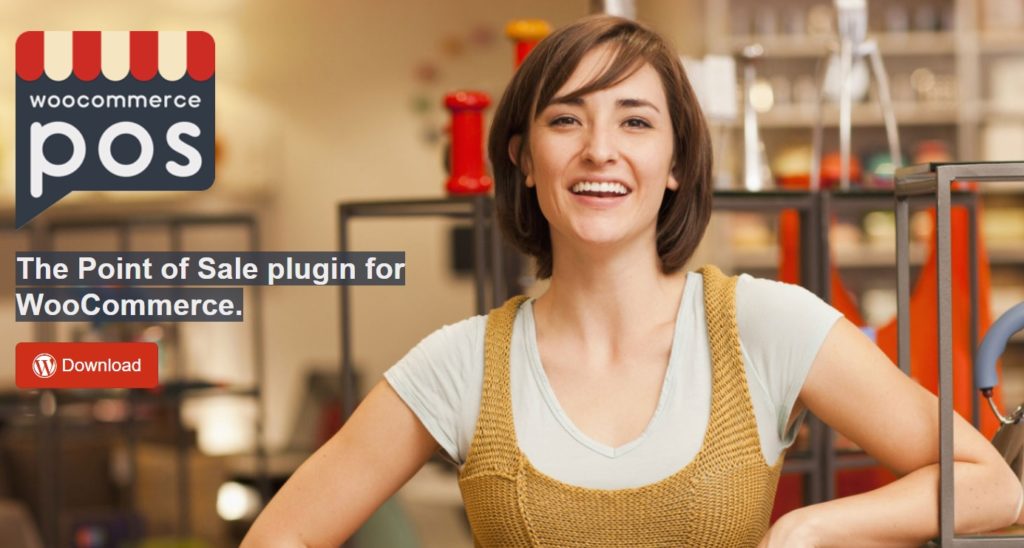 WooCommerce POS (WCPOS) is a Point of Sale plugin designed specifically for WooCommerce. It has a dedicated mode for barcode scanning which enables you to add items and variations to the cart based on their SKU. By default, the plugin uses the SKU field as the barcode, but with some PHP programming knowledge, you can use a custom barcode field, such as a product ID.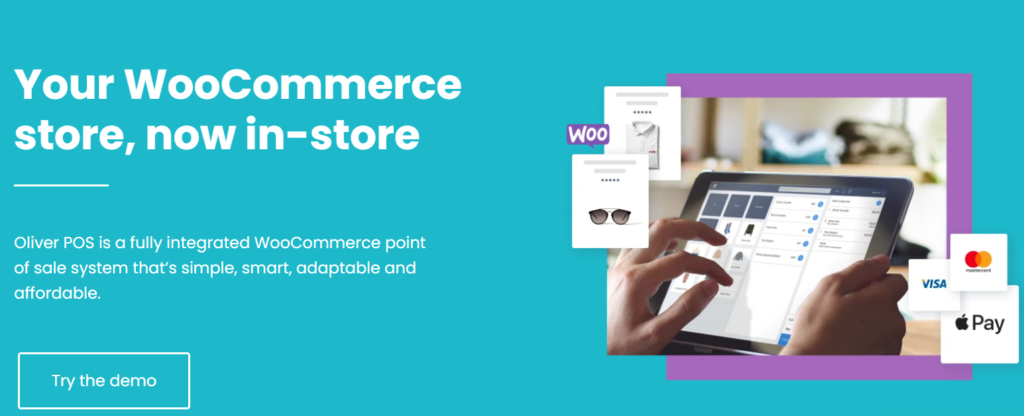 As a Point of Sale solution built around WooCommerce, Oliver POS offers barcode scanning across all three of its pricing plans. As well as a WooCommerce POS barcode scanner, they have other POS accessories such as The Oliver Scanner, a barcode scanning device that you can buy as an optional add-on. They also make the mobile POS, Oliver Go, which has a built-in barcode scanner and receipt printing that allows you to scan products and create receipts on-the-go.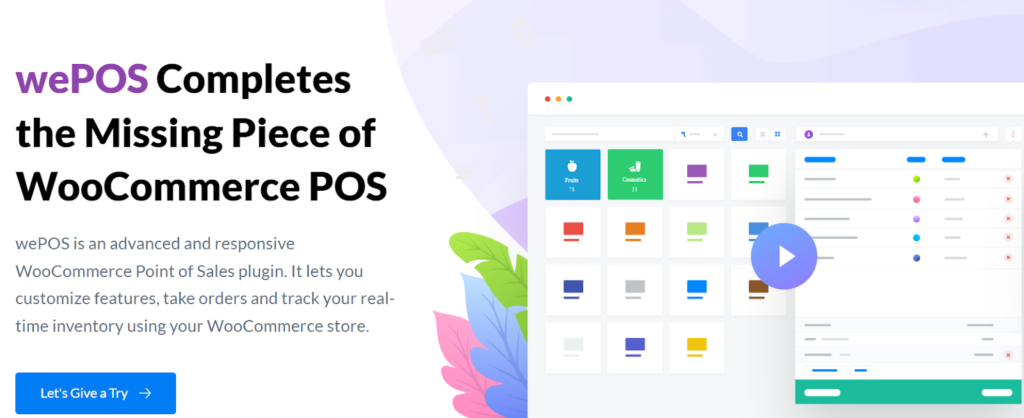 WePOS is a POS plugin based on the WooCommerce Rest API. Alongside the usual Point of Sale features, WePOS allows users to click 'scan' inside the POS interface and automatically add products to the cart using a barcode scanner. The WooCommerce POS barcode scanner identifies products based on their ID, SKU or any custom field such as a barcode number that you manually set for the products.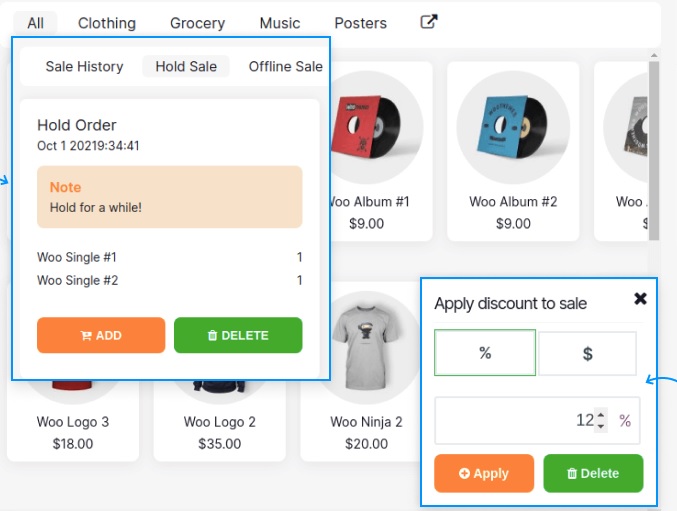 This plugin is a front-end management Point of Sale system for WooCommerce, offering a simple interface to manage and take payments in your physical store. Using the plugin, store admins can generate barcodes and QR codes to be applied to different products available in the store.
While the plugin does offer barcode scanning, this is not offered as part of the basic plugin. For barcode scanning and inventory management, you need a separate WordPress plugin as a paid extension. The WooCommerce POS barcode scanner allows you to add and update variable products in your POS system, and centralizes the management of inventory at your online and physical stores in one place.
Jovvie is the pick of the bunch
An integrated barcode solution eases your day-to-day POS activities, and supports a range of critical functions and priorities such as managing and controlling inventory, eliminating manual data entry, speeding up checkouts, and enhancing the accuracy of item handling from shipment to sale. It also enhances the overall shopping experience, helping drive repeat customers.
Of all the WooCommerce POS barcode scanners reviewed, Jovvie is the best. As a Point of Sale barcode scanning solution, it is self-sufficient and doesn't require external hardware. Jovvie is designed specifically for WooCommerce sites, and has a modern, stable core that makes it extremely reliable for physical retail operations where your business interacts face-to-face with customers. And while Jovvie cannot generate barcodes, you can enable barcode label printing using BizPrint, with a WP filter or hook using a custom template.
The other WooCommerce POS barcode scanners in our list, deliver on this functionality but don't pack it as a standard. The POS solutions require an optional add-on, a separate plugin or a paid extension to append barcode labels to products and activate barcode scanning. On value, Jovvie does best as a fast and powerful POS plugin to apply barcodes to products and sell anywhere.
Jovvie is trusted by tens of thousands of WooCommerce store owners and agencies who need a native POS solution for WooCommerce. If you want a reliable WooCommerce POS barcode scanner to supercharge inventory management, store management and checkouts at your physical store, sign up to see Jovvie in action.