If you run a business that does any form of in-person sales, you'll already be familiar with point-of-sale (POS) systems. Choosing the right POS system can have a big impact on the revenue of your business. If your chosen system doesn't work well, you could lose customers or waste hours of your time trying to set it up.
If you run an eCommerce store that uses an online ordering system in addition to selling in person at a retail outlet, pop-up stores, or on the go, finding a point of sale system that meets your needs can be even harder.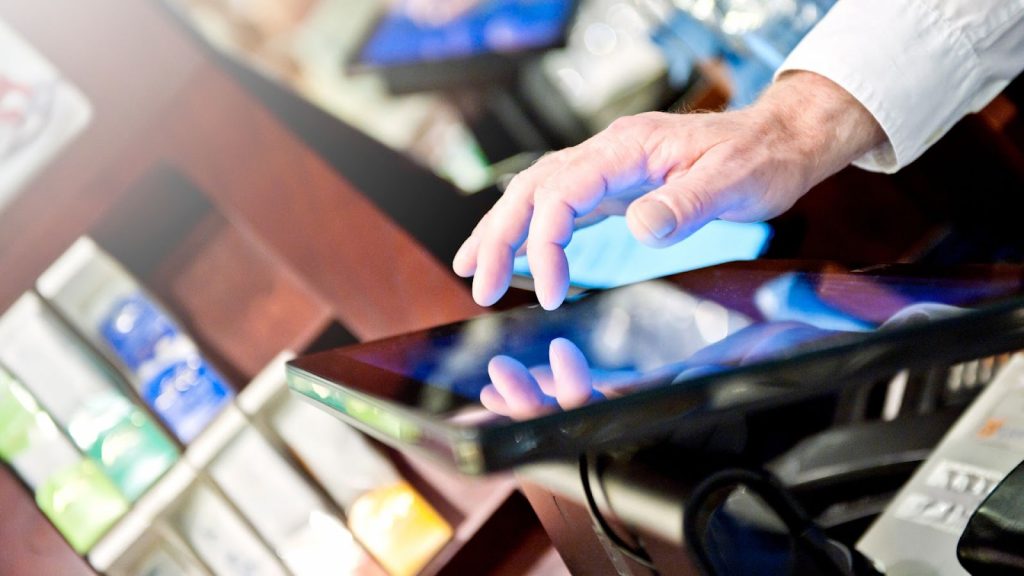 In this post, we'll look at some of the options for web-based POS systems and how adopting a web-based POS for your online store can help boost your revenue.
What Is A Web-Based POS System?
A web-based POS (point of sale) system is online or cloud-based point of sale software that enables businesses to handle in-person sales from anywhere. A web-based POS typically comes with additional features, like inventory management, employee management and customer relationship management (CRM) capabilities, order processing, and more.
Web-based POS systems differ from traditional POS systems. In a traditional POS system, all data is stored locally (typically in on-site servers). A web-based POS system is much more versatile and easier to connect to your existing eCommerce business. Many of these POS systems have built-in eCommerce integration, making them perfect for omnichannel retailers.
By adopting a web-based point-of-sale system, you can expand your store's reach, become more flexible, and improve your customer experience. All these benefits mean one thing: you can increase your revenue!
Why Should You Use A Web-Based POS System?
Adopting a web-based POS system comes with a number of vital benefits that can make a world of difference to business owners, including:
Greater versatility, mobility, and scalability
Not all providers are created equal, but with the right POS provider in your corner, you can easily add additional locations, users, and sales terminals. Legacy POS systems are extremely limiting and usually involve investing in expensive hardware whenever you want to expand. Many web-based POS systems work with portable, fully mobile devices – you can sell on the go or set up a new location anywhere with an internet connection. Scaling up is much more straightforward.
Easier to sync inventory between online and in-person sales
Web-based point of sale systems come with everything retail businesses need to operate, including cutting-edge inventory management systems. You can store your inventory and sales data in a single system, whether a sale was made online or in-person, so you can keep an eye on stock levels. Knowing which items are in stock makes it easier to keep up with customer demand and improve customer satisfaction.
Low start-up costs
Many web and cloud-based POS systems don't require investment in expensive POS hardware. Some of the most versatile mobile POS systems work on virtually any device with an internet connection. Sales and customer data is automatically stored in the cloud, so there's no need to invest in or maintain expensive local data servers. The best web-based POS system will also enable barcode scanning, accept multiple payment methods, and even print receipts, invoices, and other order fulfillment documents on the go, meaning you don't need to purchase additional hardware to get started.
Automatic Updates
Cloud-based POS systems are typically updated automatically by their providers as part of your yearly or monthly subscription. Legacy POS systems often require manual updates or even total POS hardware replacement as the older versions become obsolete, which can be prohibitively expensive for small businesses.
What Are The Five Best Web-Based POS Systems?
Now that you know what to look for, let's take a closer look at our favorite POS system providers.
Jovvie is a comprehensive WooCommerce POS solution that is perfect for multichannel businesses that run an eCommerce store and have a physical sales presence. WooCommerce has benefits of its own. It's free, customizable, and comes with access to thousands of extensions that enable you to build upon the functionality of your eCommerce store to your heart's content. When you use a WooCommerce POS system, you can bring that functionality and flexibility to your physical, in-person sales.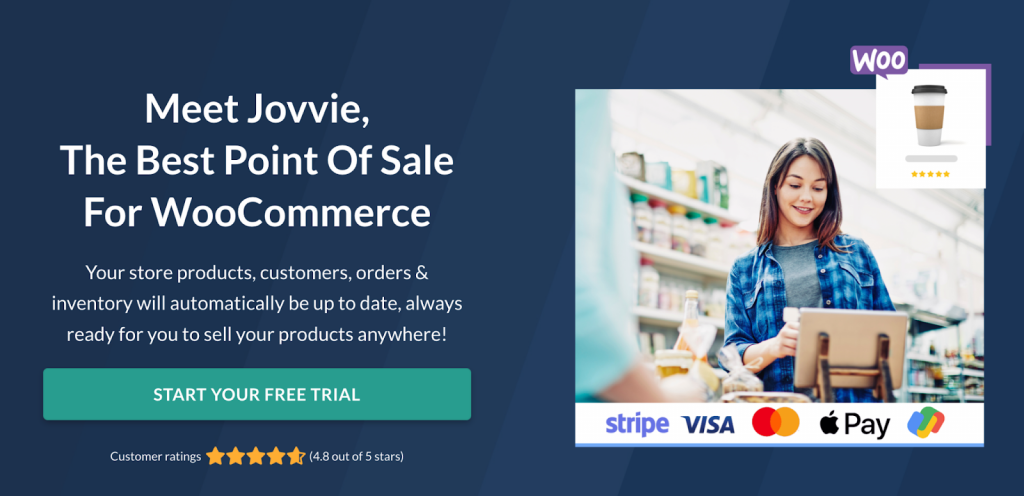 Jovvie has several features that make it a stand-out POS solution. You can use Jovvie to sell online, in-store, or on the go with ease. Some of the benefits of Jovvie include:
Inventory synchronization: You can use Jovvie to seamlessly synchronize your inventory and customer data between your online and in-person sales. That way, you'll always stay on top of stock levels and can always offer customers an accurate picture of what is available.
No need for additional hardware: There's no need to purchase bulky and expensive POS hardware. Jovvie works with your existing laptop/computer via all major web browsers, as well as your iPad or phone (iOS or Android). You can easily sell in-store and on the go. Jovvie enables barcode scanning via your phone or tablet. It also supports all 3rd party barcode scanners, which you can connect to your phone via Bluetooth.
Multiple payment methods: Jovvie is an official Stripe partner and works seamlessly with Stripe Terminal for WooCommerce. You can accept payments via credit and debit cards, contactless payments, and virtual wallets such as Apple Pay and Google Pay using Stripe's card readers. If you don't want to use Stripe, Jovvie also integrates with the contactless reader from Square, as well as other external card readers.
Unlimited locations, transactions, and cashiers: Unlike many other POS providers, Jovvie allows you to set up unlimited locations and cashiers and accept unlimited transactions, making it an easily scalable solution. Jovvie makes online, in-store, and mobile sales a breeze. You can even set up self-service checkouts using Jovvie's kiosk mode.
Receipt printing with BizPrint: You can improve your order fulfillment process even more by pairing Jovvie with BizPrint, another plugin from the BizSwoop family. BizPrint allows you to automatically print any documents you might require for your order fulfillment process from the moment an order has been placed, from receipts to packing slips, picklists, and shipping labels. You can print customized, branded receipts at the point of sale, automatically send pick lists to your warehouse or fulfillment center, print order confirmations to your restaurant kitchen, and more, all in real time, making your turnaround times much faster.
Square POS is an extension of the popular Square payment gateway. Square integrates WooCommerce and a variety of different eCommerce platforms (e.g., Wix, Magento, BigCommerce, and Drupal Commerce), so it's very versatile if you have an online store.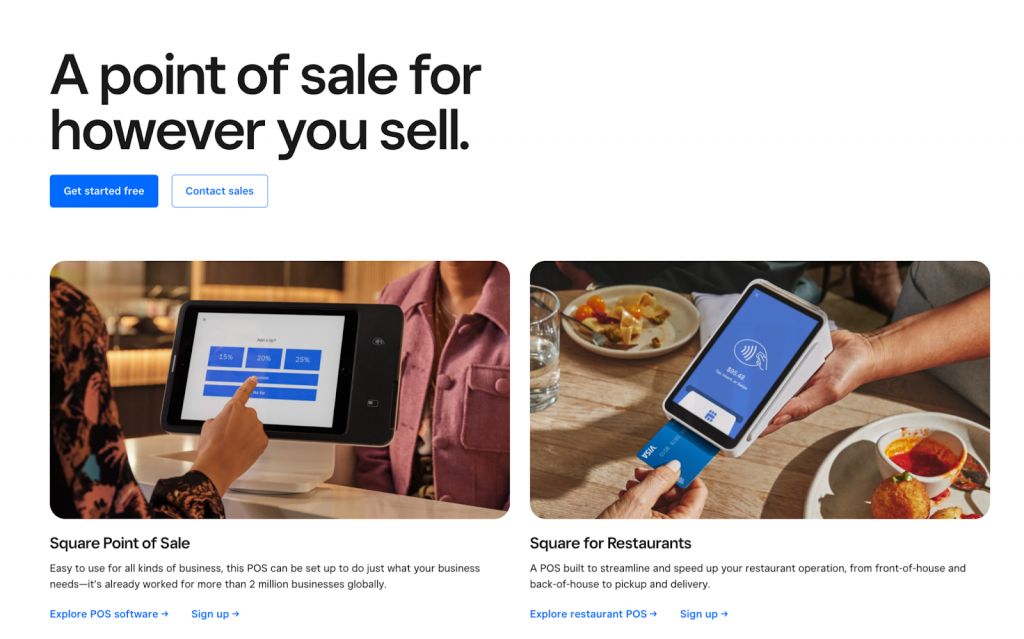 Some of the benefits of using Square POS include:
Integration with Square: Square POS comes with native integration with the Square payment gateway, so several popular payment methods are supported
No up-front costs: There are no up-front costs or monthly fees for the actual POS software (although you have to pay for Square hardware if you want to make in-person sales; transaction fees also apply).
Offline processing: Square allows you to process payments via debit and credit card offline, which makes it ideal for selling on the go or in areas with no internet connection.
There are some drawbacks to Square POS, though. Reviews for Square's POS solution are mixed, with reports of slow processing times and glitches. If you are looking to integrate Square POS with WooCommerce, the reviews are particularly unfavorable, with the official integration scoring only 3.2 stars on WooCommerce.com.
Lightspeed's dedicated restaurant POS and retail POS systems make it a great fit for either of these environments. It is a solid choice for businesses where in-person sales drive the majority of their traffic, especially brick-and-mortar locations.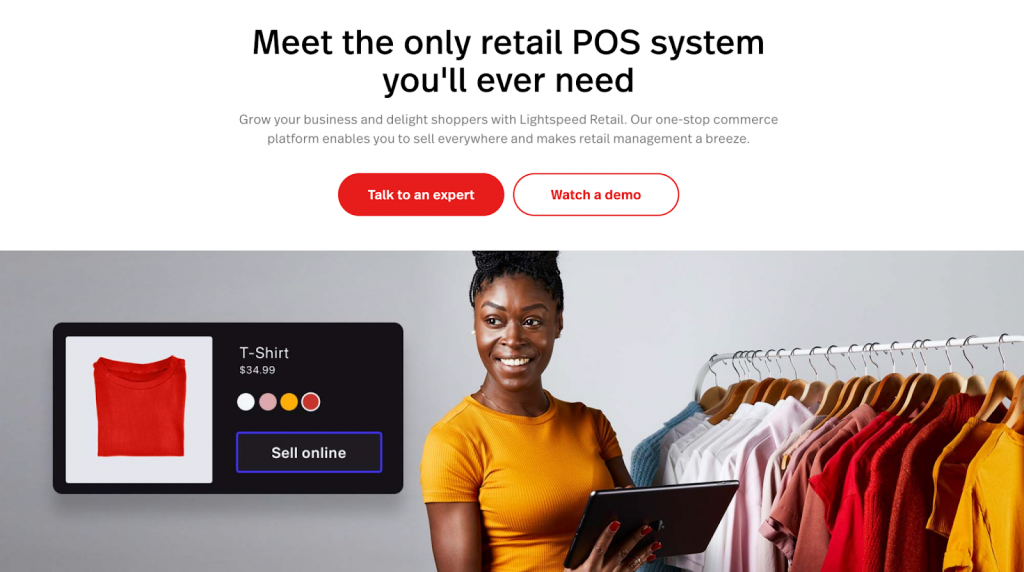 Some of the benefits include:
Flexibility: Lightspeed offers flexible payment processing that allows you to accept all major payment methods.
Inventory management: The POS comes with advanced, built-in inventory management tools and a wide range of customization options.
Multi-platform: Lightspeed supports PC, Mac, and iPad, making it easy to transact on the go.
If you operate an eCommerce store as well as a physical store, you'll need to get Lightspeed's eCommerce integration add-on. You can purchase a variety of peripherals like card readers, cash drawers, and receipt printers recommended by Lightspeed, but these are sold separately. There's no guarantee that you can use your own hardware with Lightspeed, so check out the compatibility of your hardware before making a decision.
Toast POS is a web-based point-of-sale system designed specifically for restaurants. It's scalable and very flexible, even offering a pay-as-you-go pricing tier, making it great for start-ups that want to avoid expensive up-front POS hardware costs.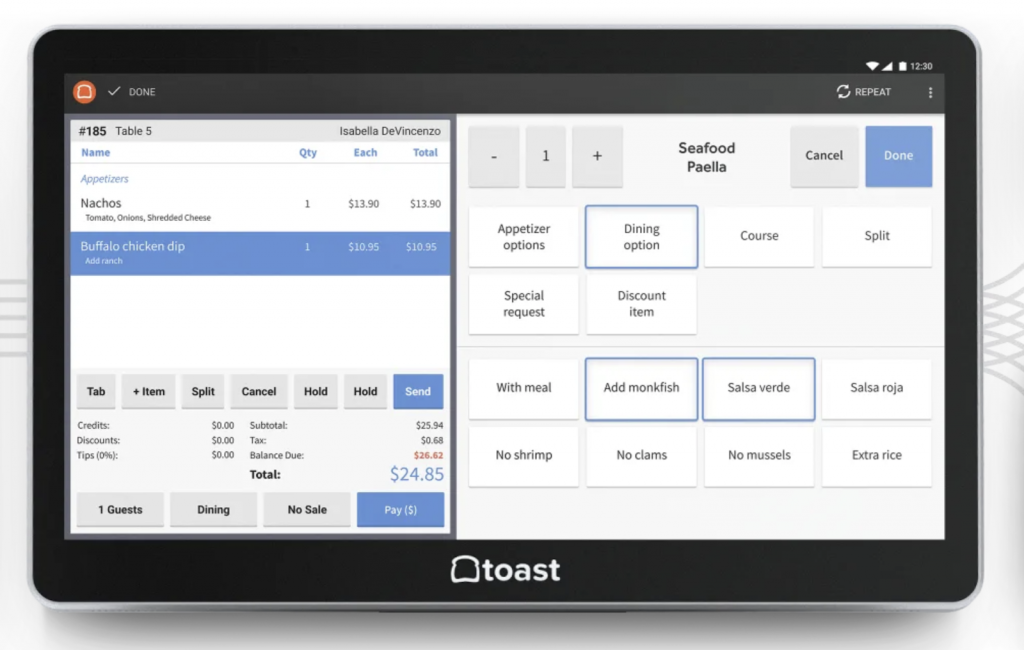 Some benefits of Toast include:
Excellent offline functionality: A dedicated offline mode means you can use Toast even when your internet connection lets you down.
Intuitive and easy to use: A low learning curve means you can get up and running quickly.
All hardware is included: You receive all of your hardware as well as free installation, which can really cut costs if you are just starting out.
There's a lot to like about Toast, but it's not the most flexible point of sale solution on the market. Toast users are obliged to use the Toast payment processor, as well as the dedicated hardware. While you can get this without paying any up-front costs, the free plan ties you into a much less favorable transaction fee than some of its competitors.
Hike is a standalone cloud-based POS service that you can integrate with your existing eCommerce store (e.g., Shopify, BigCommerce, WooCommerce).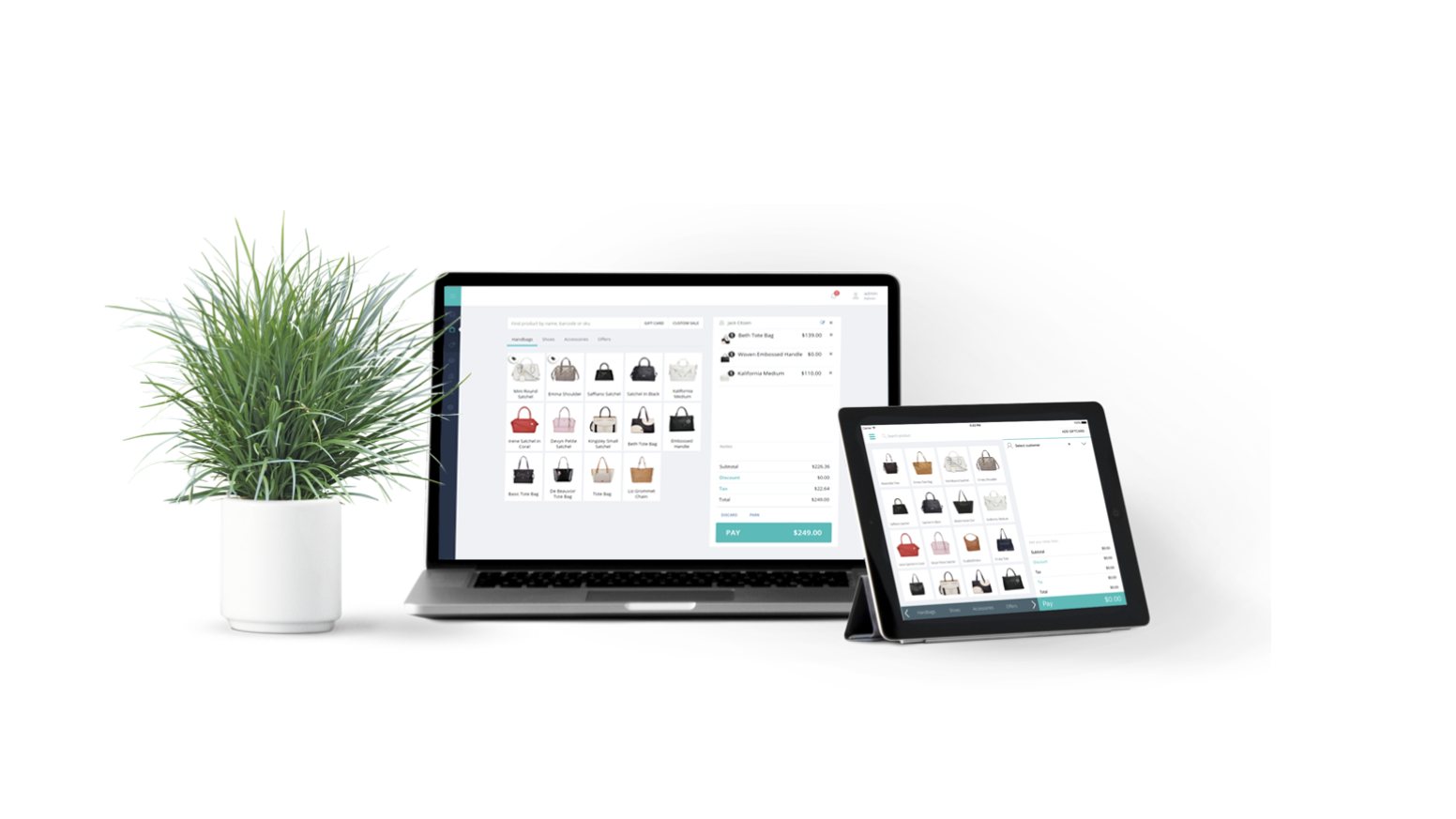 Some of the benefits of Hike include:
Support for iPad, PC, and Mac: Sell on the go with your mobile device of choice.
Unlimited products and variations and full customization: Customize everything from product options to receipt content, tax rules, and more.
The main disadvantage of Hike is its price. If you want to sell both on- and offline, you need to purchase the "Plus" plan or higher, which starts at $89 per month.
Boost your revenue with a web-based POS system
Web-based POS systems are lighter, more flexible, more scalable, and cheaper to set up and maintain than the legacy POS systems of the past. If you run an omnichannel business with an eCommerce footprint as well as in-person sales, it's time to switch to a web-based POS.
A web-based POS software solution will not only save you money in the long- and short-term but increase your revenue by enabling you to expand quickly and freely at a minimal cost.
We've looked at a number of different web-based and cloud POS systems, but Jovvie stands out as the best option owing to its ease of use and its wide feature set:
Works with your existing devices (including mobile devices), so you can take your business anywhere with an internet connection.
No limitations on locations, cashiers, or transactions.
Seamlessly sync your inventory between online and offline sales
Compatible with a wide range of barcode scanners, payment gateways, and receipt printers (through compatibility with BizPrint) – all using a single system.
It's time to upgrade your POS. Boost your revenue to greater heights with a free 30-day trial from Jovvie.