Are you looking for a way to integrate QuickBooks Point of Sale (POS) with your WooCommerce store? Whether you are selling in-store or online, you need a useful platform that simplifies tasks and syncs everything from order processing, inventory management, and sales to payments.
A majority of WooCommerce store owners who use QuickBooks accounting software also rely on QuickBooks POS. However, merchants find it hard to integrate the two because QuickBooks is not natively built for WooCommerce. Therefore, to make this possible, you need to use third-party applications or compatible plugins.
If you are not sure about how to start, this article will take a closer look at what QuickBooks POS is, how to set it up to work with WooCommerce, and the different methods you can use to easily integrate WooCommerce and QuickBooks POS.
Why use a POS with WooCommerce?
A WooCommerce point of sale (POS) system creates an all-in-one solution that allows your WooCommerce business to make both online and offline sales. While physical POS systems are popular in hospitality and retail industries, you'll need a purpose-built WooCommerce POS if you run an online and a physical store at the same time.
This type of system will allow you to take in-person payments at the store and at the same time stay connected to your online store. The POS system becomes the central component of your WooCommerce store by merging payment processing, inventory management, sales, and customer management.
A Point of Sale (POS) system allows shop owners to accept credit card payments in-store. When a customer wants to pay for products, the POS system will match the items to the cash register, generate a total and process the payment via the card reader or POS interface.
In the market today, there are multiple POS systems that can be used for WooCommerce businesses. However, not all of them are designed specifically to integrate with WooCommerce. QuickBooks POS is a good example; however, it also needs a compatible plugin to integrate fully with WooCommerce.
Each of these plugins works differently and supports different versions of QuickBooks. Therefore, you need to take time and carefully choose a plugin that will meet your business needs to ensure that your WooCommerce integrates with your POS.
What is QuickBooks POS?
QuickBooks POS is a Point of Sale system developed by Intuit, a company that develops accounting solutions for businesses. Most business owners use this POS solution because they are already using QuickBooks software to manage their accounting needs and business expenditure. In fact, statistics show more than 29 million small businesses in the U.S use QuickBooks in their operations.
Therefore, if the business already has the accounting software in place, it's convenient to use the POS because the data will sync automatically. By using QuickBooks POS in your store, you can accept contactless payments for faster checkouts, accept more payment options including mobile and card, and manage both the online and in-store functions from one place to prevent overselling.
QuickBooks POS is built for a wide range of eCommerce platforms such as Shopify, Magento, Amazon, BigCommerce, eBay, Wix, and Etsy. It was not developed specifically for WooCommerce; therefore, you need to find ways to integrate it.
How to Easily Integrate WooCommerce and QuickBooks POS
There are three methods that you can use to add QuickBooks integration to your WooCommerce business. Let's examine each of these options to help you choose the best one for your business.
WooCommerce Connector by Intuit
This application was developed by Intuit, the same company that developed QuickBooks POS. You can sync orders, products, and inventory from your WooCommerce store automatically for free.
With WooCommerce Connector, you won't be charged anything to connect QuickBooks to WooCommerce. The application saves you money and time by automatically sharing data between WooCommerce and QuickBooks and eliminating the need for manual data entry. This reduces the chance of human error in your invoices and customer and product data.
Here's how to go about integrating QuickBooks POS and WooCommerce using the WooCommerce Connector:
Log in – Log in to your QuickBooks Online account and install WooCommerce Connector from the Apps section.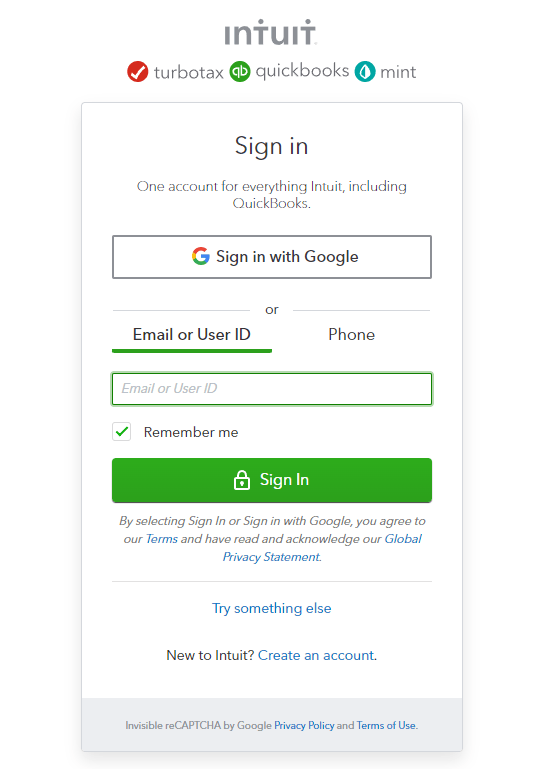 Click Connect – This will redirect you to the Connections tab in your QuickBooks connector. Select "Connect to WooCommerce". You will be prompted to add your domain URL – once done, click "Connect to WooCommerce" again.
Enter your WooCommerce login details – Once you are logged in, click approve. Your WooCommerce account is now connected and authorized with your QuickBooks Connector file.
Zapier
If the QuickBook connector is not a perfect fit for your business, one of the other easiest ways to integrate WooCommerce and QuickBooks POS is by using Zapier. Zapier integrates more than 5,000 applications, making it an ideal tool to connect your business to QuickBooks POS.
Zapier works similarly to the WooCommerce Connector because it uses triggers to start actions. It also synchronizes data from one platform to the next automatically, avoiding human error. However, it has an advantage because it has more flexibility. For instance, it offers more than 25 types of integrations with WooCommerce only.
Although Zapier reduces the chances of human error, there is a risk of automation error when the synchronization is not successful. Therefore, it's advisable to have functions such as invoicing that are used for tax reporting in one platform.
Before you start using Zapier, you need to know that it charges a monthly fee; this is because QuickBooks Online is classified as one of the premium apps. You can choose between the Starter, Professional, Team, and Company plans, depending on your company's needs and budget.
Follow these steps to use Zapier.
Sign up – Create a Zapier account. You can create an account using your Google, Facebook, or Microsoft account, or add your personal details including your name and email address to create a new account. Once you add all the details, Zapier will prompt you to the next pages to complete the registration process.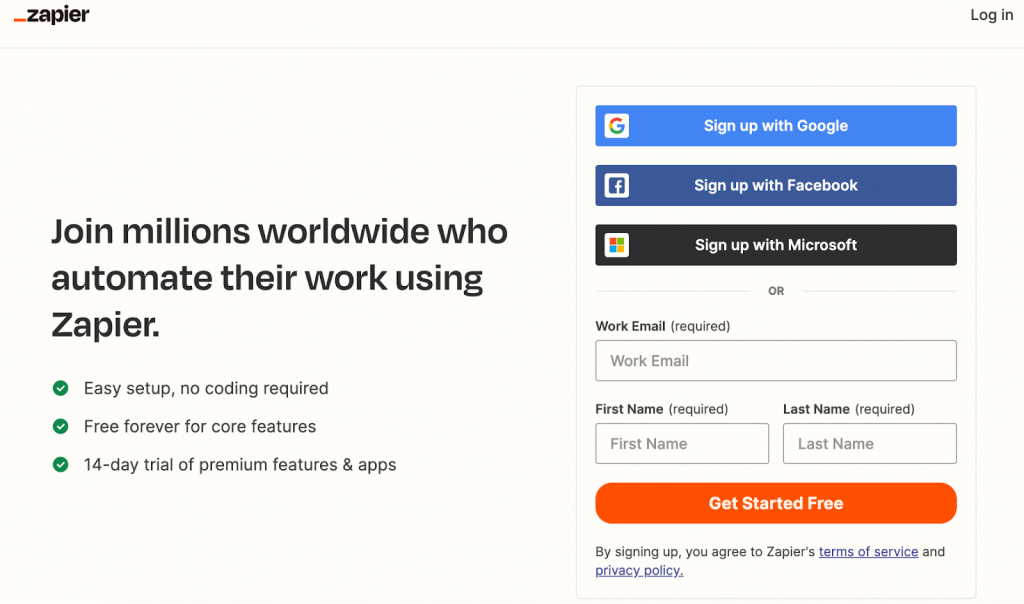 You'll be prompted to select some apps that you use to enable Zapier to tailor recommendations for you. Once you complete the setup process, you can start the integration process.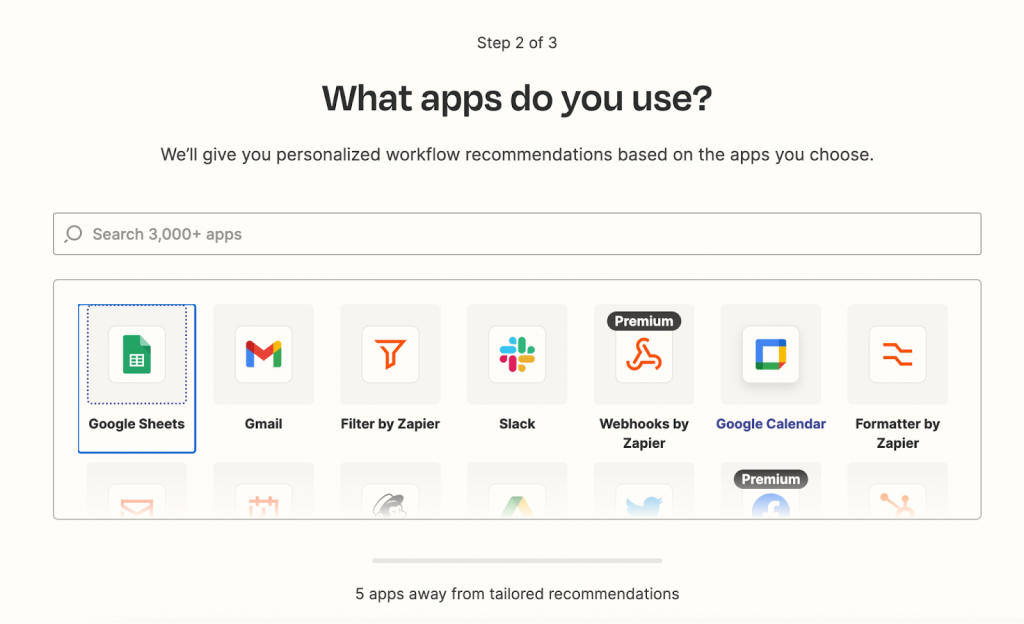 Create a trigger – The next step involves creating a trigger or a "zap". On the Zapier dashboard, create a trigger by choosing WooCommerce as the trigger app and then choosing "Order" as the event.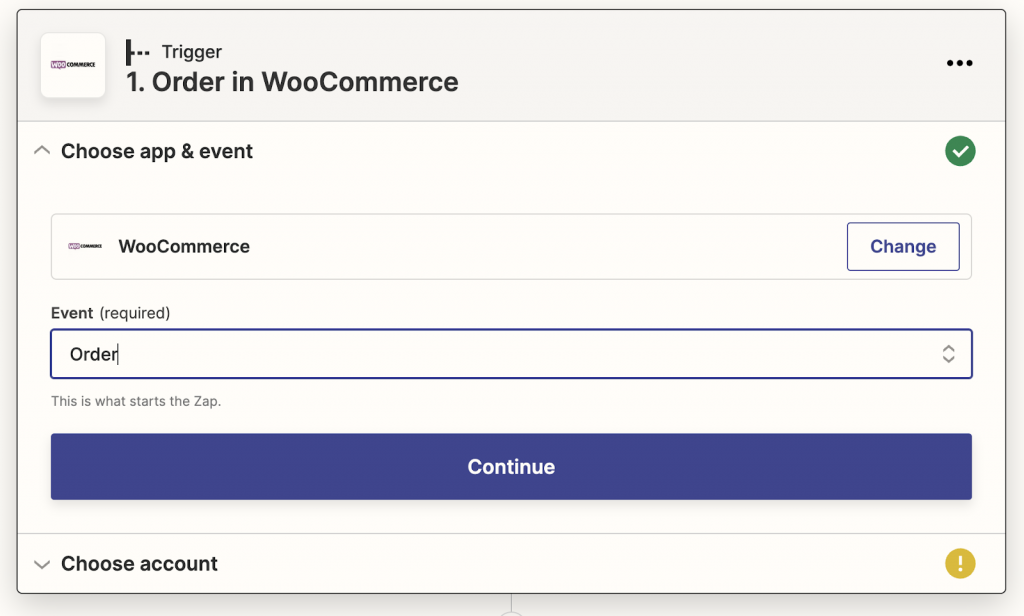 If you'd like WooCommerce to share data with QuickBooks POS when another action is made, such as when a product is created or a subscription is made, you can add this step. However, keep in mind that the free plan is limited to 5 'zaps'.
Choose the target app – The next step is to choose the target app, in this case QuickBooks Online. For instance, we can select "Create Invoice" as the action. When this is done, QuickBooks will create an invoice anytime an order is placed via WooCommerce.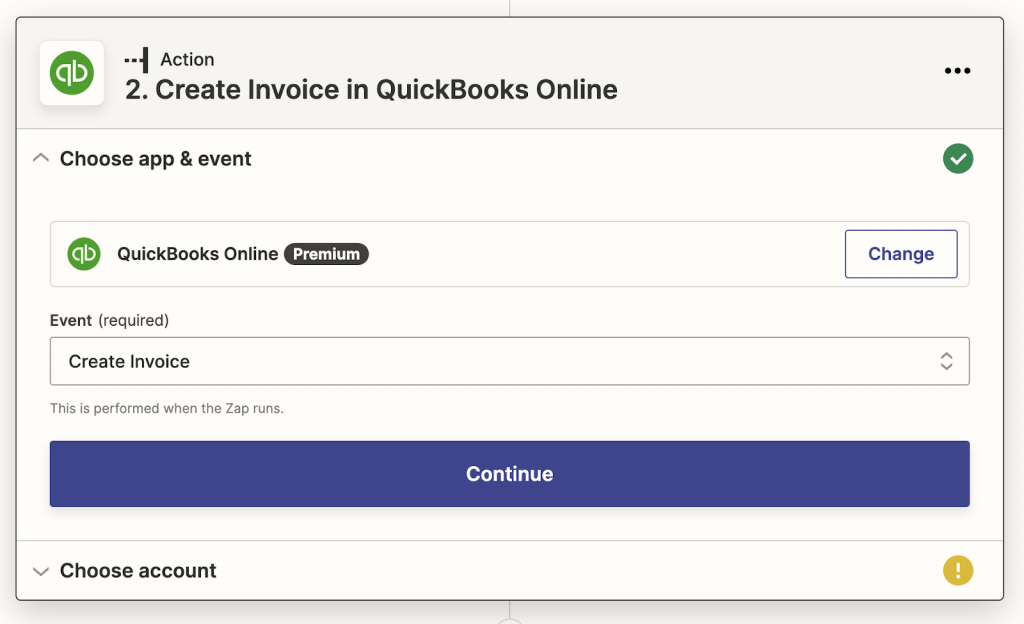 Choose invoice fields to populate – Use the information from WooCommerce to select the invoice fields you want to fill when an order is triggered. Zapier will automatically populate the correct fields in QuickBooks Online.
Paid plugins
If you don't want to use Zapier or the Intuit WooCommerce connector for your business, there are other paid plugin solutions that can connect WooCommerce to QuickBooks POS to ensure your orders are synced across your CMS and accounting platform. A highly popular and versatile plugin for this task is from BizSwoop called Invoice Sync for QuickBooks.
Invoice Sync has the most robust and customizable integration to sync between QuickBooks and WooCommerce. Just like WooCommerce Connector and Zapier, BizSwoop's Invoice Sync saves you hours of manual entry. It's also easy to use for beginners and powerful enough for complex setups for most stores.
Here are the advantages of using the Invoice Sync for QuickBooks software:
It has a robust sync that updates automatically by schedule or on-demand, making it easy to manage your inventory, orders, and payments.
Invoice Sync is a native WordPress & WooCommerce plugin app built for full functionality to sync orders easily across one or multiple Intuit QuickBooks Online accounts and to one or many customers.
It's easy to set up and use. Invoice Sync comes with unlimited support, and guides to get you started on the integration process.
Invoice Sync automates your accounting, increasing the data accuracy and allowing you to grow your business.
From the WooCommerce invoices tab, users can view the list of all sales receipts and invoices in the QuickBooks account.
You'll need a paid plan for Invoice Sync to work. The cost is $199 a year with a free 7-day trial, so you can connect and test the plugin on your WordPress site before you commit. 
Alternatives to QuickBooks POS for WooCommerce
Although QuickBooks POS integrates with WooCommerce, there are other solutions that offer more integration and have additional features, such as Jovvie POS. Jovvie POS is a plugin built specifically for WooCommerce, making the integration process very easy.
A major advantage of using Jovvie is that it serves as your core POS system whether you are selling online through your website, in-store, or on the go. As long as you are connected to the internet, Jovvie helps with payment processing for credit cards, debit cards, and other payment methods.
Just like with QuickBooks, Jovvie allows you to take payments from PayPal, Stripe, and digital wallets, such as Apple Pay and Google Pay. It also accepts physical swipe and contactless card payments through Stripe Terminal.
Additionally, Jovvie syncs your business inventory with WooCommerce automatically; therefore, stock levels get updated across the store which prevents overselling. You can easily use this system to synchronize inventory between WooCommerce and your physical store.
Jovvie POS allows you to create several accounts and include different levels of accessibility for your staff. You can easily add access permissions for your managers and cashiers. This ensures that company information is accessed by the right people. You can even set up "kiosk" mode, which allows a self-service checkout for your customers.
If you need to produce physical receipts, invoices, and more for your WooCommerce orders, Jovvie POS is the right tool to use. It integrates seamlessly with BizPrint, which automatically generates and prints these documents at pre-determined printers, for example at your physical POS or at your fulfillment center, in almost real-time; you don't have to use a separate system to get the customer receipts and invoices. BizPrint comes with flexible pricing plans that allow you to scale the number of prints based on your business needs – if you sign up for Jovvie, you get 3 months of any BizPrint plan free.
Frequently asked questions about using QuickBooks POS in WooCommerce
Will QuickBooks POS match my products between WooCommerce and the POS?
QuickBooks POS is not specifically designed for WooCommerce; therefore, it's possible that you could get some errors when matching products. However, if you pay for the BizSwoop Invoice Sync plugin, there is live feedback that will give you an alert if you have a product that is not matching SKUs. 
The best alternative is using Jovvie POS because it's specifically built for WooCommerce. You won't need third-party plugins to match your products; automatic sync is included in Jovvie's wide range of features.
Can I print WooCommerce receipts directly from QuickBooks POS?
With QuickBooks POS, you can print receipts for purchases made within the POS settings. Open "File", then select "Preferences", " Workstation" and then Print Options to see the settings. Alternatively, you can generate receipts within WooCommerce using Jovvie POS. Jovvie can automatically print receipts via BizPrint, and lets you send receipts to multiple in-store printer locations, once a sale is made.
Can I use WooCommerce coupon codes in QuickBooks POS?
While you can set up discounts in QuickBooks POS, it's unclear if QuickBooks POS supports native WooCommerce coupons. On the other hand, Jovvie POS allows you to automatically sync WooCommerce coupons, so discounts are kept within the eCommerce platform, which streamlines the reporting. Additionally, cashiers can create manual coupons for any order.
How much does QuickBooks POS cost?
The basic QuickBooks POS plan for eCommerce starts at $39 per month. The full plan, allowing up to 5000 orders, costs $149 per month. At present, Jovvie starts from $39 per month, including all POS features with no add-ons needed. You also get unlimited cashiers, managers, and locations, and access to priority support, as well as a wealth of other features.
Choose Jovvie for the best alternative to QuickBooks POS
You need to use a POS system for your WooCommerce business because it allows you to take in-store payments. POS systems also sync your sales in your physical and online stores, making it easier to keep track of stock and reducing the chance of stock-outs and delays in fulfilling orders for your WooCommerce customers.
Most small businesses that use QuickBooks accounting software to manage business expenditure also adopt QuickBooks POS. While this system is useful, it's not built specifically for WooCommerce; therefore users need to use a plugin to integrate between the two platforms.
If you are looking for a better alternative, Jovvie is the best choice for WooCommerce store owners. It integrates quickly and easily with WooCommerce and can manage multiple payment gateways. You can also use the system to manage WooCommerce coupons natively and to set up multiple POS stations and accounts according to the needs of your employees. Jovvie even allows you to print sales receipts directly from WooCommerce by setting up POS integration with Jovvie's sister plugin, BizPrint.