If you're looking for a POS system for your store or restaurant, it's likely that you've come across Lightspeed POS. Lightspeed is a popular POS system for both a retail and restaurant environment owing to its wide feature set and lightweight hardware requirements.
However, Lightspeed does also come with some drawbacks, and as a result isn't a perfect fit for all businesses looking for a POS solution, particularly if you are looking for flexibility when it comes to payments, hardware, or omnichannel sales.
In this post, we'll examine the benefits and drawbacks of Lightspeed POS, then look at our top six Lightspeed alternatives for 2023.
What Is Lightspeed POS?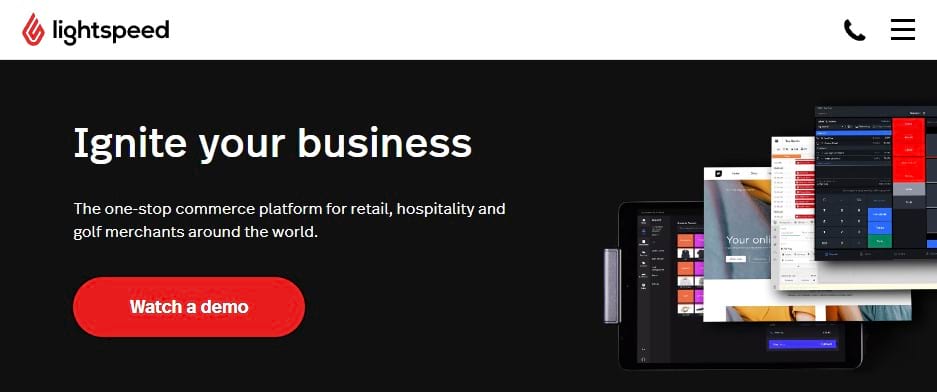 Lightspeed POS is a web-based POS system that is commonly used in restaurants and retail stores. It comes with two systems; Lightspeed Restaurant for cafes and restaurants and Lightspeed Retail for retailers.
This cloud-based POS system is popular among businesses because of its low hardware requirements and wide range of features, including:
A wide range of customization options, allowing businesses to personalize everything from the POS interface to transaction receipts, based on business requirements.
A user-friendly interface with a straightforward search function and quick keys that make it easier to input sales rapidly.
A cloud-based inventory system that lets store owners easily track cross-channel sales in one place.
An advanced reporting and analytics system to review anything from customer engagement to individual staff member performance.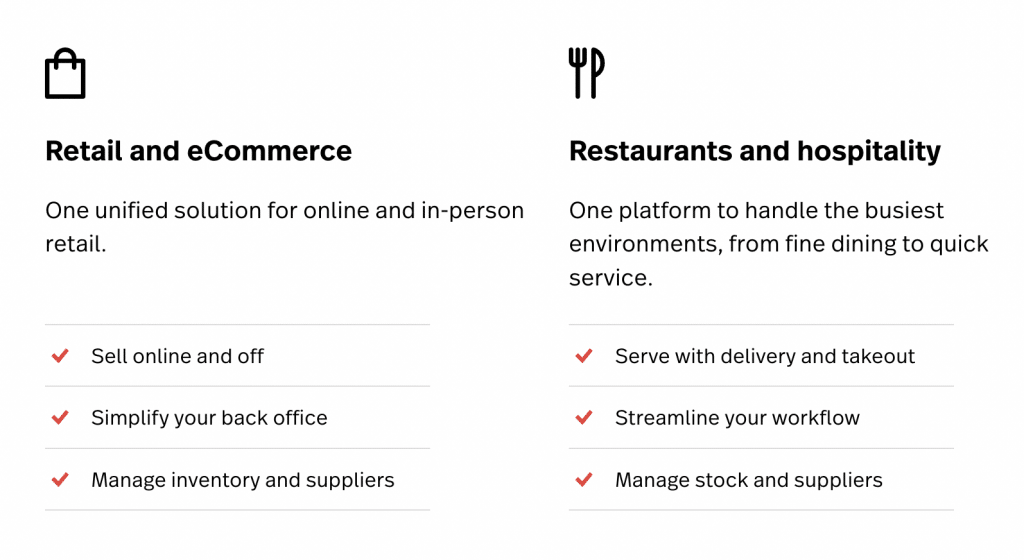 However, Lightspeed comes with some downsides that mean it is not the perfect solution for every business. Here are the disadvantages of using this POS system:
Cost
Lightspeed's wide feature set doesn't come cheap. When you sign up for the retail POS system, the cheapest pricing plan starts at $69 per month. To access more advanced features like advanced reporting, you have to pay for the more expensive plans. 
When it comes to omnichannel sales, if you want Lightspeed's own native eCommerce integration, you'll need to pay for the standard plan or higher, which is priced at $119 per month. On the other hand, for external platforms, you'll require a separate connector to integrate your eCommerce store with Lightspeed, which comes at an additional cost.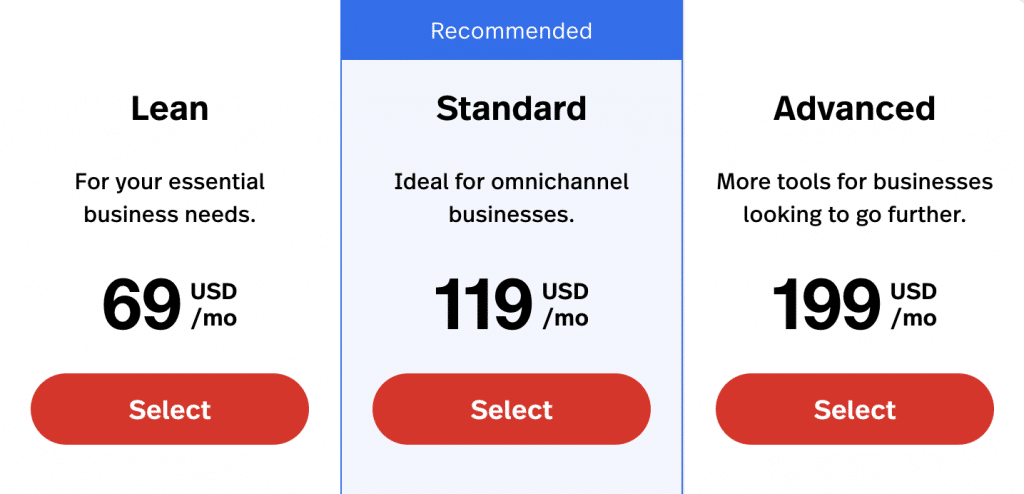 Additionally, this puts you at the mercy of third-party integrations. For example, if you manage your online orders through WooCommerce, you'll want to tread carefully as the Lightspeed WooCommerce integration has mixed customer reviews and reports of poor product synchronization. 
Lack of Payment Flexibility
Lightspeed offers its own payment processor – Lightspeed Payments – as the standard option. The downside of this is that if you want to use an alternative payment processor for your business, this increases your monthly subscription cost, regardless of your pricing plan, by $50 per month.
Specific Hardware Requirements
Although Lightspeed works with a laptop, PC, or tablet, your choices are limited when it comes to additional hardware. Lightspeed comes with recommended hardware for everything from receipt printers to cash drawers. In addition, Lightspeed Payments only works with Lightspeed's own card terminals.
Therefore, if your retail business or restaurant is moving from a different POS system to Lightspeed, this might be a costly investment as you'll need to buy new hardware for Lightspeed to work.
Top Six Alternatives to Lightspeed POS
If you run a restaurant or retail store, there are multiple POS systems in the market today to choose from. All of these options have specific features that make them unique, and it can be challenging to choose the best option, especially if it's your first time using a POS system. Although Lightspeed POS is one of the most popular ones, there are better options available. Below, we have compiled our top six Lightspeed alternatives.
1. Jovvie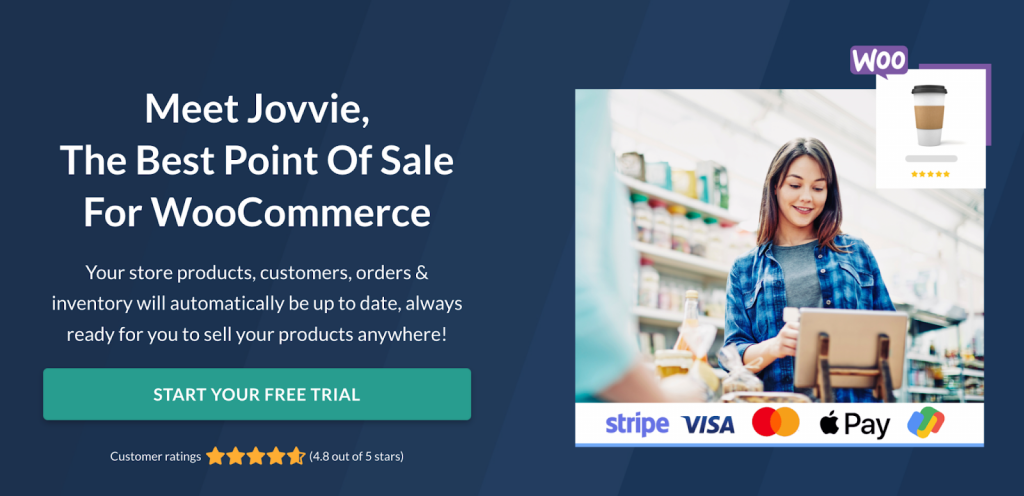 Jovvie is a WooCommerce POS solution, which makes it ideal for businesses running an eCommerce store alongside a physical sales presence. When setting up an online store, WooCommerce is ideal because it's entirely free, highly customizable, and has thousands of extensions that allow you to enhance the functionality of your eCommerce store.
Using a WooCommerce POS system like Jovvie allows you to bring this functionality to your in-person sales presence. Jovvie is a versatile, reliable, and affordable POS solution that allows you to sell anywhere – in-store, online, or on the go.
Here are some of Jovvie's stand-out features:
Seamless omnichannel inventory management
Jovvie's robust inventory management software automatically synchronizes your inventory between online and in-person sales. This allows you to easily keep track of inventory and sales across different channels, which in turn can help you to avoid delayed or missed orders due to stock-outs and make better restocking decisions.
Flexible payment options
Unlike Lightspeed POS, Jovvie has flexible payment solutions. Since it's an official Stripe Partner, it integrates tightly with Stripe's WooCommerce payment gateway as well as its in-person payment platform, Stripe Terminal.
Because of this, you can accept physical credit cards such as VISA and Mastercard as well as contactless payments, including through digital wallets such as Apple Pay, Google Pay, and Samsung Pay, at your point of sale. Jovvie works with Stripe's proprietary card readers, the Stripe Reader M2 within the U.S. and the BBPOS WisePad 3 outside the U.S.
If you don't want to use Stripe, you can use any payment gateway plugin that is supported by WooCommerce. Jovvie also works with external card readers, as well as the contactless reader from Square, and supports other payment types like checks and gift cards.
Integrates with existing hardware
With Jovvie, you don't have to invest in new hardware to get started; it's compatible with all major browsers and any mobile device or tablet via the dedicated BizSwoop app – available for iOS and Android. Additionally, at the point of sale, Jovvie works well with any external barcode scanner, and you can even use your phone to scan barcodes.
To print receipts for your store or restaurant, you can take advantage of Jovvie's integration with its sister plugin, BizPrint. This all-in-one printing solution allows you to automatically print any documents that you might need for order fulfillment in real time. BizPrint works with all printer models, including the most popular brands of thermal printer. By using Jovvie with BizPrint, you'll therefore avoid the need for any up-front hardware costs, making it much easier to start selling or to scale your small business.
Unlimited locations
On the topic of scaling, Jovvie makes selling in new locations – be they new stores, popups, or sales on the go – straightforward, as the plugin allows you to set up unlimited locations, cashiers and registers.
Not only does this make scaling your business much easier, but also allows you to streamline the checkout process by easily adding extra registers. With Jovvie's kiosk mode, you can even add self-service checkouts.
Apart from having a wide range of features, this Lightspeed alternative is also one of the most reasonably priced solutions. The pricing starts at $39 per month, with a 30-day free trial to get you started.
2. Square POS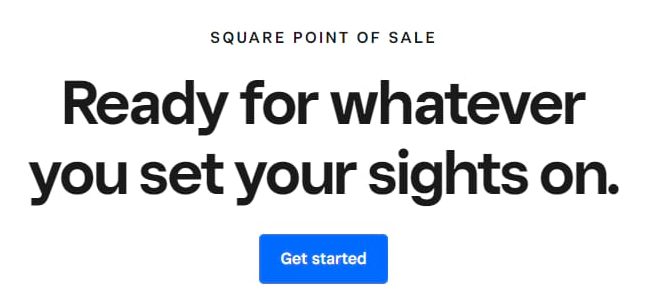 Another Lightspeed alternative is Square POS. This point-of-sale system is a free extension of the Square payment gateway. It is also a web-based POS solution that integrates with different eCommerce platforms, among them WooCommerce, Wix, BigCommerce, and Drupal Commerce. Because of this, Square POS is a versatile option for omnichannel stores. 
Pros
Here are some of the benefits you should expect from Square POS:
No recurring or up-front costs: To use this point-of-sale software, you just need a Square account and a compatible device to get started. The Square Point of Sale software is free to use; there are no setup fees or monthly fees.
Few hardware requirements: You can start selling right away using iPhone, iPad, and Android devices, as well as laptop and PC. The only Square hardware you'll need is the card reader for in-person payments. Alternatively, you can use Square's proprietary POS hardware if you prefer not to use your existing devices.
Flexible payments: Square POS supports many payment methods through native integration with the Square payment gateway. Card payments can even be processed offline. All payments are processed through Square's payment infrastructure, and for in-person transactions, you will need to use Square's payment hardware as mentioned above.
Cons
Square POS has some downsides, including user-reported glitches and slow processing times. Additionally, Square's integration with WooCommerce has poor reviews, scoring only 3.2 stars on WooCommerce.com. Therefore, if your store runs on WooCommerce, this might not be the best POS system for you.
3. Toast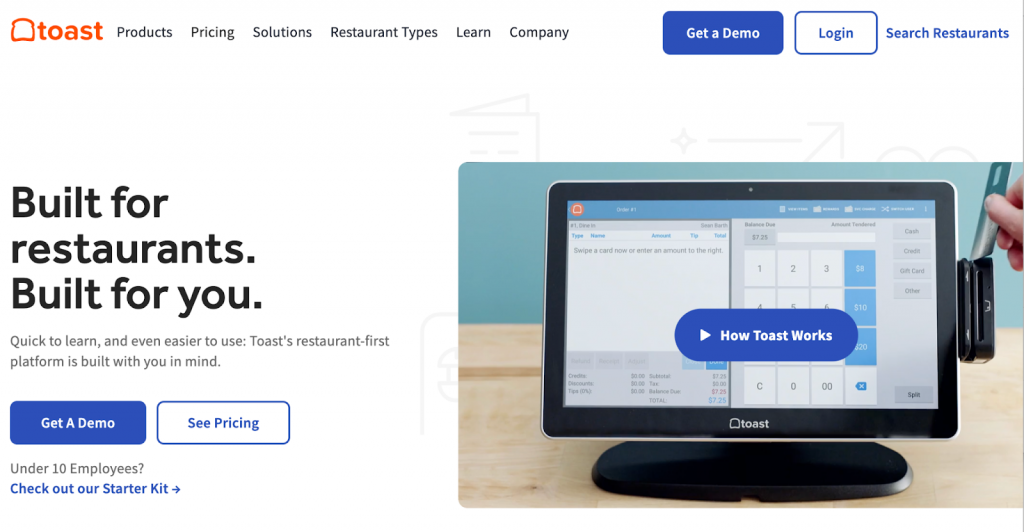 Toast POS is a web-based point-of-sale system designed specifically for cafe and restaurant management. This Lightspeed alternative supports omnichannel sales with dedicated online ordering functionality, which is included in the "Essentials" plan. However, this plan is not cheap, starting at $165 per month. 
Pros
You can expect the following benefits from Toast:
Easy to use and intuitive
Excellent offline functionality
All hardware is included, including free installation.
The flexible pricing includes a pay-as-you-go option if you want to avoid paying up-front costs for the required hardware.
Cons
if you do select the free pay-as-you-go plan, you'll have to pay a much higher transaction fee of 2.99% + $0.15.  And just like Lightspeed, Toast is not flexible the most flexible POS solution. Users have to use dedicated Toast hardware, including Toast's payment processor.
On top of this, the only way to access online ordering through Toast is to use its own dedicated functionality; you can't integrate it with your own website. This hugely reduces the flexibility of your online sales from both a branding and user-experience perspective, as you can't directly control the ordering experience that your customers will receive.
Additionally, while Toast may seem like a cost-effective option, many features are gated behind the essentials plan and up, with much of the advanced functionality requiring a bespoke quotation.
4. Clover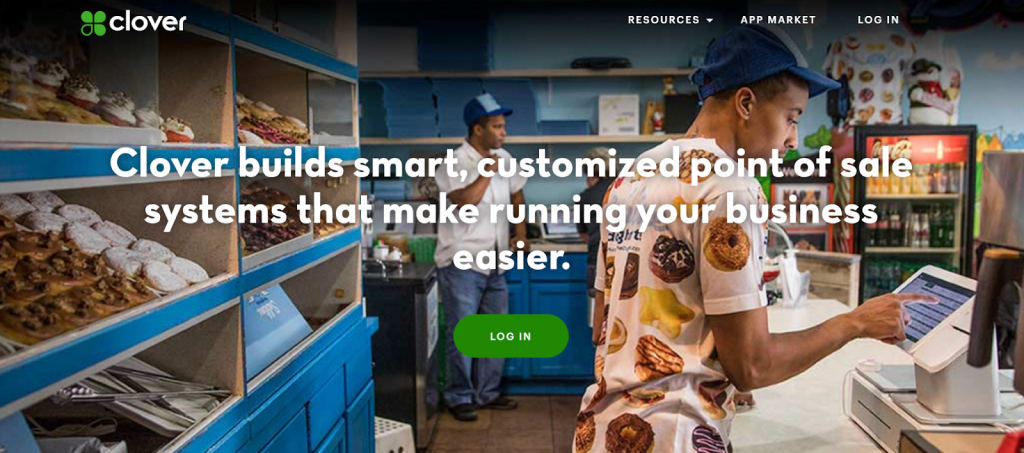 Clover is an all-in-one POS solution that comes with all the required hardware, your merchant account, and support within your chosen pricing plan. Clover operates exclusively with its own hardware and has different options, making it adaptable to most businesses and industries.
Pros
Here are the benefits of using Clover POS:
Cheaper monthly payments, starting at $14.95 per month for retail stores. However, these prices vary based on business needs and up-front hardware fees.
Wide range of hardware, including Clover Mini, Clover Station, and Clover Go depending on your business needs.
In-built sales reporting, inventory management, and customer and employee management tools.
Cons
Like the other alternatives, Clover's downside is its flexibility. Users have to exclusively use Clover's own hardware and payment processor, and the up-front hardware costs for each new location make it harder to scale your business. 
5. TouchBistro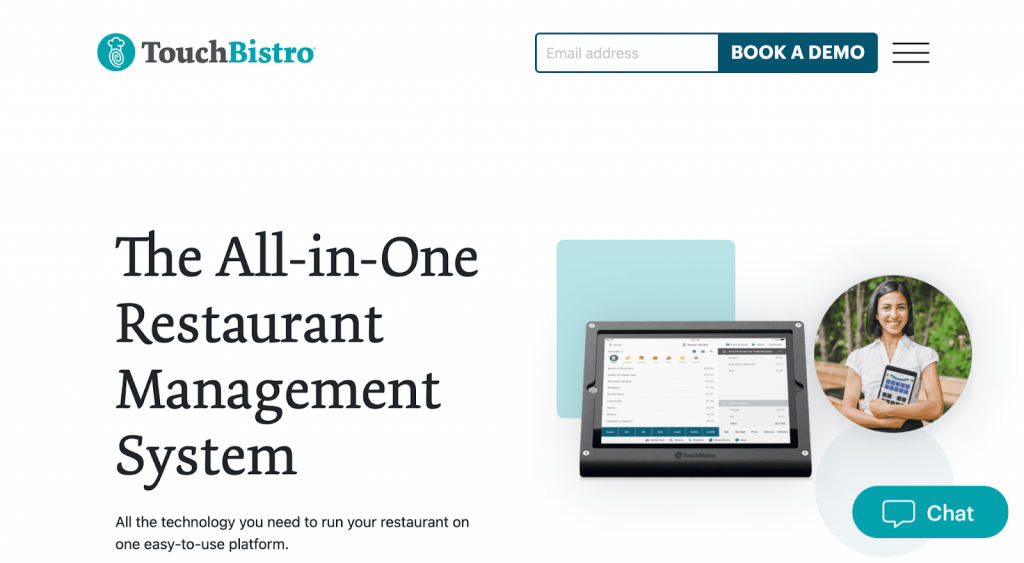 Compared to the other alternatives on this list, TouchBistro is unique because it does not require an internet connection to operate. All the data is stored locally in your Mac or iPad instead of the Cloud, so you can use the POS system offline. This Lightspeed alternative is popular with single-location businesses like bars, cafes, and restaurants. 
Pros
Here are its unique features:
TouchBistro has additional functionality for menu, seating and table management, payment processing, daily sales reporting, and transferring orders to the kitchen.
Integrates with multiple payment providers, making it more flexible.
Integrates with online stores using Deliverect, allowing businesses to process online orders easily. However, this integration starts at $50 per month, so it's not particularly cost-effective.
Cons
TouchBistro may seem like a reasonably affordable option because the POS software plans start at $69 per month, and you can use your iPad rather than an expensive POS terminal system. However, the features on the base plan are somewhat basic, and additional features that are included with other POS systems are priced as expensive add-ons. For instance, to accept gift card payments or add online ordering, you'll need to pay $25 per month and $50 per month, respectively. You get these functionalities within Jovvie's base feature set.
6. Revel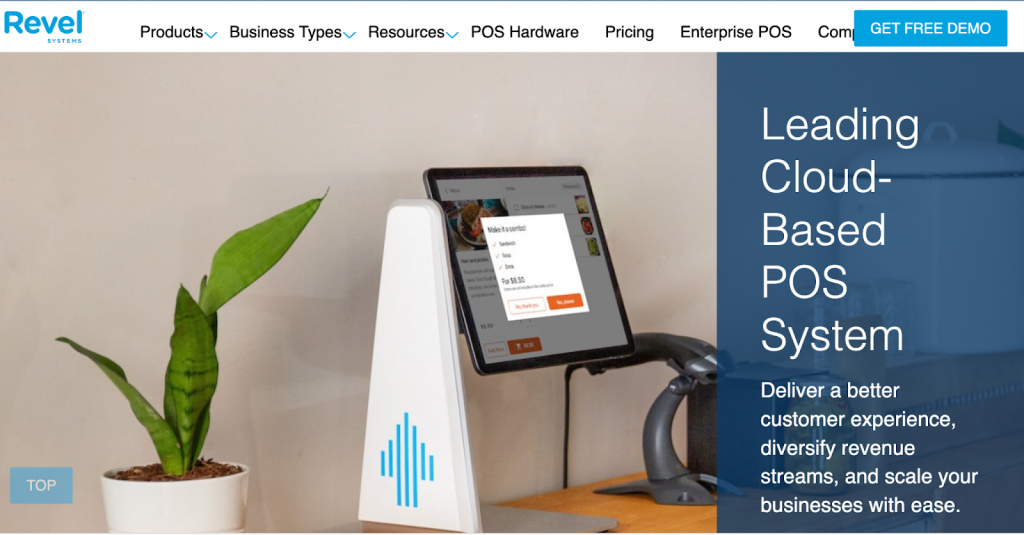 Revel is also an iPad POS system like TouchBistro. This Lightspeed alternative is designed for scalability, and the pricing is calculated on a per-terminal basis. It has its own online ordering system, which synchronizes with your inventory for in-person sales and also supports offline ordering. 
Pros
The benefits of using Revel include:
Support for gift cards through Revel Advantage.
Available add-ons for delivery, self-service checkouts, and connection to dedicated account managers.
In-built CRM system, inventory and employee management systems, and analytics.
Cons
Revel's biggest downside is its cost, which starts at $99 per terminal per month. You also need add-ons for online ordering, self-service checkout, and other features which are included as standard with other alternatives like Jovvie. Revel also charges users an additional fee to use their own chosen payment provider rather than their in-built solution.
FAQs About Lightspeed POS
Can I use my existing hardware with Lightspeed POS?
Lightspeed POS will work on PCs, laptops and tablets. However, it's advisable to use the suggested models of peripherals like label printers, barcode scanners, and card readers because other hardware may not be compatible.
On the other hand, Jovvie is compatible with all barcode scanners, external card readers, as well as all printer models (including thermal printers) through integration with BizPrint. With Jovvie, you don't need to invest in additional POS hardware because it works with all major browsers on laptop and PC, as well as tablets and phones.
Which POS solutions are good Lightspeed alternatives?
The following POS solutions are all good options if you're looking for a Lightspeed alternative:
Jovvie: Our recommended solution for customization and versatility
Square POS: Good for small businesses
Toast: Good for multi-service hospitality businesses
Clover: A good all-in-one POS solution
TouchBistro: Good for hospitality businesses with merchant accounts
Revel: Good for multilocational quick-service restaurants
Who is Lightspeed's main competitor?
Lightspeed POS has several competitors in the point-of-sale (POS) software market, but one of its main competitors is Square. Square offers a variety of POS software solutions, including mobile POS systems, POS software for restaurants, and POS software for retail businesses. Like Lightspeed, Square also offers features like inventory management, analytics, and reporting. Square's pricing structure is slightly different from Lightspeed, with a lower monthly fee and the same card-present processing fees per transaction. Both companies are popular choices for small to medium-sized businesses looking for a reliable and feature-rich POS solution.
Which payment providers can I use with Lightspeed POS?
It is advisable to use Lightspeed's own payment gateway. While you can integrate Lightspeed with other payment providers, customers that are not using Lightspeed Payments will incur an additional cost of $50 per month on top of their existing monthly payments.
With Jovvie, you can use any payment gateway plugin supported by WooCommerce. Jovvie integrates with Stripe Terminal for in-person payments, as well as the contactless reader from Square or any external readers for credit or debit card payments.
How much does Lightspeed POS cost?
Lightspeed Retail's cheapest plan starts at $69 per month. This does not include eCommerce integration; for this, you'll need to pay for the 'standard' plan or higher, which starts at $119 per month. On the other hand, Jovvie's pricing starts at $39 per month and comes with all features, including seamless WooCommerce integration.
Can I integrate Lightspeed POS with my eCommerce store?
You can integrate Lightspeed POS with a number of different eCommerce platforms. However, to enable this functionality, you will need to subscribe to the 'standard' plan or higher and set up the associated integration. Jovvie, on the other hand, offers out-of-the-box support for your WooCommerce store with no additional fee, making it an ideal Lightspeed alternative.
Can I run multiple checkouts/stores/locations with Lightspeed POS?
When you use Lightspeed POS, you'll need a custom plan for multiple-location support. In addition, there will be additional hardware costs for each location you want to set up in. However, Jovvie works well as a Lightspeed alternative because it supports unlimited locations, cashiers, and stations, allowing you to sell anywhere using your existing devices.
Want a more flexible Lightspeed alternative? Choose Jovvie
While Lightspeed POS works well in the retail and restaurant industry, it has several drawbacks, such as a lack of flexibility for payments and hardware requirements, and a high price point, which makes it a less-than-ideal system if you are trying to scale your business.
You'll need to look for an alternative solution to overcome these challenges. Jovvie is the best Lightspeed alternative because it has a reasonable price point, and a wide range of features, including:
Flexible payment options
Compatibility with existing hardware
Seamless omnichannel inventory management
Support for unlimited locations, checkouts, and cashiers
If you are looking for a flexible POS solution for your business, consider using Jovvie. Get started today by signing up for Jovvie's 30-day free trial.