Wondering how to auto-print WooCommerce orders? Though you're fulfilling orders online, you'll still need to print physical receipts for customers that ask for them. According to a YouGov study, 7 out of 10 Americans say they prefer getting a paper receipt rather than its digital counterpart.
Printing receipts, labels, shipping labels, coupons and packing slips is easy and effective with a thermal printer. It is the best option for a restaurant, retail store, warehouse or fulfillment station and any ecommerce business using the WooCommerce platform that has regular and/or bulk printing needs. Here's all you need to know about a WooCommerce thermal printer.
Why use a WooCommerce thermal printer?
Low maintenance costs: First off, a thermal printer will cost you more than a laser printer and an inkjet printer. But as it uses heat to generate images, it doesn't need cartridges and ribbons. A thermal label printer has fewer moving parts, so it is less prone to breakdowns. That means lower maintenance costs for you.
Fast and noiseless: A thermal printer is compact and quiet. It is faster than an inkjet printer. Your receipts, delivery slips, invoices, labels and other important documents are ready at the printing station within seconds.
Quality printing in bulk: Compared to a laser printer, which also uses heat for printing, a thermal printer is better at churning out labels in bulk. It doesn't require the high amount of heat that a laser printer needs to print quality images. This makes a thermal printer preferable for printing adhesive backed labels without distortions or white smudges on barcodes. In fact, the printing quality of a thermal printer is slightly better than its laser counterpart, across all types of papers.
Standardized POS receipts: The most common type of printed receipt from a point of sale system comes from a thermal printer. This is because of the speed, cost, and small form factor that is usually associated with thermal printers. If you're planning on using a Point of Sale system like Jovvie for WooCommerce, thermal printing is the best option to complete your business ecosystem.
How do you auto-print receipts on a WooCommerce thermal printer?
The good news is that you don't need PHP or HTML programming knowledge, or a WordPress developer on your team to automatically print WooCommerce orders on a thermal printer. There's a plugin that does the job smoothly – BizPrint from BizSwoop. BizPrint is a WooCommerce plugin that automatically prints receipts and invoices. It is compatible with all printers (including thermal printers) and can be installed as a desktop or native iOS/Android app.
You can use it to auto-print customized order receipts to multiple printers at multiple locations. And you can do it easily with built-in templates to generate various types of receipts. Have a look at the BizPrint set-up guide below. We've also mentioned our other WooCommerce plugins that you can use to add visual notifications such as store hours, or pick-up/delivery features to your website, and create relevant labels.
BizPrint Set-Up Tutorial
Connecting WooCommerce with BizPrint is simple. First, you'll need to set up a BizSwoop account. Then connect your WooCommerce website to BizPrint. And finally, download and configure the Print Manager plugin for WooCommerce. Have a look at the steps below.
Step 1: Create your BizSwoop Account
To access the BizSwoop Cloud Service, you'll need to create a single sign-on with us.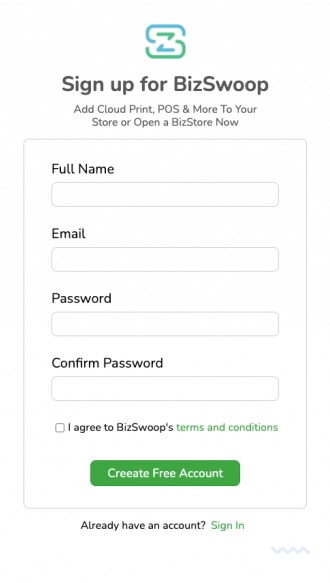 You'll get an account activation mail on your registered email address. Click on the link in the email to activate your account. If you don't see this email in your inbox, check your spam folder.
Login to your account. Click on the 'Cloud Print' tile to open the BizPrint Cloud dashboard.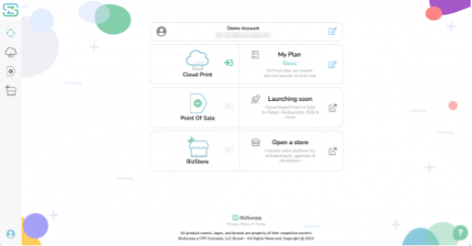 Choose a plan for your business from five options: Trial, Basics, Plus, Pro and Growth. The Plus plan is the recommended entry point.
After selecting your plan, you can start using the BizPrint cloud service. The dashboard shows you the number of your print jobs per month, connected WooCommerce thermal printers and connected websites. You get a quick view into your printing set up and usage.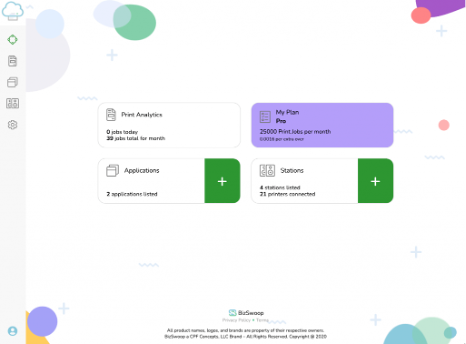 Step 2: Set up BizPrint on your local device
The next step is to set up the application on your local device. To do this, click on '+' on the dashboard.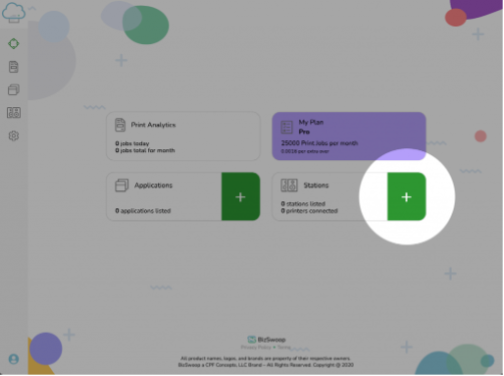 Then, create your printing station on the app.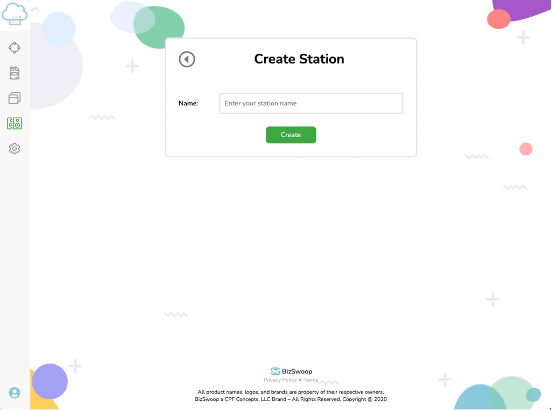 Now, copy the public key and secret key.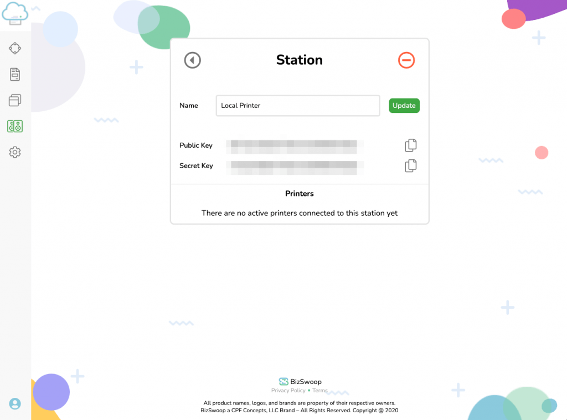 Step 3: Download and Set-up BizPrint App
You will need to use the BizPrint app to send print jobs from your website to the local machine connected to your printer. The desktop app is compatible with Windows, Mac and Linux operating systems.
Download the BizPrint app here. Next, click 'Connect', insert the copied keys on the app and click 'Submit'. The BizPrint app will connect the local printers to BizPrint Cloud Service.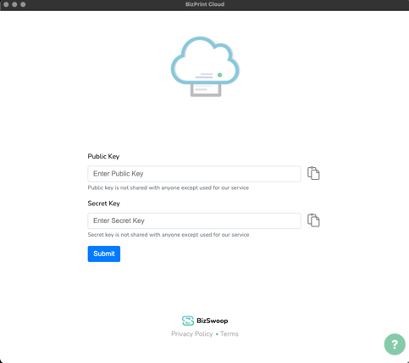 Select the local directory to store the print jobs. You can see all the WooCommerce thermal printers connected to the cloud print service.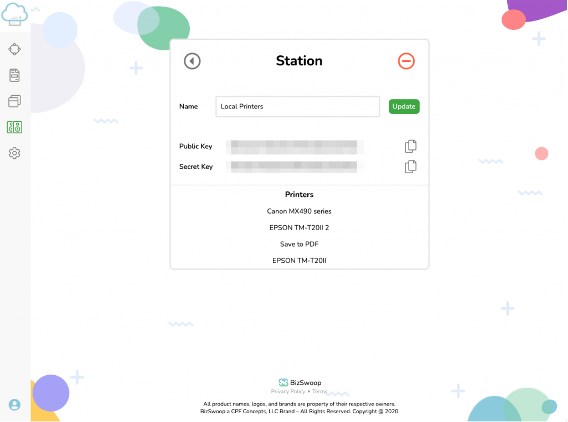 As mentioned before, to send print jobs from your WooCommerce website to the BizPrint Cloud Service, you'll need the Print Manager WordPress plugin. Navigate to your WP dashboard and select 'Plugins'. Click 'Add New' and search 'BizSwoop' to find Print Manager.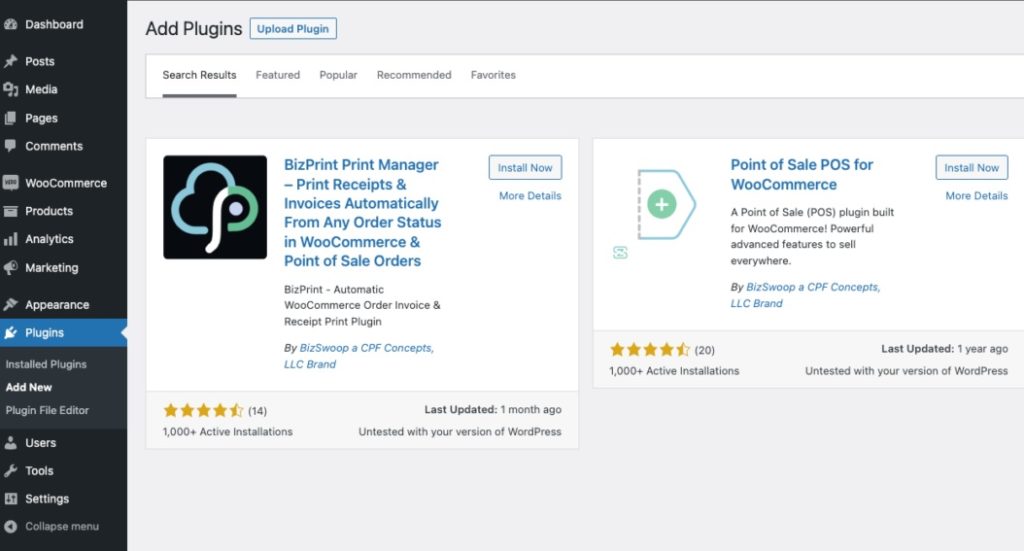 Install the plugin. Then, go to WooCommece > Print Settings > Settings. Add public and secret keys.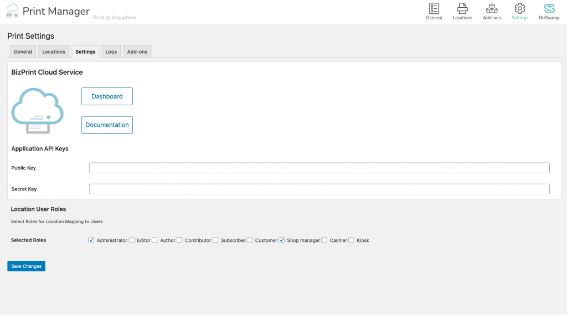 Step 5: Configure Print Manager
With Print Manager connected to your BizPrint account, you can now configure the plugin so it knows what to do with your printing orders. Navigate to WooCommerce > Print Settings > Locations and select 'Add New'. You'll be able to select the printers connected to your account that you want to use.

Once the receipt settings are configured, visit WooCommerce > Print Settings > General. From here, you can enable automatic printing or trigger print jobs manually.
How to use templates to print invoices and receipts
Using BizPrint, you can create physical copies of different types of receipts. If you're creating a return policy, add static information, fill in dynamic information for shipping addresses and customize the fields as required for the specific type of receipt.
As seen in the example below, you can select the information you need on the receipt by simply ticking the relevant checkboxes.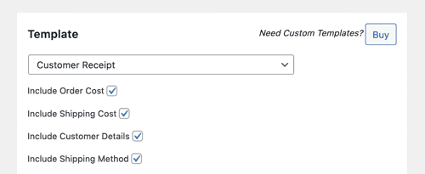 Tailoring the appearance of receipts is also simple. You can achieve an instantly recognizable receipt and keep branding across your transactional and marketing collateral consistent.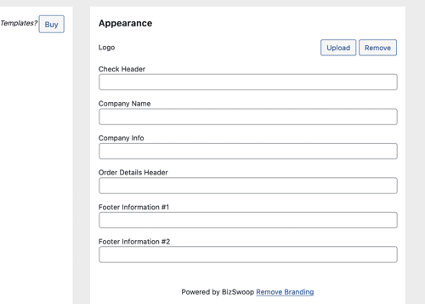 Under 'Settings', adjust the font size, weight and margins to create labels and receipts unique to your business.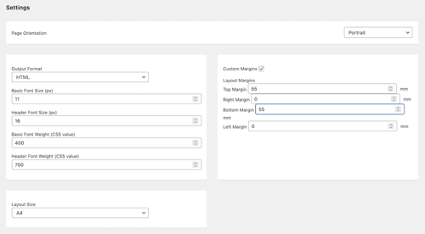 Other BizSwoop plugins
BizSwoop offers add-ons that allow you to specify important information on receipts and purchase orders, so as to confirm and communicate service requests accurately to staff and customers.
The Pick Up Delivery plugin adds pickup and delivery features to your order printing system. Select Pickup, Delivery or Ship options, and create relevant labels accordingly. Basics and Pro plans are available. Under Basics, you get a time slot scheduler, email confirmation and unlimited pickup locations and shipping zones. Pro plan lets you create order status descriptions and access a customer dashboard to manage order statuses.

Store Order Hours, allows you to create visual notifications of your business hours. You can add custom holiday hours, alert boxes, shortcodes to display opening hours on other pages, and more.
Jovvie Point of Sale for WooCommerce makes light work of operationalizing multiple checkout points and printing new orders from each in a branded format. Thousands of SMEs use it to create super-efficient POS stations.
Start printing WooCommerce receipts with BizPrint
You can meet your WooCommerce website's printing needs best with a thermal receipt printer that creates physical receipts, delivery slips and labels at high speeds. BizPrint makes WooCommerce auto printing easy across locations and order processing times faster.
A WooCommerce thermal printer and the BizPrint plugin boost business in several ways –
Whether you use PayPal, Stripe or QuickBooks, a solution for auto-printing branded receipts and invoices allows you to respond quickly to customers' requests for physical sales copies.
Printed receipts and invoices are easier to read, something to bear in mind when you have customers that are more comfortable with traditional payment methods and proof of sale.
Makes the POS or shipping station(s) at your restaurant, store or warehouse quicker and more streamlined.
A robust order management system boosts employee productivity and creates positive perceptions about your business in customers' minds.
A decrease in delivery and service times supports your goals of acquiring more subscribers and sales online and offline.
Learn more about BizPrint and add-ons from BizSwoop to build an efficient, value-generating order printing system for your WooCommerce-based business